Naples used to be considered a "must-see" destination, essential for anyone who was interested in exploring Europe.  "Vedi Napoli, e poi muori," they said – see Naples, and then die. Until you had been immersed in the rich beauty and history of Naples, you hadn't really lived.
The city's reputation has been in decline over the past century, but more adventurous travellers, keen to explore Italy beyond the conventional combination of Rome, Florence and Venice, are discovering that Naples has a lot to offer.
Everyone should see Naples at least once. But if you visit the city described by Flaubert as a "Mediterranean Paris", you'll undoubtedly find yourself coming back for more…
Spectacular views
Although Naples is not renowned for its beauty to the same extent as other Italian cities, its colourful and chaotic streets have a charm of their own. And then there are the views – the breathtaking panorama of the Bay of Naples, best appreciated from the seafront or Castel Sant'Elmo. On a clear day you can see not only Vesuvius, but also the shimmering outlines of the islands Capri and Ischia.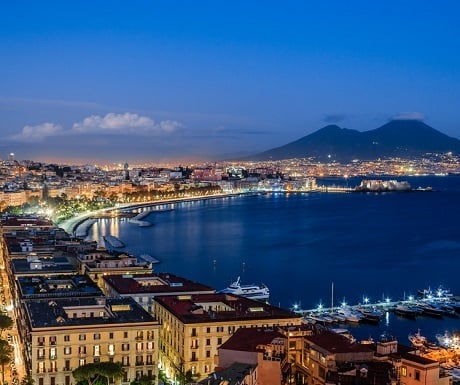 Masterpieces
Naples is an art lover's dream. Look out for Caravaggio paintings in churches, or the extraordinary marble sculpture known as the Cristo Velato ("veiled Christ") in the Cappella Sansevero. The Capodimonte collection, located in a grand Bourbon palace on a hill, is particularly impressive, with works by Raphael, Botticelli, Bellini, Titian and Caravaggio.
Naples is also one of the best cities in Italy for contemporary art. Don't miss Madre, a modern art gallery with an excellent permanent collection as well as temporary exhibitions with works by some of the most exciting contemporary artists.
One of the greatest museums in the world
Even if there were no other cultural attractions, the Archaeological Museum would in itself justify a trip to Naples. Its outstanding collection of Roman art and artifacts includes fascinating findings from Pompeii and Herculaneum, such as statues, frescoes and mosaics. A highlight is the magnificent Farnese Bull – an enormous statue that was unearthed at the Baths of Caracalla in Rome. For anyone even remotely interested in Roman art and culture, the museum is a must.
Pizza (and so much more)
Naples is the true home of pizza, and one of your main dilemmas may well be deciding where to eat it. Brandi, the place where the margherita was invented? Di Matteo, a local favourite? Da Michele, the historic pizzeria that appeared in Eat, Pray, Love? Even if you opt for a less famous pizzeria, you won't be disappointed. Just keep it simple – a margherita and a beer – and you'll see what all the fuss is about.
But there's more to Naples than pizza. Save some room for other Neapolitan specialities, such as cones of fried fish and seafood, or the decadent, ricotta-filled pastries known as sfogliatelle.
Street life and shopping
In Naples it's all about the simple pleasures – taking a walk through the buzzing streets of Spaccanapoli and Via dei Tribunali, people-watching and browsing the shops. You could spend hours walking in circles around the same streets in the city centre without getting bored, soaking in the atmosphere of this frenetic yet fascinating city.
If you're interested in shopping, take a stroll down Via Toledo and explore the nearby Chiaia neighbourhood, which has an interesting blend of designer stores, independent boutiques and vintage clothes shops. Alternatively, if you're looking to pick up a unique souvenir, visit Via San Gregorio Armeno, where you'll find an abundance of workshops specializing in handmade presepi (nativity cribs).
Secrets
Naples is full of surprises and secrets. It's a city with bizarre superstitions, underground rivers, shrines to footballers, mysterious palazzi and purgatory cults… However, to discover these things, you need to know where to look. Make sure you explore Naples with a guidebook or a guide, as you wouldn't want to miss out on the city's most intriguing secrets.
The perfect base
With a wealth of art and culture, Naples could easily keep you busy for a week. But if you're interested in seeing more of Campania, Naples is also the ideal base. Stay in Naples and you're in easy reach of Vesuvius, Capri, Ischia, Pompeii, Herculaneum, Sorrento and the Amalfi Coast. In other words, you're surrounded by some of the most beautiful places in the country, many of which can be visited on day trips. Spend a day exploring the atmospheric ruins of Pompeii or the villas and grottoes of Capri, and you can be back in Naples in time for dinner.
Rosario Gorgone is Co-Founder of Through Eternity Tours.
If you would like to be a guest blogger on A Luxury Travel Blog in order to raise your profile, please contact us.