How to find somewhere special for Valentine's day is one of life's challenges. When roses and chocolates are just not enough, where can you go to spoil your loved one? How to find the right balance between romantic luxury, fun, memorable but not over the top?  Heading across the Atlantic is always a special treat.  According to Open Table, Newport Rhode Island and Colorado Springs are in the top ten of their most Romantic Cities in the US; I would add New York and Las Vegas for sheer variety and joie de vivre.  North of the border in  Canada, Victoria, BC, Lake Louise, Alberta, Quebec City and Niagara-on-the-Lake would all qualify. Let's have a look at why and what would suit you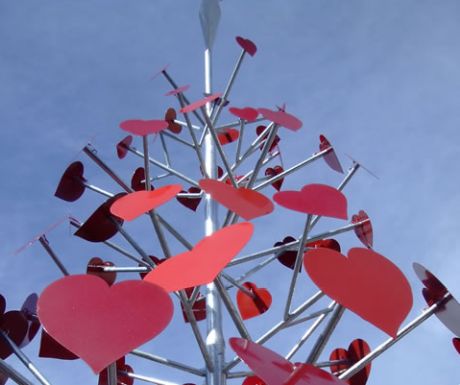 New York
Glitzy, glamorous, full of energy and on most people's bucket list of places they would like to see. To choose what to do in just 3 or 4 days is a tall order but with Valentine's in mind, a dinner and cult classic or indie movie at Syndicated in Brooklyn,  a visit to MoSex on Fifth Avenue, the Superhero Walking tour  all offer a slightly different view of the Big Apple.  Must sees include a stroll around Central Park and a visit to Times Square and the Empire State Building.  Wow your Valentine with tickets to a Broadway show followed by dinner at one of New York's finest.  One if by Land, Two if by Sea in Greenwich is one of New York's most romantic restaurants; if it is a dinner with a view you want, think of Gallow Green or The View in Times Square, drinks in an igloo at 230 Fifth's roof top bar or The Robert at the top of the Museum of Arts & Design. Where to stay is another conundrum.  The luxurious and historic Pierre Hotel is known for its romantic atmosphere and amazing location overlooking Central Park, but if views are important to you and you like something more modern, think about the Ritz Carlton in Battery Park with its waterfront views of the Statue of Liberty. If you prefer a boutique hotel, you might want to think about the Roxy with its Art Deco design and live music nightly.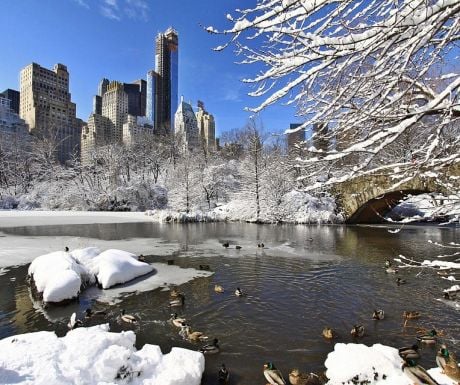 Lake Louise, Alberta
From the razzmatazz of New York to the peace and quiet of Lake Louise.  What a contrast!  Think of a snowy landscape sipping hot chocolate in a horse drawn carriage, skating on a frozen Lake Louise admiring the ice sculptures with a back drop of the Victoria Glacier, driving your own team of huskies during an exhilarating dog sled ride. All this is possible as is snowshoeing through the forest, cross country and downhill skiing in one of three world class ski resorts. Dine at the iconic Fairmont Chateau Lake Louise before retiring to your luxurious lakefront room or relax in front of a roaring fire at the Relais & Chateaux Post Hotel.
Niagara Falls, Ontario
Stay in the very pretty Victorian styled town in one of the excellent hotels such as the Pillar and Post or the Queens Landing, stroll through the boutiques, indulge in some wine tasting especially the renowned Ice Wine which is locally produced and, of course, visit Niagara Falls.  Beautiful at this time of year, the falls will be partially frozen and the crowds are absent, so much more romantic than during the busy summer period.  Visit the Shaw Theatre and indulge your inner Foodie with a Winter Wonderland Food tour.  I would suggest combining the peace of Niagara with the bright lights of Toronto for a perfect Valentine break.
Quebec City
With its winding cobbled streets, fabulous French-inspired food, boutique shopping, Quebec City is made for romance.  Cosy up with your Valentine in the Ice Hotel or under the rugs of a horse-drawn carriage. Take the cable car or don a pair of snowshoes to visit the frozen Sugar Loaf at the base of Montmorency Falls, 30 meters higher than Niagara Falls,  they are an impressive sight.  For the more adventurous, there is the chance to venture into the forests by dog sled or snowmobile. Best of all is the Quebec Winter Carnival, the biggest in the world, but, you will have to get to Quebec City a couple of days before Valentines day as it finishes on February 12, 2017.
Colorado Springs
Just an hour from Denver, Colorado Springs is surrounded by some of the most stunning scenery on the planet.  The great red rocks of the Garden of the Gods Park rise from the snowy landscape, a view that can be enjoyed from the comfort of your room.  But to get the best of Colorado Springs, you need to get out!  Together you can learn to ice climb a frozen waterfall, going snowshoeing in Mueller State Park or watch the ice carvers create their amazing sculptures. Discover Colorado Springs' craft breweries, steaks big enough for two and luxury hotels. Loveland, now there is a name to conjure with, has an amazing Valentine Fire & Ice festival. Why not combine Denver, Loveland and Colorado Springs for a memorable Valentine's week holiday.
Victoria, BC
As different from Colorado Springs as chalk is to cheese. Victoria is a charming town bordering the Pacific ocean, rated the most romantic town in Canada by Amazon!  Stroll along the waterfront or take to the skies in a float plane; spoil your Valentine with afternoon tea at the Fairmont Empress Hotel followed by a special Valentine's Day dinner at the famous and very beautiful Butchart Gardens. Visit brew pubs, wineries and cideries, wander along the harbourfront admiring the many boats and float planes or enjoy a special couples massage at one of Victoria's fine spas.  Stay  in a Sapphire room at Abigails hotel with its four poster bed falling asleep to the sounds and smells of a wood burning fire.
Las Vegas
What happens in Vegas stays in Vegas.  Hundreds of different ways to spoil your Valentine and even, perhaps, have a spur of the moment wedding?  It can all happen, a drive through wedding or something more romantic?  Take a flight over the famous strip, enjoy one of the 8 different Cirque de Soleil shows, visit the Grand Canyon, all is possible in Las Vegas, home to some of the best restaurants in the world.  All that before you even take a flutter in one of the extravagant casinos.  Ride a gondola at The Venetian Hotel which is my favourite hotel in Las Vegas; you can stay here or perhaps in the Bellagio with a room overlooking the famous fountain.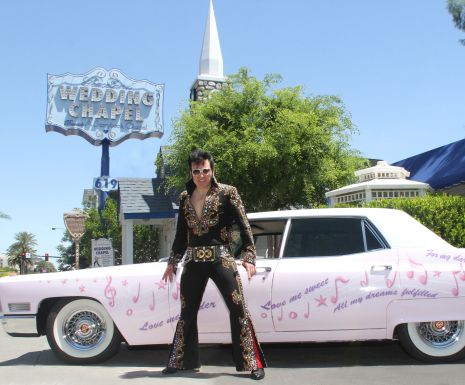 Newport, Rhode Island
Known in summer for its yachts, in winter, snow-covered Newport is one of the prettiest towns on the east coast.  Stay somewhere special like the Chanler, mega expensive during the summer, but quite reasonable during the winter; at least drop in for one of their famous hot toddies.  You can enjoy the amazing Victorian mansions built by the great New York families such as the Vanderbilts for their summer holidays: 70 bedroom houses which might only have been used for a couple of weeks a year.  You might not be able to spoil your Valentine to that extent, but you can stroll through Ballard Park overlooking the Atlantic and in February illuminated with thousands of lights strung through the trees.
Happy Valentine's Day wherever your travels take you.
Sandra Potter is Founder of Frontier Travel.
If you would like to be a guest blogger on A Luxury Travel Blog in order to raise your profile, please contact us.