If you're sitting on hundreds of thousands of frequent flyer miles and points, don't cash them out for gift cards, a toaster, or use the Pay with Points option if you want to maximize their value. Instead, consider planning your trips well in advance (we plan ours about a year in advance) in order to be able to redeem for first class and business class award flights. While we rarely pay for flights and hence don't have frequent flyer elite status with any airline, we earn about a million miles and points a year from our credit cards, including signup bonuses, category bonuses and spend, and these miles enable us to reserve first class and business class award tickets that retail for anywhere from $5000 to $25,000 or more, per ticket. Here are some of the reasons why first class and business class flights are the best use of your miles and points: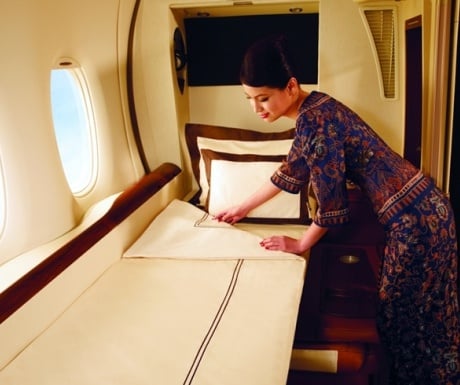 1. The best airline products are available with miles and points
We've enjoyed flying in Singapore Suites, Etihad First Class Apartment, Emirates First Class, Cathay Pacific First Class, Qantas First Class, JAL First Class and other first class and business class flights. These represent the very best first class products currently offered on commercial flights. In contrast, the best luxury hotels and resorts, such as Aman Resorts, Cheval Blanc, The Peninsula, Four Seasons, and Mandarin Oriental, not to mention many luxury boutique hotels, cannot be redeemed for with miles and points, at least not at a valuation of 2 cents per point or more.
2. Get the highest possible value from your miles and points
Something to be aware of when redeeming your frequent flyer miles and loyalty points is the redemption value you're redeeming at. Since there are 2% cash back cards, as well as cards that provide rotating 5% cash back categories, a good rule of thumb is to aim to redeem your miles and points for at least 2 cents per mile or point, and preferably much more. I rarely redeem our own miles and points unless I'm getting at least 5 cents per mile or point, and have had redemptions at well over 10 cents per mile or point. That's because roundtrip first class flights can be $25,000-$30,000 per ticket, so redeeming 110,000 miles for a one way first class flight to Asia yields about a redemption value of about 13 cents per mile. And while critics can point out that few people are willing to pay retail value for a first class ticket, the retail price is an objective benchmark to measure the value obtained. Although of course, if you're genuinely happier with gift cards or a toaster than a first class flight, by all means redeem your miles and points in the way that makes you happy.
3. Save money to spend at your destination
Paid flights, even economy flights, eat into a travel budget. By leveraging frequent flyer miles and points for most of the flight cost (although be aware that you still do need to pay for taxes and fees on award tickets, which can range from about $5 to several hundred dollars per ticket, depending on the frequent flyer program) you have more to spend on your destination. For us, having used miles and points for our flights, that means we'll splurge on the best hotel possible, great meals, and activities such as scuba diving.
4. Often less expensive to change an award booking than to change a non-refundable flight
Few people book refundable airline tickets, due to their much higher cost. That means that if a health or work emergency comes up, absent travel insurance that covers the reason you're changing your trip, you generally have to pay a significant change fee, if the ticket can be changed at all. The great thing about many frequent flyer programs is that it's often not that expensive to change a ticket (provided there's award availability on your new date). And if you have to cancel altogether, the fee to cancel and redeposit miles is often less than the change fee you'd pay with a non-refundable ticket.
5. Arrive rested instead of exhausted
Last but not least, flying first class or business class in a flat bed seat, with the greater space, comfortable bedding and pajamas (in first class), perhaps a complimentary massage in the lounge before the flight and a shower on the flight (on Emirates and Etihad on their A380 aircraft) means you can arrive truly refreshed at your destination, instead of exhausted and jetlagged. This can help get you off to a much better start at your destination, whether it's work or a vacation. Plus, you can finally look forward to the flight itself, instead of dreading it.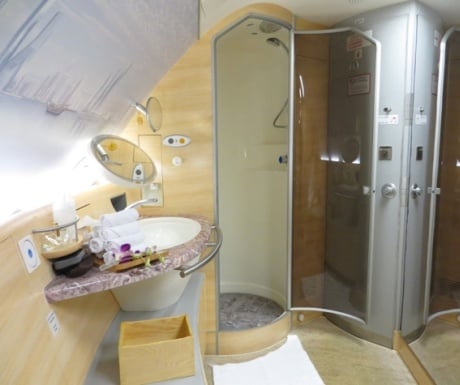 If you've used your miles and points for a first class or business class award flight, which airline product did you redeem for?
Hilary Stockton is the CEO at TravelSort.
If you would like to be a guest blogger on A Luxury Travel Blog in order to raise your profile, please contact us.