Sri Lankan food is some of the freshest and tastiest cuisine I have ever come across. Often described as a mix between Thai and Indian, the cuisine is influenced by the island nation's abundant fresh produce, exotic spices and rich cultural history of regal heritage, subsistence farmers, and colonisation. With diverse recipes from the North to the South of the nation there is a great variety of dishes in Sri Lankan culture. Whether its traditional meals painstakingly prepared for significant occasions, heirloom spice blends, quick roadside snacks or the sweetest baked treats – there is story behind every meal.
While each visitor should enjoy their own culinary journey, here are a few authentic dishes to indulge in while in Sri Lanka
Home-style rice and curry
A traditional rice and curry is a feast for all the senses – the pungent spices, exotic flavours, different textures, and the ever so photogenic display of colourful curries and sambals strategically placed around a copious amount of rice. Coconut is a main feature in Lankan curries with most dishes featuring a base of coconut oil, milk or the freshly grated flesh, accentuated with a blend of local spices including cinnamon, cloves, coriander seeds, curry leaves and of course fresh chillies.
Each rice and curry meal is a "chef's special", each one different from the next, featuring at least two fresh vegetarian curries, your meat or seafood choice (almost always spicy!), red, white or turmeric infused yellow rice and an accompaniment of chutney, a fresh coconut sambal of either Sri Lanka's superfood – gotukola or the spicier pol (coconut and chilli) sambal and to a top it all off a fantastically crunchy poppadum. Some choose to crush the poppadum over the top while others save it until the end.
Cooks are great at using seasonal produce often sourced from the closest farms or estates. My personal favourites are beetroot curry, tempered beans and eggplant moju , when I'm feeling particularly indulgent – a cashewnut (cadju) or mouthwatering mango curry. No matter the choice – you are guaranteed a taste sensation. For the taste of a home cooked rice and curry while on tour visit the Empire Café in Kandy and delve into their classic rice and curry – you won't be disappointed.
Hoppers
Served piping hot at breakfast or dinner, hoppers are a crispy, bowl shaped coconut milk pancake, patterned like lace. They are made in a curved frying pan often handed down from generation to generation; the more 'seasoned' by use – the better the hopper. Much like their distant Indian cousin the dosai, hoppers are best eaten with your hands.
Choose between plain, egg or sweet; eat them filled, then rolled like a pancake or used to mop up your accompaniment of choice. Enjoy with a simple sweet onion relish (seeni sambal) at breakfast or a dinner selection of dahl, spicy prawn curry and a side of fresh coconut sambal. Finally satisfy your sweet tooth with a sweet milk (kiri) hopper topped with kithul – the local's answer to maple syrup, tapped from flowers of the kithul palm. Most hotels will offer hoppers on their menus but they are best sampled from street vendors or kades.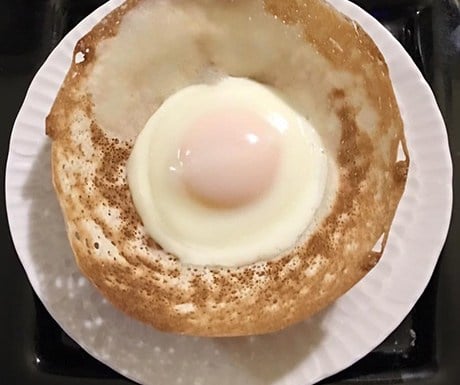 Kotthu Rotti
The clanging of metal paddles on a large grill plate is a familiar sound to anyone who has visited Sri Lanka. Directly translated as 'chopped rotti', this noise is the method of preparing a kotthu rotti. The thin, stretchy rotti similar to Malaysian rotti canai is shredded on the hot plate, combined with julienned carrots, onions and leeks then drenched in thick curry and wrapped in a newspaper for that extra flavour. Tourist cafes have begun to experiment with the traditional flavours adding cheese or egg to the mix and adapting the spice to a western palette. If you prefer a more on the go snack – enjoy a rotti wrapped around your curry of choice, similar to a burrito, or filled with banana and chocolate then sealed on the hot plate. Lip smackingly good, kotthu is the ultimate street food. For an extensive selection of kotthu or filled rottis visit the genuine, family run 'Dewmini's Roti Shop' in Mirissa on the south coast.
Kiri Bath & Lunu Miris
Kiri Bath otherwise known as milk rice is an auspicious meal made at all special occasions, some families will make it on the first of every month for good fortune. Rice is cooked in coconut milk and left in a tray to set almost as cake. It is then served, sliced into diamond-like shapes. This staple is simply served with a banana and lunu miris. Lunu miris is a traditional condiment of onion and chilli blended to perfection on the traditional grinding stone a "miris gala" or a mortar and pestle. For the hungrier, kiribath can be enjoyed with a kiri hodi ( turmeric and curry flavoured coconut milk gravy) and as many curries as your heart desires. As this dish is usually reserved for a special occasions you may have to make a special request at your villa or seek out a hotel buffet.
Lamprais
Lamprais are a distinctive, rich rice and curry delicacy unique to the Dutch- Burgher community – descendants from the Dutch who settled on the island in the 17th Century. Wrapped in banana leaf, these individual parcels are made up of stock and spice boiled rice, a mixed meat curry, aubergine curry, shrimp paste, sweet onion relish and a frikkadel similar to mincemeat crumbed and deep fried balls. There is an on-going debate as to whether a boiled egg is traditionally included, but I am certainly a fan of those that do. After each curry is individually made they are placed together in the banana leaf which is then wrapped and cooked for a second time in an oven. This final step gives the meal it's distinct flavoursome character. For a truly authentic lamprais visit the Dutch Burgher Union (DBU) in Colombo and stock up on them as they freeze well.
Jaffna Crab Curry
Sri Lanka is blessed with a glorious coastline abundant in seafood particularly some of the best crabs in the world, much of which is exported to wealthier nations. In the North of the island they blend an intense, roasted curry powder featuring dried red chillies, cumin, fennel, coriander seeds, fenugreek and curry leaves. These aromatics are heated in a heavy based saucepan, coconut milk is added to create rich gravy to which the crabs are added and cooked in the shell until the flesh is perfectly tender. Served up hot, be prepared to get messy as you crack into the claws and mop up the mind-blowing gravy with kade-paan (street bread) that will melt in your mouth. If your itinerary takes you up to Jaffna you will be lucky enough to taste the catch of the day curry in its birth place, or for a more formal and pricey experience seek out the award winning Ministry of Crab in Colombo's Dutch Hospital precinct – you won't regret it.
One final word of advice – remember to pack your appetite!
Harshi Hewage is the Marketing Manager at Manor House Concepts.
If you would like to be a guest blogger on A Luxury Travel Blog in order to raise your profile, please contact us.