Dubai is certainly gaining traction on the global foodie scene, with numerous choices of cuisine to dine out for every meal. With award-winning fine dining establishments to street food (and almost everything in between), it's difficult to ensure the best choice. Fortunately, there are bargains to be had at some of the top venues, all in the form of a business lunch. Many of the best opportunities are located at DIFC.
DIFC (shorthand for the Dubai International Financial Center) is the financial home of Dubai and is instantly recognizable by its dynamic architecture and collection of multi-national companies. The area is home to over 60 exciting venues and restaurants, both upmarket to more 'grab and go' solutions, operating from breakfast through happy hour and beyond. For the discerning customer, the opportunity to capitalize on a business lunch is not only an excellent method of sampling a menu before committing to a longer meal on another visit, but also a chance at some of the best value for money in the city. So, if you find yourself among the movers and shakers of Dubai between the hours of 12-3PM, Sunday through Thursday, here are four restaurants definitely worth exploring.
With the below venues located in the iconic Gate Village, home to not only food and beverage outlets, but also art galleries and unique retail opportunities, guests will want to have a wander before or after their meal.
Gaucho 
Feel Good // Feel Great
Known for their eclectic interior and excellent cuts of beef, this import from London (with Argentinean beef) offers two menus for lunch time diners. Rotating on a monthly basis, guests have the choice of the 'Be Good' (500 calories, two or three courses) or the 'Be Great' menu (with a bit more to work off over two or three courses), with neither compromising in taste or options. Recent selections include Poached salmon salad or Baked gnocchi with truffle cream. In case you needed further encouragement, both menus come with a special beverage pairing (including reasonably priced wine and beer). The best part? The price! At AED150 / ~$US40 for three courses (or AED120 for two courses), this is an absolute bargain and one sure to keep you satisfied.
While Dubai is spoiled with three fine dining Peruvian restaurants inside the city limits, this venue, tucked away on the third floor of the super stylish Capital Club, is a great spot to grab authentic South American flavors in DIFC. Chef Jaime Pesaque, who has properties in both Lima and Dubai, offer a business lunch with an excellent selection of five starters, five mains, and two desserts. This is the perfect location for a flavorful meal, washed down with a Pisco Sour. Grab the three-course meal of your choice for AED120.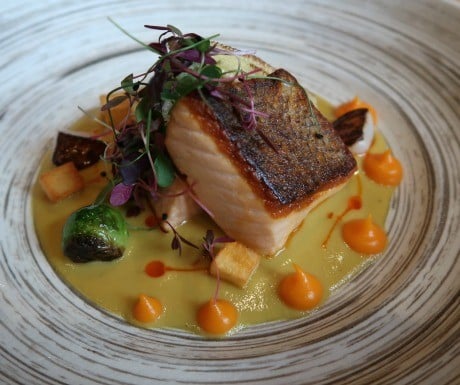 With a sophisticated interior and located in conjunction of the recently opened Four Seasons DIFC, this is the perfect location for a business lunch. Guests can choose between a seat in the open dining room or the chic lounge (where smokers are welcomed). For four courses at AED130, this is an ideal stop for a filling lunch. Like others in this category, diners can expect perfect portions and beautiful plating. If you're looking for an exceptional treat, try one of the spherical olives (not on the lunch menu, but well worth the additional AED8). As parking is always a struggle at DIFC, be sure to valet at the Four Seasons and not worry about where to park your car.
Also set in the Four Seasons DIFC is Chef Michael Mina's Firebird Diner. Styled in a retro design, this chrome-laden restaurant (complete with working jukebox), is an excellent choice for a fresh and upmarket take on American classics, including salads, sandwiches, and soup. Friendly staff wear chic 'diner' uniforms and are professional and helpful. Standout items from the menu include Lobster Roll, Foie Grass Sliders, Philly Cheese Steak, and Grilled Cheese with Heirloom Tomato Bisque. Similar to the other offers, the cost is AED130.
One final note, diners should be aware DIFC charges an additional 10% authority fee on top of the above prices.
Do you have a favorite restaurant in DIFC? Or, where is your favorite place for lunch in Dubai?