By
Sam Clark
on Feb 02, 2017 in
Accommodation
,
Air Travel
,
Asia
,
Attractions
,
Cambodia
,
Going Out
,
Hotels
,
Indonesia
,
Laos
,
Leisure Travel
,
Malaysia
,
Regions
,
Road Travel
,
Speciality Travel
,
Vietnam
Remarkably, Southeast Asia has 37 incredible UNESCO heritage sites. These sites are 'must see' for good reason but the downside is that many other tourists will be there at the same time. The magic of Angkor can be lost if you're swamped by bus loads of tourists each trying to snap that iconic shot, before trooping back onto their tour bus. We believe though, that there is a better way and that you can see the sights in a unique way, dodging the crowds to ensure you're getting the sense of discovery that makes travel amazing. Here are our top 5 ways to experience Indochina's UNESCO gems:
Cambodia  – Angkor Wat at daybreak
OK so this one involves getting up early. Very early. But if you have a crafty guide and a well-planned tour your guide will take you to the heart of Angkor Wat as the sun rises, before most visitors arrive. Approaching from the right direction pays dividends as the main tour buses always follow the same route. Your early start will pay off 100 times over with one of the most magical sunrises you'll ever experience.
Laos – magical Luang Prabang by bike
Get off the tourist track and explore laidback Luang Prabang by bike. Visit the temples, markets and French villas with your guide, before exploring the outlying villages, taking in the serene backdrop of the Laotian landscape. It's a great way to get a sense of the slow and peaceful pace of life here and you'll quickly get away from the congregations of tourists in the centre of town.
Vietnam  – Hoi An by Vespa
Beautiful Hoi An is a feast for the eyes and a great way to explore it from a different perspective, is scooting through its lantern-lit alleyways on a Vespa in the early evening. Head across to peaceful Can Nam Island for a seafood entrée watching the sun set over the ancient town, then return downtown to sip cocktails and eat "wrap 'n roll" dishes as the street stalls come to life.
Myanmar – Ballooning over Bagan
Put under a microscope, the repair work on some of the Bagan temples looks just as it is: hurried and ill thought through. From a distance though, the numerous stupas still retain all the magic of the past. The sheer size and scale of the site is most apparent from the air: the peace and tranquillity of hot air ballooning makes enjoying the magnificent scene incredibly special.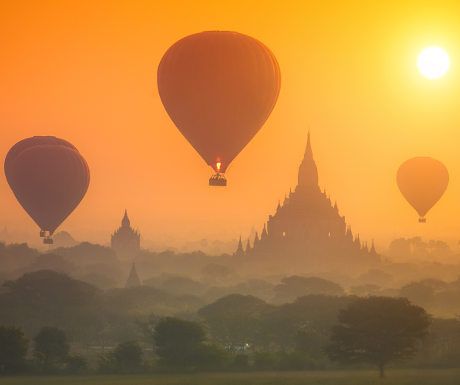 Indonesia – Staying at an iconic hotel overlooking beautiful Borobudur
Indonesia's extraordinary 9th century Buddhist temple of Borobudur is a very special place. To really do it in style, stay next door at the incredible Amanjiwo hotel – my personal favourite Aman hotel – and enjoy views of the temple from the gorgeous comfort of one of Asia's very best hotels. Very special!
Sam Clark is CEO at Experience Travel Group.
If you would like to be a guest blogger on A Luxury Travel Blog in order to raise your profile, please contact us.