4 of the coolest neighbourhoods in Rome
Of course you want to see the sights – the Colosseum, the Vatican, the Trevi Fountain – but it's only when you explore the neighbourhoods that you really get to know Rome. These are four of the most vibrant, all located in or near the city centre.
Monti
The tangle of streets stretching across the hill from Via Nazionale to the Colosseum is known as Monti. In Ancient Rome the district was the notorious Suburra – red-light district, and birthplace of Julius Caesar – but over the centuries it's undergone something of a gentrification. These days workshops are next-door to cocktail bars, while churches sit side by side with trendy boutiques.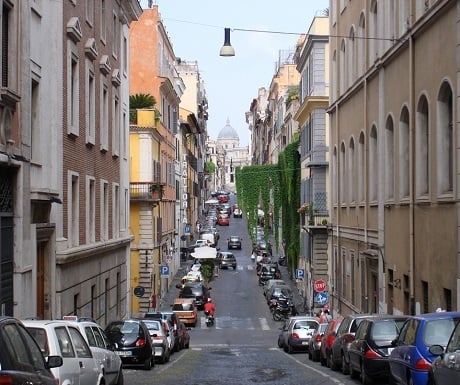 A good place to start is the Piazza della Madonna dei Monti, which is right at the centre of neighbourhood life. It's particularly lively at night, when crowds of young people gather on the steps of the fountain, drinking beer and watching the world go by. Surrounding streets such as Via del Boschetto and Via Urbana are lined with quirky design shops and independent boutiques. Check out Tina Sondergaard's handmade, 1950s style dresses and upmarket vintage shop Pulp, where you'll find high quality secondhand clothes and the occasional designer brand. Another Monti institution is Mercato Monti – a weekend market selling everything from vintage sunglasses and jewellery to handmade lamps. There's no shortage of places to eat and drink in Monti, but we particularly recommend La Carbonara (Via Panisperna 214) and the cosy Taverna Romana (Via della Madonna dei Monti 79) for classic Roman cuisine. Fafiuche (Via della Madonna dei Monti 28) is an enoteca specialising in Piemontese wine, which offers an excellent aperitivo.
Trastevere
Although no longer a secret – Trastevere has been well and truly discovered by tourists – this picturesque neighbourhood still has plenty of charm. This ancient district on the western side of the river Tiber has always proudly distinguished itself from the rest of the city, and it still retains a unique atmosphere.
During the day, take a walk through the quiet backstreets, visit beautiful churches such as Santa Maria and Santa Cecilia, and admire the spectacular views from the Gianicolo. But it's at night that Trastevere comes alive – the streets around Piazza Santa Maria in Trastevere are filled with an eclectic mix of locals, tourists and students, drifting from restaurant to bar to piazza, and then on to another bar. It's lively without being chaotic, as Italians tend to enjoy their alcohol in moderation (and almost always with food). There's a real range of bars in Trastevere. If you want the old-school Roman experience, grab a table outside at Bar San Calisto (Piazza di San Calisto 4) and order a Peroni. For craft beer, try Ma Che Siete Venuti a Fa' (Via Benedetta 25). Freni e Frizioni (Via del Politeama 4/6) is famed for its cocktails and abundant aperitivo, while one of the coolest new openings is Agaveria La Punta (Via di Santa Cecilia 8), a Mexican cocktail bar where you can enjoy tequila and tacos.
Testaccio
This laidback residential neighbourhood is just beyond the edge of the tourist map (close to Trastevere and the Aventine Hill), but it's becoming increasingly popular with visitors who want to discover the more authentic, down-to-earth side of Rome. Once a humble, working-class district best-known for its abattoir, Testaccio is foodie heaven, and these days you'll spot the occasional food tour group weaving through the local shoppers at the market.
As well as a large food market selling high quality fruit, vegetables, cheese and meat, another popular stop on the newly-forged tourist trail is Volpetti. This delicatessen is packed with gourmet cheese and meat, and is a good place to pick up a present or souvenir, such as a bottle of olive oil or a panettone at Christmas. Nearby Palombi also has a selection of delicious local specialities, and at night it transforms into the bar L'Oasi della Birra, which offers perhaps the best (and best value) aperitivo in Rome. Testaccio is full of famous restaurants, including Da Felice (Via Mastro Giorgio 29) and Flavio al Velavevodetto (Via di Monte Testaccio 97), where you can indulge in classic Roman pasta dishes such as carbonara and cacio e pepe. If you fancy a thin and crispy Roman pizza, try Da Remo (Piazza di Santa Maria Liberatrice 44), or Il Grottino (Via Marmorata 165). After dinner, head to Monte Testaccio. This artificial hill is basically an Ancient Roman rubbish dump, made up of broken pottery, and is now the location of some of Rome's most famous nightclubs, such as Akab and L'Alibi.
Pigneto
If you want to experience the more alternative side of Rome, take the tram to Pigneto. Just 15 minutes from Termini is the Roman equivalent of Shoreditch or Brooklyn, a vibrant neighbourhood that feels a world away from the centro storico. Think street art, a lively nightlife, and two-storey 20th century buildings rather than Renaissance palazzi. No, it's not the Rome of
La Dolce Vita
, but for many, that's part of its appeal – hardly a tourist in sight.
Looking for live music? Check out 'Na Cosetta, a bistro with jazz, swing and indie nights, or Fanfulla for a mix of rock, pop and electro. If you understand Italian, Pigneto's independent cinemas are also worth investigating; Alphaville shows a range of Italian and international films, while at Kino you can enjoy dinner and drinks either pre or post film. The main street, Via del Pigneto, is packed with bars, including Mezzo, Cargo, and Bottiglieria Pigneto. You should also pay a visit to the famous Necci dal 1924 (Via Fanfulla da Lodi 68), which makes an appearance in a Pasolini film. It tends to be busy all day long, offering a delicious brunch as well as aperitivo and dinner. While Pigneto is generally safe, take care if you're there late at night, especially if you're on your own.
Rosario Gorgone is Co-Founder of Through Eternity Tours.
If you would like to be a guest blogger on A Luxury Travel Blog in order to raise your profile, please contact us.
Did you enjoy this article?
Receive similar content direct to your inbox.