Top 5 venues in Vienna for classical music connoisseurs
Every day, Austria's capital Vienna stages one to three dozen classical music events. Many of them take place in luxurious spots but not all of them offer a luxury experience. Here are Wien's top five classical venues for music connoisseurs.
Wiener Musikverein
The home of the Vienna Philharmonic Orchestra is the epicenter of classical music. For 150 years, the orchestra, top international musicians and conductors have been creating sound experiences that catapulted the neoclassic temple to the top of world classical venues. The most prestigious concerts and recitals take place in the Golden Hall (Grosser Musikvereinssaal), such as the Vienna New Year's Concert. The other six concert halls are smaller and more modest. Definitely the best events for music fans are those one-off concerts that focus on the music and avoid costumes and dinner packages. Tickets for the best concerts need to be obtained well in advance.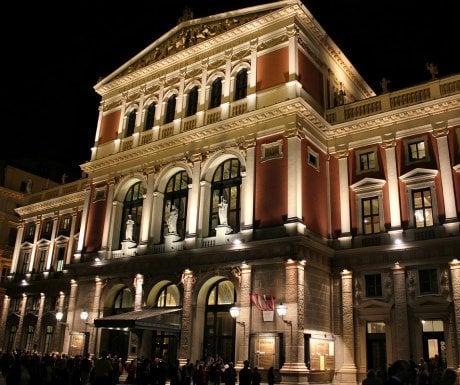 Address: Musikvereinsplatz 1, 1010 Vienna
Wiener Staatsoper
The Vienna State Opera is the world's largest repertory music theatre, producing 60 different operas and ballets each year. The Staatsoper's orchestra is closely connected to the Vienna Philharmonic Orchestra, serving as the main talent pool of recruitment for the Philharmonics. Most operas and ballets are performed using classical choreography and stage settings. This is a great place to experience grand classical composers, from Wolfgang A. Mozart to Puccini, Rossini, Strauss and Verdi. Make sure you book tickets well in advance. When booking directly through the State Opera there may be a waiting list, depending on the season and the attraction of the performance. The opera house also offers guided backstage tours which perfectly introduce opera fans to the Staatsoper.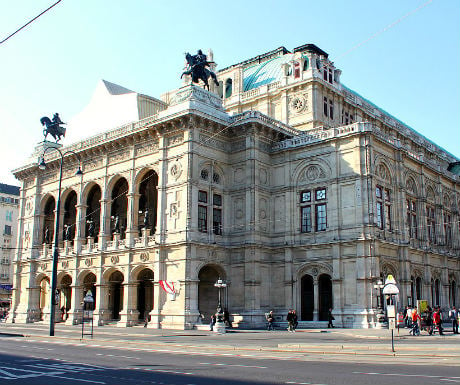 Address: Kaerntner Ring / Oper, 1010 Vienna
Wiener Konzerthaus
Wiener Konzerthaus radiates elegant Art Nouveau and Historism across its facade, foyer and four music halls. Home to the Vienna Symphonic Orchestra, Konzerthaus has established itself as the innovative force of classical music in Wien. While the Vienna Philharmonic Orchestra preserves traditional classics, the Vienna Symphonics seek to develop it further, blending it with other musical genres and experimenting with it. Like at Musikverein, Konzerthaus attracts the most talented musicians, orchestras and conductors. Three of the five music festivals at Konzerthaus focus on classical music. Konzerthaus is an ideal place to choose between various event formats, from symphony orchestras to chamber music ensembles, opera recitals and piano solo performances.
Address: Lothringer Strasse 20, 1030 Vienna
Karlskirche
The church St. Charles Borromeo is one of Vienna's top baroque churches. Musicians and music fans love the 70 metre high dome of the relatively small church for its great acoustics. The church was built by the same architect who constructed Schonbrunn Palace. As for its musical mission, Karlskirche is the realm of Orchester 1756, a baroque orchestra whose musicians use original baroque instruments. The programme focuses almost entirely on Mozart's Requiem and Vivaldi's Four Seasons. The Salzburg-based orchestra has clear origins in the tourism industry but ranks in the upper segment of classical musicians. Hence, the audience at Karlskirche is mostly made up of travellers – looking for a non-variete Mozart and Vivaldi experience.
Address: Kreuzherrengasse 1, 1040 Vienna
MuTh
MuTh stands for Musik und Theater and is Vienna's youngest concert hall. With that venue, the Vienna Boys Choir finally secured their own concert hall for rehearsals and performances. The building mixes some baroque elements in the exterior but is essentially a modern glass and wood construction. The architectural project provoked a massive local outcry before being embraced when it was finished. Located in Vienna's residential second district, the programme mixes smaller classical concerts with a regular 'music salon' and music events for families. This is probably the best venue to experience the Vienna Boys Choir off the beaten track.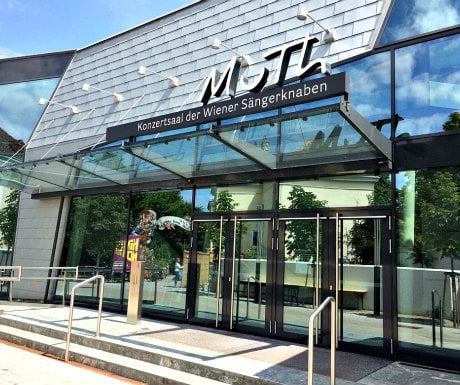 Address: Oberer Augartenspitz 1, 1020 Vienna
Barbara Grüll-Cação is the Founder of Vienna Unwrapped.
If you would like to be a guest blogger on A Luxury Travel Blog in order to raise your profile, please contact us.
Did you enjoy this article?
Receive similar content direct to your inbox.