By
Naomi Sheehy
on Feb 14, 2017 in
Attractions
,
Europe
,
Going Out
,
Health & Safety
,
Ireland
,
Rail Travel
,
Regions
,
Speciality Travel
,
Travel Miscellany
,
Western Europe
Are you looking for something a little different while in Ireland? We have all enjoyed the obvious luxury getaways. Indulgent buffet breakfasts in a massive 5-star  hotel followed by some shopping, cocktails and a fantastic dinner. While this will never get old, our adventurous side needs to be entertained also. Ireland is topping the polls with thrilling alternatives. Why not try these:
Luxury boot camp and wellness retreat
Self-improvement in style. Irish owned "Pure Results" wellness retreats and luxury boot camps are a unique way to enjoy one of Ireland's most beautiful country manor house hotels. Benefit from a team of nutritionists, fitness experts and motivation gurus. The brainchild of Ireland's celebrity face of fitness, Katherine Thomas, these weekend tasters or week long boot camps will energise and revitalise the weary worker.
Stay at either the historical Parknasilla Resort & Spa in County Kerry, or Mount Falcon Estate in Ballina, County Mayo depending on the time of year you choose to partake.
Tried and tested, I can confirm that muscles are toned, health is improved and you meet some great people along the way. It can be challenging, but at the end of the day you can enjoy the luxury spa facilities or walk the stunning grounds. There is nothing can compare to adrenaline fueled exercise looking out at the huge wild Atlantic. A luxury weekend with a difference.
Luxury train tour
Ireland has a railway network that up to now was used by commuters and the national post. In 2016  the Royal Hibernia Belmond train company opened its Luxury Train tours taking in the best scenic routes and cultural experiences Ireland has to offer. Reminiscent of the Orient Express, the luxury train can accommodate up to 40 guests at a time and take a two-, four- or six-night journey. Fine dining each night from the beautifully appointed viewing cars are a luxury experience not to be missed.
Each luxury cabin is rich with an authentic Irish atmosphere, with a mix of modern luxury and traditional design to sumptuous effect. Each carriage is named after an Irish county with cabins decorated to match their county's traditional tartan. There is an obsessive attention to detail becoming of one of Europe's most luxurious trains.
Each journey includes meals, drinks and excursions which for those seeking a unique way to see Ireland, this is it! Romance, scenery and decedent comfort all in one experience.
Clay pigeon shooting
While shooting might not be everyone's cup of tea, heading to the west of Ireland to one of the most luxurious castle estates in Europe might. Ashford Castle has won numerous awards and stands out as one of the finest hotels in the world.
With Downton Abbey in mind, dressing in the appropriate tweed, and heading out on the Estate for an afternoon of clay pigeon shooting might just be the most thrilling thing you have done all year! Slightly addictive, always looking for one more go to get the perfect shot, this will not be an experience you will not easily forget.
I would suggest a specially selected Irish whiskey afterwards to settle the nerves followed by a fantastic fine dining experience in the George V dining room to top off the day.
Game of Thrones day private tour
Since HBO started filming its Game of Thrones TV series based on George RR Martin's novels in the North of Ireland, people have been clamoring to visit the film set locations to relive the thrills and the drama against the  backdrop of the stunning northern Ireland. The full day tour by "Winterfell Tours" is designed for the avid fan in mind. Fans and novices alike love this day out. You can bring your own driver, or for more adventure, avail of the 4 x 4 vehicles provided by the tour company and let your guide take you deep into the Morne Mountain countryside were some of the best scenes are filmed.
The tour begins at Winterfell Castle & Demesne, located just 40 minutes from Belfast. The castle was used extensively for the northern scenes. When you first arrive onto ancient demesne you soon realise why the HBO location scouts chose the time-warp 'Old Castle Ward'; the sprawling medieval walls and imposing castle tower gate, the beautiful surrounding landscapes and far-reaching views across the lough; it was the perfect place to create Winterfell – home of the Stark family.
Try some archery, meet the Dire wolves used in the filming and sample some local craft beer with the lunch supplied. Enjoy stories from your guide about the days of filming and meet the actual castle owners themselves. After lunch, head out into the country side and visit the extensive list of film sites in your private 4 x 4 vehicle. The views are stunning and your guide will help you relive your favourite scenes. Private helicopter tours and exclusive meet an actor from the show are available as extras.
Private guided Dublin whiskey walk
This four and a half hour private walking tour first takes you through the Irish whiskey museum discovering an insight into the history of Irish whiskey from its first inception in the 6th century through its peak in the 18th century. Your guide is engaging and brings you to local Dublin whiskey pubs through the lively Temple Bar part of the city where you are advised on the best whiskey to try. You are guided through some of the oldest parts of the city and then on to the famous Old Jameson Distillery.
The tour brings you through the living history of the Old Jameson Distillery, where the legend of John Jameson began. You'll get a glimpse into the past, and the craft and traditions, for over two centuries. You will end the tour by putting theory into practice, with a comparative tasting, giving you an understanding of the key differences between Scotch, American and Jameson Irish Whiskey. Since memories can fade over time, you'll also be given a refreshing Jameson Ginger and Lime, a coveted Jameson Whiskey Tasting Certificate, and all the bragging rights that come with it.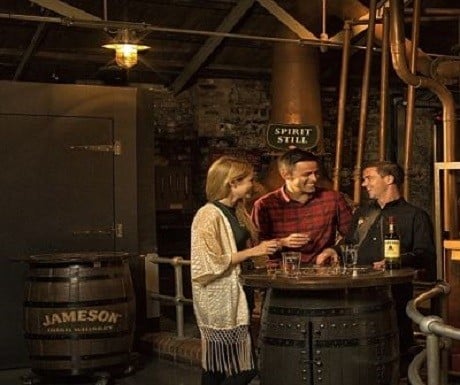 Naomi Sheehy is CEO of Ireland Luxury Travel.
If you would like to be a guest blogger on A Luxury Travel Blog in order to raise your profile, please contact us.