Historic explorers and modern day holiday makers alike have never failed to be astounded by the sheer natural beauty of the Galapagos Islands. Striking white sand beaches, jagged volcanic landscapes and ancient wildlife come together in a colourful burst of photogenic splendour where even the most well-travelled visitors will be left speechless.
Without doubt, the best way to see this slice of paradise is by boat, which allows guests to island hop between the highlights. But with demand for the islands increasing, and the boat permits becoming harder to get, the current operators have gone above and beyond to ensure their yachts stand out among the crowd. Here are 6 of the best;
1. Grace
This traditional yacht oozing style was given to Prince Rainier and Grace Kelly, who then became Princess Grace of Monaco, as a wedding gift back in 1963. Aristotle Onassis who gifted them the 145ft yacht described it as 'elegant' and that still holds true today. A journey aboard the Grace Yacht gives you an opportunity to lie back in luxury and take a trip back in time as you enjoy one of the finest cruises available in the Galapagos Islands. There are 9 spacious cabins, all featuring ocean views, comfortable beds and excellent amenities. Elsewhere on board, guests will enjoy the expansive lounge area, stylish dining room, sun deck and hot tub. The Grace also has a high crew-to-passenger ratio, all of whom have been chosen due to their excellent knowledge on the wildlife of these fascinating islands, making a cruise on this yacht unforgettable.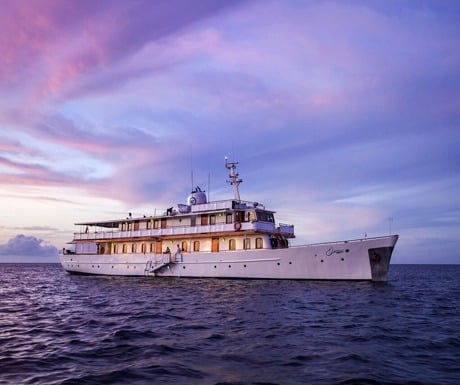 2. Passion
Just 12 passengers, in 6 spacious cabins, are able enjoy the luxurious facilities of the newly refurbished Passion. With a length of 159ft and 4 teak wood decks, there is enough room for all guests to truly escape from the hustle and bustle of everyday life. On board, a panoramic sky lounge, dining room, sun deck and al fresco dining area all create fabulous living spaces where guests can relax and look back over a day which is sure to have been full of stunning wildlife encounters. The cabins are well equipped, with air conditioning and private bathrooms with rose marble features, making a stay more akin to a luxury hotel than a yacht. First class service also awaits any guests on board the Passion, with a staff to passenger ratio of 1:1 and exemplary gourmet cuisine being served up each and every day.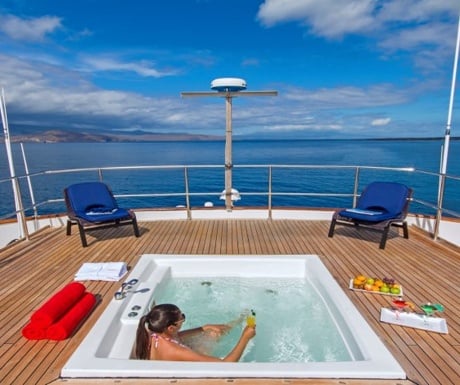 3. Natural Paradise
The Natural Paradise is a brand-new yacht boasting a luxurious and intimate experience whilst cruising the Galapagos Islands. The 16-guest capacity allows each person to be spoilt rotten with the facilities available, including spacious sun deck, cocktail bar, jacuzzi, library and al fresco dining area. The interiors of the cabins are well designed, modern masterpieces with beautiful photos adorning the walls and amenities such as air conditioning, private bathrooms and safety deposit boxes. All of the excursions are led by an official, bilingual naturalist guide and once you are back on the yacht, 10 more members of staff are on duty to cater to your every need.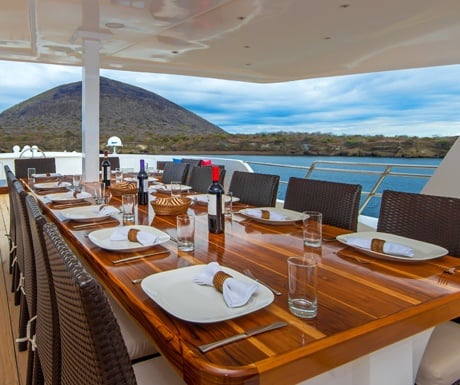 4. Origin
Designed for sustainability and comfort, this state-of-the-art yacht is the ultimate in eco-friendly cruising. The Origin is an award-winner, with minimal environmental impact and understated luxury, any guest will be well looked after. The cabins of the Origin are stunning, with large windows that offer incredible and expansive ocean views, plus exceptional amenities and comfortable beds. After a busy day exploring the islands, they are the perfect space to relax in and reflect on the day's events. If you would rather get to know the other guests, there is an elegant dining room, sun deck with large sunbeds, jacuzzi, bar and comfortable lounge area for everyone to enjoy.  For a trip around the Galapagos, this yacht is the perfect choice for an indulgent and exclusive holiday.
5. Petrel
Newly built and beautifully furnished, the Petrel is just like its namesake – swift, elegant and silent at sea. This modern and spacious yacht is the perfect base when exploring the fabulous Galapagos Islands, offering guests impeccable service and a truly memorable holiday. On board, there is a public lounge stocked with books and maps, additional library, fitness area, sundeck, jacuzzi and dining room. Guests can also make good use of the complimentary kayaks and snorkelling gear. Each cabin is spacious, and the contemporary design continues into each one, with amenities including a private balcony, bathrobes and a selection of toiletries.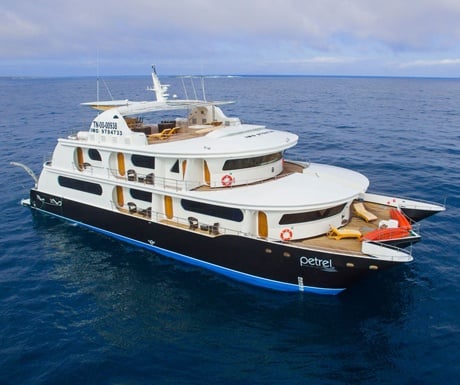 6. Legend
The Legend is a luxury ship which offers all the amenities of a large cruise liner without sacrificing the intimacy you'd expect on a small yacht. Due to its bigger size, the ship benefits from having one of the largest groups of qualified staff in the Galapagos. Each member of staff is trained to give guests the very best service and offer first class hospitality, resulting in a once -in-a-lifetime holiday for anyone who stays on board the Legend.  Despite the 100-passenger capacity, each cabin is wonderfully appointed, with air conditioning, a mini bar, ocean views, private bathroom with hot water, safe and a TV. There are many social areas too – including a swimming pool, jacuzzi, well-stocked bar, gym, sun deck, library, piano lounge, games room, restaurant and massage area.
Simon Williams is Director of Humboldt Travel. Humboldt Travel is a luxury travel company specialising in tailor made holidays to Latin America.
If you would like to be a guest blogger on A Luxury Travel Blog in order to raise your profile, please contact us.