In Japan, hot-spring bathing isn't just a favourite pastime – it's a national obsession. Straddling two bucking tectonic plates on the Pacific's infamous 'Ring of Fire', Japan is extremely volcanically active – and this proliferation of geological activity has one very fortunate side-effect: hot springs.
There are thousands of hot springs (onsen) in Japan, and bathing in them has been a central part of Japanese culture since its earliest days. Even today the Japanese will travel hundreds of miles just to soak in the waters of a particular spring, and who could blame them? There's nothing quite like sinking into a steaming bath at the end of the day, surrounded by fresh mountain air, sea views, or perhaps even falling snow.
But with so many onsen to choose from, where should you go for the best Japanese-style bathing experience? Here are a few of our favourites…
1. Nyuto Onsen
The name 'Nyuto Onsen' translates as 'Nipple Hot Springs' – a name that comes from the shape of the mountains nearby rather than the milky-white colour of the waters. Nyuto Onsen is a hot-spring town in the mountains of Akita Prefecture, northern Honshu Island. The town is home to eight different traditional inns, each with its own hot-spring bath available to paying guests and day trippers alike. The town's most famous bath is Tsurunoyu, which is mixed-gender and dates back to the Edo Period (1603-1868).
2. Tsuboyu
Located in remote Yunomine Onsen, in the mountains of the Kii Peninsula, Tsuboyu is the only hot-spring bath in Japan to be designated a World Heritage Site. Housed in a gloomy stone shack no larger than a toilet cubicle, the bath overhangs a river and stinks to high heaven of sulphur – all of which might not sound like the most relaxing experience, but it's certainly one to remember!
3. I Love Yuu
A cheeky play on words ('yuu' is Japanese for 'hot water'), this gloriously kitschy bathhouse is a far cry from the traditional, wood-pannelled edifices more common across Japan. Located on Naoshima, an island famed for its superb museums and world-class art collections, I Love Yuu was designed by the artist Otake Shinro and is decorated with pink palm trees, erotic mosaics, a giant elephant statue and much, much more.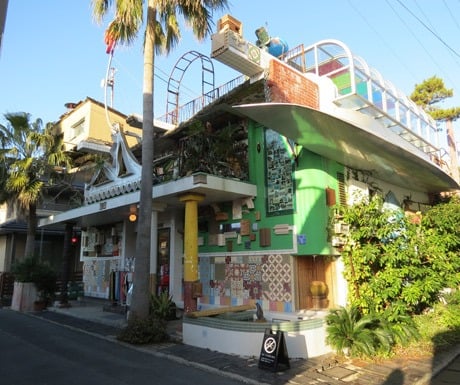 4. Dogo Onsen
Purportedly the oldest bathhouse in Japan, Dogo Onsen in Matsuyama City is the official bathhouse of the Japanese royal family (there is an exclusive bath just for their use!) and is said to have inspired Hayao Miyazaki's animated masterpiece, Spirited Away. The beautiful, maze-like building opened its doors in 1894, but there has been a bathhouse on this spot in some shape or form for over a millennium.
5. Osaka Spa World
Venturing back into the world of kitsch, Osaka Spa World is Japan's premier onsen theme park. Offering two different floors (one 'Asian', one 'European'), Spa World boasts a plethora of themed baths, from a Finnish sauna complete with model wolves to a cave bath with water like milk and honey and plenty more in between!
6. Kinosaki Onsen
Sandwiched between mountains and sea in Hyogo Prefecture, southwestern Japan, Kinosaki Onsen is the archetypal Japanese hot-spring town. Don your yukata bathrobe and wander through the quiet streets from inn to inn, sampling the waters at each of the town's seven bathhouses while admiring the lovely riverfront lined with weeping willows.
7. Jigokudani
Not all hot springs are for humans! For an alternative bathing experience in Japan, head to the Jigokudani Monkey Park in the mountains of central Japan to see our simian cousins soaking in the soothing waters, surrounded by deep drifts of snow. Of course, you can't bathe with the monkeys – but head to nearby Yudanaka Onsen and there are plenty of traditional inns with superb hot-spring baths to try.
8. Kawayu Onsen
The final hot spring on this list is tucked away in the countryside of the Kii Peninsula, not far from Tsuboyu (no. 2). Kawayu Onsen is famous in Japan for its giant senninburo ('thousand-person bath'), which is dug by hand from the riverbed every winter.
These are just a few of Japan's best hot-spring baths – but there are hundreds more! You'll have to visit Japan for yourself to choose your own favourite.
Alastair Donnelly is Director at InsideAsia Tours.
If you would like to be a guest blogger on A Luxury Travel Blog in order to raise your profile, please contact us.