The 12 best chocolate shops in Paris
Chocolate is something most travelers of all ages love. It's not difficult to find in Paris. In fact, it's the opposite—there are so many chocolate shops and
patisseries
that it can be hard to choose! Luckily, I've asked French chocolate expert Lauranie to tell me her 12 favorite
chocolatiers
in Paris. And after trying quite a few of them myself, I can only invite you to try them out yourselves. You will clearly not be disappointed. So, without further ado, here are the 12 best chocolate shops in Paris:
Not only is
Debauve & Gallaisa
classic in Paris, but it's also the oldest chocolate store in the city. It was started by Sulpice Debauve in 1800, and since then, the shop has been dedicated to creating delicious chocolate treats. In fact, they even became the official chocolate supplier for Napoleon and the French Court. If it was good enough for great French leaders, then you'll certainly love it. Debauve & Gallais also has a wide array of dark chocolates, some of which have a cocoa percentage of 99%!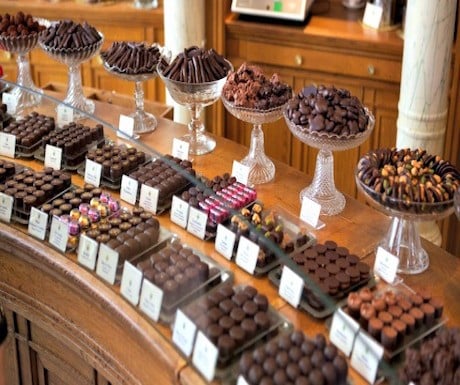 Address: 30 Rue des Saints-Pères, 75007 Paris
Hours: Monday through Saturday from 9:00am to 7:00pm
Originating in Roanne, a small town outside of Lyon, in 1948,
La Maison Pralus
was started by Auguste Pralus. A celebrated chocolatier, Pralus received the prestigious "Meilleurs Ouvrier de France" (Best Worker in France) award in 1955 for his chocolate. Although his son François Pralus took over in 1988, the chocolate still has its expert quality, and François has won awards himself for his delicious creations. Pralus invested in a cocoa plantation in Madagascar, which allows him to oversee the creation of the chocolate from the bean to the final product. The most famous product at Maison Pralus might be the "barre infernale" which is a chocolate every bit as delicious at it is large.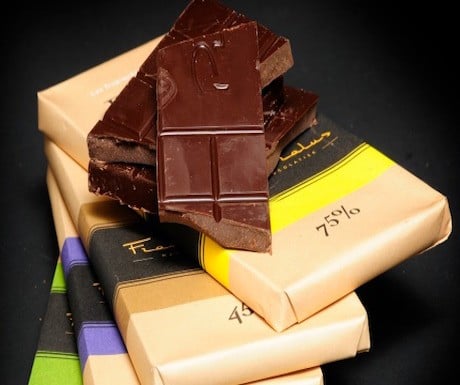 Address: 35 Rue de Rambuteau
Hours: Open everyday from 10:00am to 8:00pm, except on Sunday when the store closes at 7:00pm
If you're looking for not only amazing chocolates, but also delicious pastries and macarons (perhaps some of the best in Paris), look no further than
Gérard Mulot
. This shop is in a classic location in the heart of Saint Germain (although there are two other locations in the city.) The shop was started by Mulot himself in 1975, but he didn't start making his famous chocolates until 1980. From then, the store rose in popularity, and Mulot is now considered one of the best and most respected chocolate experts in Paris. Our personal favorites are the chocolate tablets—give them a try!
Address: 76 Rue de Seine, 75006 Paris
Hours: Thursday through Tuesday from 7:00am to 7:30pm
Located in the stylish yet charming Marais neighborhood, the chocolate shop
Jacques Genin
is a cool place where you'll find delicious chocolates. However there are more treats to enjoy than just plain chocolate—Jacques Genin is also famous for their caramels, fruit pastes, nougats, and marshmallows. One of the fan favorites is the caramel with huge chunks of almond. This place is perfect for kids, but adults will be just as hooked.
Address: 133 Rue de Turenne, 75003 Paris
Hours: Tuesday through Sunday from 11:00am to 7:00pm
Although the art of chocolate making is already impressive, some chocolatiers take it to the next level and turn the chocolate itself into art. In this case, chocolate maker
Jean-Charles Rochoux
excels by creating truly decadent chocolate sculptures. These sculptures take the forms of bronze statues, exotic animals, and more. They really are gorgeous to look at, and
almost
too beautiful to eat. The shop also serves smaller, more traditional chocolates where the art is in the delicious flavor itself.
Address: 16 Rue d'Assas, 75006 Paris
Hours: Monday through Saturday from 10:30am to 7:30pm
This chocolate boutique, situated on the luxurious Rue St. Honoré—where you'll also find Cartier and Hermès boutiques—has well earned its prestigious location. Just like the luxury brands on the same street,
Jean-Paul Hévin
knows that the best creations don't stray too far from the classic. The expert chocolatier creates traditional chocolate delights that will satisfy anyone with a sweet tooth. If chocolates aren't enough, the macarons here are also a must try.
Address: 231 Rue Saint Honoré, 75001 Paris
Hours: Monday through Saturday from 10:00am to 7:30pm
Literally meaning "The House of Chocolate",
La Maison du Chocolat
is a worldwide brand that was started in Paris by Robert Linxe in 1977. The brand is world-famous for a reason: the chocolates are expertly crafted and elegant in their own right. Master chocolatier Nicolas Cloiseau joined La Maison du Chocolat in 1996 and in 2007 won the prestigious Meilleurs Ouvrier de France award for his creations. Why not visit the place where it all began?
Address: 225 Rue de Faubourg Saint-Honoré, 75008 Paris
Hours: Everyday from 10:00am to 8:00pm, except on Sundays when the store closes at 1:00pm
From his family kitchen in Damville, a small town in Normandy,
Michel Cluziel
started perfecting his chocolate making. His chocolates became so insanely popular that Cluziel came to Paris in 1987 to open his first shop. He now has a chocolate factory in Normandy where he makes delicious pure chocolate bars that are 99% cocoa. See what all the fuss is about at Michel Cluziel, again on the exclusive Rue Saint-Honoré.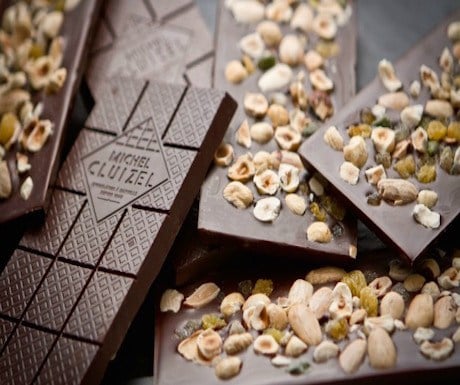 Address: 201 Rue Saint-Honoré, 75001 Paris
Hours: Monday through Saturday from 10:00am to 7:00pm
Patrick Roger
is a famous chocolatier known for his unique and often daring creations, which are as delicious as they are surprising. At his Paris shop, you'll find treats such as lemon and basil or ginger and Sichuan ganache. Yet there are still more traditional options for the less adventurous, like their
praline feuilleté
. The store itself is almost as artistic as the chocolates, so it's definitely worth stopping in.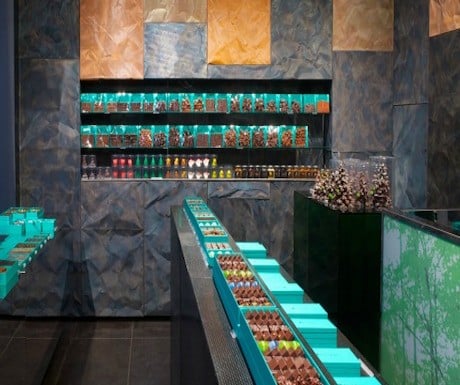 Address: 108 Boulevard Saint-Germain, 75006 Paris
Hours: Everyday from 10:30am to 7:30pm
Pierre Hermé
is widely known in Paris for his chocolates and his macarons. His chocolate shops are popular with Parisian locals, so expect a wait when visiting any of his locations, but know that the wait is certainly worth it. He has delicious classic chocolate creations, but also some more adventurous treats, like the blue salt from Iran or the corn praliné, which takes inspiration from chocolates from Mexico, the birthplace of chocolate.
Address: 72 Rue Bonaparte, 75006 Paris
Hours: Everyday from 10:00am to 7:00pm, except on Saturday when it closes at 8:00pm
The menu is always changing at
Pierre Marcolini
. That's because Marcolini is a believer in innovation in his creations, which is why you may see different options every time you come in. He's constantly changing recipes, although there are some creations that appear more often, like the 4 spices ganache, available only in the winter, which is one of his most popular chocolates. However, for a summer treat, you can't go wrong with the chocolate infusion. Otherwise, try one of his exclusives for a bite of something you might not get to try again!
Address: 89 Rue de Seine, 75006 Paris
Hours: Monday through Saturday from 10:30am to 7:00pm, except on Tuesday and Thursday when it closes between 1:00pm and 2:00pm
This boutique is found on the gorgeous Boulevard Saint-Germain, although the chocolatier comes from Lyon. In Paris,
Chocolats Richart
is well known, and for good reason. The small, uniquely decorated ganache are the trademark of this store, and they are quite emblematic in the world of chocolate. The flavors range from the traditional to the unique, but know that you are always in for a treat at this shop.
Address: 258 Boulevard Saint-Germain, 75007 Paris
Hours: Monday through Saturday from 10:00am to 7:00pm
Magali Déchelette is CEO at Family Twist.
If you would like to be a guest blogger on A Luxury Travel Blog in order to raise your profile, please contact us.
Did you enjoy this article?
Receive similar content direct to your inbox.