While Paris is world renowned for its café culture, it is the salons de thé which have drawn aristocrats and royalty for over a century. Fortunately, many of those luxurious tea rooms remain today while modern proprietors have begun to introduce new ideas in the world of Parisian tea rooms. This being potentially the most historically Parisian way to spend an afternoon, here are the best Paris tea rooms, each one with its own unique charm.
Mariage Freres
Mariage Freres Parisian tea room first opened in 1854, having been France's oldest tea importer dating back to 1660. It's hard to miss with their dozen tea emporiums in Paris, four of which have tea rooms and 500 varieties of tea. The original tea room in the Marais has a calm atmosphere and colonial decor, where experts will help you choose something perfect for your taste. The upstairs is home to their tea museum several centuries old.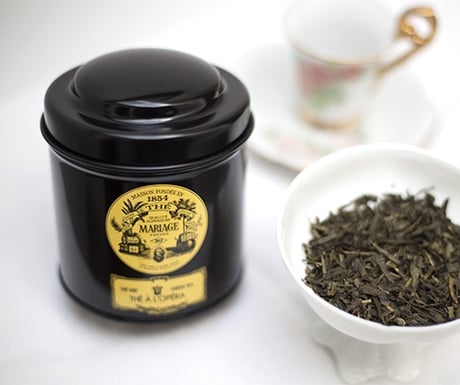 Carette originally opened in 1927 at their current location on the Place du Trocadéro. It is without question a very special experience—if you had to choose just one place for an elegant Parisian tea and pastry, this is the one I would suggest. While they they offer a full menu, you must try the 'Paris Carette' (shown above), a layered pastry of hazelnut creme and pralines, paired with one of their twenty-two beloved teas.
La Mosquée du Paris
La Mosquée du Paris is where you'll spend an afternoon sipping mint tea under the olive trees, while nibbling on Moroccan pastries of honey and pistachio. The mosque's colorful indoor tea rooms are popular, though I prefer the breezy patio. You'll love this exotic tea-time amid trickling water fountains, blue stained-glass windows, vibrant mosaics, and stark-white arches. It is located near the Le Jardin des Plantes in the 5th arrondissement.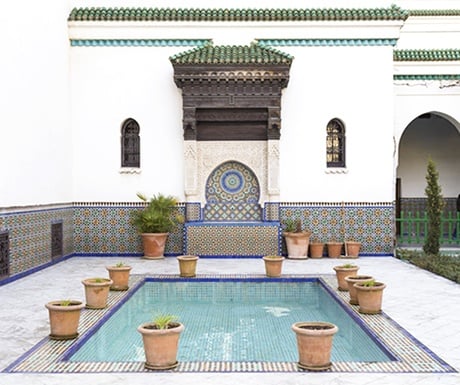 Café Jacquemart-André is one of the most beautiful tea rooms in Paris. It is housed by the Jacquemart-André Museum, the once-home of a couple who created the finest private art collection in Paris. The tea room was once their formal dining room while the museum is filled with 18th century furniture, Rembrandt paintings and centuries-old tapestries. Even better, it's just a short walk from the Champs Elysees in the 8th arrondissement.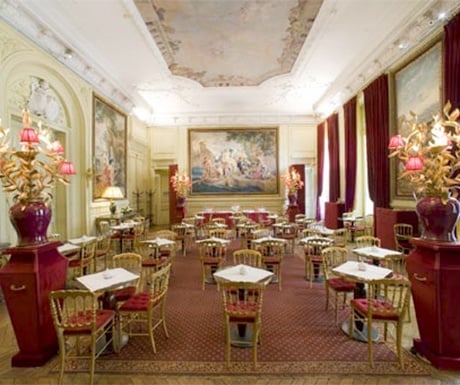 Le Loir dans la Théière
The cozy and casual tea room at Le Loir dans la Théière (The Doormouse in the Teapot) is a favorite of locals and is famous for their lemon meringue pie. Located in the Marais, your tea and dessert will pair perfectly with one of their excellent savory tarts. Photo courtesy of Felicia Sullivan.
Colorova Pâtisserie
With a modern designer's flair, Colorova Pâtisserie offers an unconventional tea room experience. Their homemade pastries, entrees and à la carte eats are all very unique and every dessert here looks incredible. It is located near Le Jardin du Luxembourg in the 6th arrondissement.
With a selection of over 150 teas, Betjeman and Barton is a century-old tea company that has four tea shops in Paris and now a chic Tea Bar in the 11th Arrondissement. You can't go wrong with their tea service offerings of English cakes and jams, not only hot teas but also iced teas and now sparkling teas (!), provided both at the bar or to go.
Angelina
Founded in 1903 and now with ten different locations throughout Paris is the historic tea room of Angelina. The glamorous Belle Époque décor, Mont-Blanc tea (a blend of chestnut, toffee, orange blossom and apricot flavors) and stunning pastries may likely surpass any afternoon tea experience you've ever had. It is their thick, old-fashioned hot chocolate however which draws countless visitors to their original location at rue du Rivoli.
Last but certainly not least, this list couldn't be complete without Ladurée, one of the oldest and most luxurious tea rooms in Paris. They continue to have unparalleled popularity with four tea rooms in Paris, and now locations in New York and Miami. After all, Ladurée did invent the macaron.