The beautiful countryside of Tuscany, Italy is a popular subject for glossy travel magazines, wall calendars, and coffee table photography books. When we start working with travelers at Italy Beyond the Obvious, we always ask how Italy won the jackpot for their dream trip. Quite often, the answer includes a desire to see the iconic scenery of the Tuscan countryside.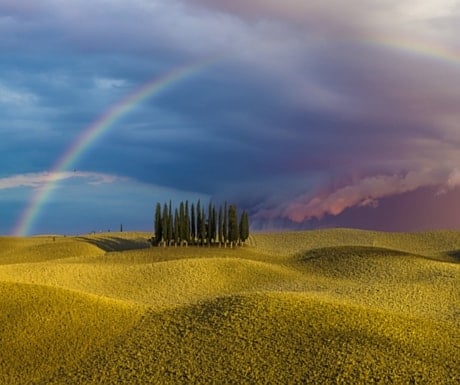 But where, exactly, in the big region of Tuscany are these beautiful places? Below we have five recommendations south of Florence.
Madonna di Vitaleta Chapel, San Quirico d'Orcia
The Madonna di Vitaleta chapel, flanked by cypress trees on top of a small hill, is one of the most photographed spots in all of Tuscany. It's located in the Val d'Orcia, a UNESCO World Heritage area in the southern part of Tuscany about two hours from Florence. Well-known nearby towns include Pienza, Montepulciano, and Montalcino. The Chapel itself is locked and cannot be visited inside, however it's surrounded by a beautiful landscape and makes a wonderful subject for a photo – especially when poppies are blooming, as seen above.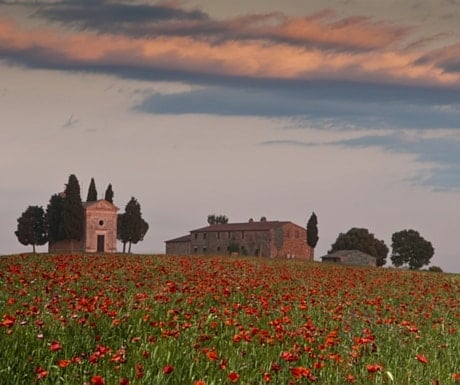 Finding it: view the chapel from a distance from the SP146 road; or, to get closer, follow an unpaved side road (on your left when coming from Pienza) marked with a Capella di Vitaleta sign.
Fields of sunflowers
Much of the Tuscan (and Italian) countryside becomes blanketed in sunflowers during the month of June and into July. If you'd like to try to photograph a field of blooming sunflowers, you'll need a rental car and some patience. Spend a few hours driving through the countryside to find that perfect field, being respectful of private property.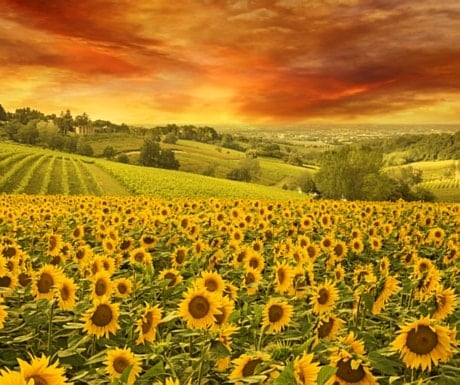 Anyone who has tried to photograph sunflowers knows that they tilt up towards the sun during the day and then they bow their faces down as the light gets low. So if you don't want droopy sunflower photos, don't wait until sunset.
The town of San Gimignano
Often referred to as Medieval New York because of its many "skyscraper" towers, the town of San Gimignano was built in the 8th century as a feudal castle surrounded by walls. In the Middle Ages, there were 72 towers, built as houses by families who wanted to display their wealth and power. Today, just 14 of those towers remain.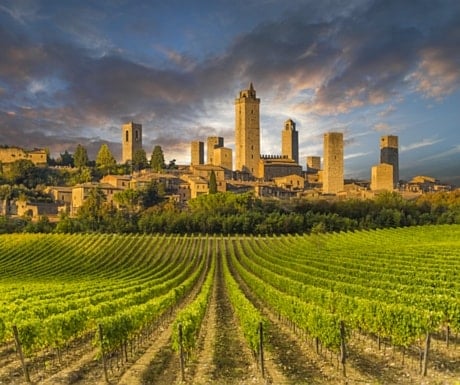 San Gimignano is photogenic from afar, but is also a great town to visit for its wine, history, and art. We recommend taking the time to venture off the touristy main drag to discover the town's back alleyways and local atmosphere.
Gardens of La Foce
One of Tuscany's most famous – and most photographed – spots is the road leading to the La Foce gardens in the southern part of the Val d'Orcia. Zigzagging up the slope and flanked by cypress trees, this road is the main subject of many iconic Tuscany countryside images. We recommend heading down this way to appreciate the landscape of course, but don't skip a visit to the gardens of La Foce. Travelers can join guided English tours several days a week and even stay in villas onsite.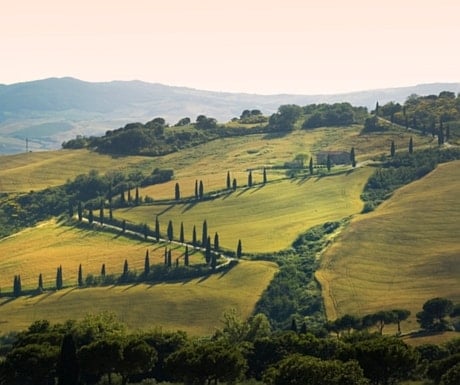 The Val d'Orcia countryside
Spend a couple of days, at least, to explore this beautiful countryside on your own and discover those moments when the light hits a hillside in just the right way. If you'd like a suggested route, drive from Asciano to Trequanda to Montepulciano to Pienza to San Quirico d'Orcia to Bagno Vignoni to Montalcino. But not all in one day.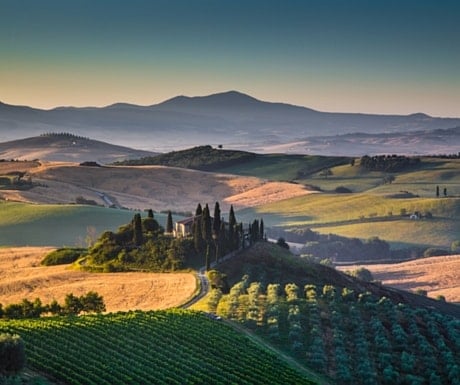 Visit the Abbey of Monte Oliveto Maggiore (check the schedule to listen to Gregorian Chants) or the Abbey of Sant'Antimo. Book a behind-the-scenes tour and wine tasting at a local Brunello di Montalcino producer. Schedule a massage or a facial at one of the many spas built on the region's natural thermal springs.  And of course, make many stops to take photographs of the iconic Tuscan countryside.
Madeline Jhawar is Owner of Italy Beyond the Obvious.
If you would like to be a guest blogger on A Luxury Travel Blog in order to raise your profile, please contact us.