Strikingly beautiful and mountainous, Bolivia has been dubbed the "rooftop of the world" due to the dizzyingly high altitudes of most of its Andean cities – altitudes that can literally take your breath away the moment you touch down. Because of these extraordinary mountainous landscapes and thick Amazonian jungles, European contact with Bolivia was impeded, which allowed indigenous peoples to hold onto many of their traditions, with some isolated villages remaining virtually untouched for centuries.
Given these unique customs, its colorful history, exotic wildlife and jaw-dropping landscapes, Bolivia is now a mecca for adventurers seeking the path less traveled. And, despite it still being a developing nation, more and more upscale hotels are popping up across the country, especially in the fast-growing metropolitan areas. To assist you in narrowing down where to stay during your Bolivian adventure, we have selected the top seven upscale hotels that will help you discover the superlative natural beauty of Bolivia – the essence of South America.
Rosario Hotel, Lake Titicaca
Situated conveniently close to the center of Copacabana, Hotel Rosario del Lago Titicaca stands in a supreme position overlooking the clear, deep blue waters of this famous lake. The restaurant, with its lakeside views, offers superb cuisine including locally caught trout, one of the region's specialties, as well as fine Bolivian wines which can be enjoyed al fresco, weather permitting.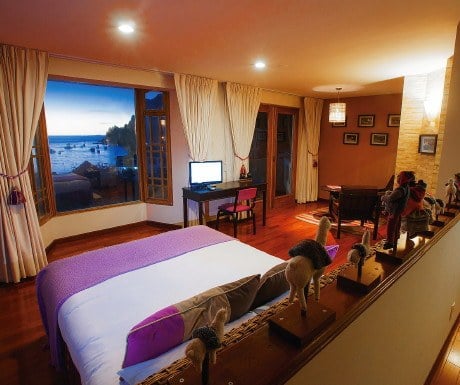 The spacious guestrooms and suites are beautifully and individually decorated with brightly colored, traditional Andean handicrafts; a relaxing atmosphere in which to rest before steeping yourself in the atmosphere, culture and history that this area has to offer.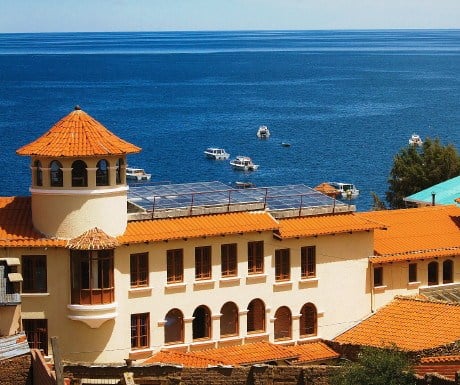 Casa Grande Hotel, La Paz
The Casa Grande Hotel offers the best of both worlds. Relax in the quiet, contemporary interior, complete with pool, leisure facilities and first class restaurant, knowing that you are only a few minutes' walk from the cable car which will take you into the vibrant city of La Paz. Here you will discover a wealth of local culture, from its museums and market stalls to its bustling nightlife.
You will also, no doubt, enjoy visiting one of the many natural viewing points from which you can cast your eyes to the majestic snow-capped mountains, a backdrop which remains unchanged since it was inhabited by the Inca many centuries ago.
Stannum Boutique Hotel and Spa, La Paz
The Stannum Boutique Hotel lies in a prime yet tranquil position, just a five-minute drive from the bustling markets, historic buildings and archaeological heritage of La Paz. Perched above a mall, you will find everything you need close by and, in the hotel itself, all the amenities you might require: from your comfortable guestroom, with its stunning city or mountain views; to the relaxing spa facilities and gourmet restaurant serving fine cuisine created by a national celebrity chef. Having been out discovering the jewels of La Paz, you will no doubt enjoy sampling the delightful selection of wines and cocktails from one of the bars, while looking out over the city below.
Coloso Potosi, Potosi
Moments away from the town's main cathedral, Coloso Potosi provides simple yet comfortable accommodation as well as a spa, pool, and sauna, in a central city location. Potosi is a historic town, once bustling with silver mining production, which gave fabulous wealth from the naturally rich deposits found in the Cerro Rico or "Rich Mountain" which dominates the city.
In addition to visiting the mines, you will be able to immerse yourself in the history of the town's grand churches and ornate architecture. Once the largest and wealthiest cities of the Americas, even now, something valuable is said to be "worth a Potosi".
Luna Salada Salt Flat Hotel
Formed with blocks of salt mined from the local area, Luna Salada Salt Hotel provides a natural link between the building and the famous Salt Flats that can be admired from within its walls. Simple, yet comfortable, the hotel strips back the distractions of modern day life to create a sense of peace during time spent here.
The bright and spacious guestrooms offer stunning views in every direction through the delicately dressed large windows, while the neutral colors within are decorated with a splash of perfectly executed color, allowing the beauty of the salt blocks to speak for themselves. Dining is an exceptional experience with traditional cuisine served amid starlit views of the Salar de Uyuni.
Camino Real Suites, Santa Cruz
The Camino Real Hotel, positioned just six miles from the city center, is an inviting hotel where you will find your spacious guestroom fitted with all mod cons that ensure an enjoyable stay. The hotel has an outdoor pool with waterslide, whirlpool and wet bar, while the beautiful indoor pool with spa, hot tub, sauna and treatment rooms gives you a chance to unwind. The two restaurants provide a variety of local and international cuisine, and there are even on-site gift shops. Camino Real is an excellent place to stay while delving into this cultural city, which has developed and grown since it was discovered by its first European settlers, the Spanish conquistadores.
Tayka del Desierto Hotel, Siloli Desert
Tayka del Desierto Hotel is a combination of low-lying buildings in the heart of the desert, surrounded by soaring mountains which provide a breathtaking backdrop to the dusty terrain. The accommodation is basic yet comfortably in keeping with its environment, offering a good meal and welcome shelter in this otherwise barren land.
A pleasant surprise greets you in the dining room where floor to ceiling curved glass allows a remarkable opportunity to gaze out across the bronze landscape during the day, and admire the starlit skies at night.
Parador Santa Maria, Sucre
The exterior of Parador Santa Maria cannot prepare you for the sumptuous luxury and splendor of the architecture which greets you on entering the building. An 18th-century mansion, elegantly restored in authentic colonial style, the Parador Santa Maria Hotel is adorned with fine antiques and situated in an ideal location near the center of Sucre.
With spa, sauna and gym facilities giving you an ideal way of relaxing after your time exploring the town, what better way to end the day than relaxing in the rooftop hot tub while gazing across the city rooftops, to the valley and mountains beyond?
Alfonso Tandazo is President and CEO at Surtrek Tour Operator.
If you would like to be a guest blogger on A Luxury Travel Blog in order to raise your profile, please contact us.