Top 5 luxury estancia experiences in Argentina
Gauchos on horseback galloping across the pampas is an iconic image of Argentina that many of us would love to witness first-hand. Their unique way of life in the rural areas of this vast country has changed very little, and the culture remains strong. In recent years, the traditional farming of sheep has taken a backseat as many of the farms, known locally as estancias, have begun to welcome guests to stay and experience what life is like in the country. Although gauchos enjoy a gloriously simple lifestyle, don't think you'll be expected to muck out the horses and sleep in a hay strewn barn – the estancias in Argentina offer comfortable luxury and a vast array of exciting activities to keep both adults and children entertained for a 2 or 3 night stay. Here is our guide for 5 of the best estancias for a fully immersive (and luxurious) adventure:
1. Los Potreros
Situated within 6500 acres of rolling countryside close to Cordoba, the estancia of Los Potreros is secluded and beautifully rustic. This fully working cattle farm sitting atop the Sierras Chicas region of Argentina is well respected and welcomes guests from all over the world. The land has been farmed by the Begg family for four generations, and dates back to 1574. Today, Kevin and Louise Begg delight in welcoming guests to share their home and lifestyle, providing a unique and unforgettable stay whilst experiencing the rural traditions of Argentina. With space for just 12 guests, warm hospitality awaits everybody, along with an unrivalled personal attention to detail. The main house is filled with antique furniture which goes hand in hand with the white washed walls and authentic decoration, with each guest room matching this elegant style. There are small wood burning stoves, comfortable beds and hand woven textiles which add a sense of cosiness to the property. Food is provided, with each meal being lovingly created using mostly homegrown and organic items, and the beef is from the estancias own herd – of course a traditional Argentine asado can also be arranged. Lastly, there are plenty of options for guests to get involved in the gauncho experience, including horse riding at all levels, photography or even lassoing the cattle!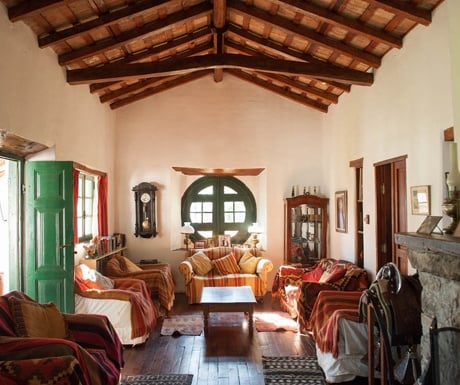 2. El Colibre
Not only has this estancia been listed in the '1000 Places to See Before You Die' but it is also a proud member of the Relais and Chateaux luxury chain. Boasting excellent service and a pretty terracotta tiled lodge, families and couple alike will experience the unforgettable during a stay at El Colibre. The 170 hectares of forest which surround the property, and nearby mountain ranges, offer exciting excursions such as horse riding and hiking, plus a chance to try your hand at the traditional sport of dove-hunting. Children can learn all aspects of life on an estancia through activities such as helping to herd the livestock, milking cows and collecting eggs. If food and drink is more your thing, fear not, as there is the chance to enjoy the farms own meat cooked on an asado, taste items from the properties very own gardens, and wash it all down with a selection of fine wines from the cellar. At the end of each day, guests can relax in charming rooms which are decorated in a unique style and feature bronze pieces from the old English railroads.
3. Estancia Peuma Hue
The term 'Peuma Hue' means 'place of dreams' in the native Mapuche language, and it's not difficult to understand why they chose this name. Located on the edge of Lake Gutierez and surrounded by mountains, the location of this estancia is simply stunning. The focus of this beautiful property is very much on
sustainable tourism
, and the owners work hard to support and involve the local community. This ethic filters through to other areas including the restaurant which uses vegetables from the organic garden and greenhouse, plus a selection of goods from the nearby farmer's market. In addition to this, guests can enjoy activities such as horse riding, trekking, kayaking, fishing and bird-watching or for those wanting to relax, programs of yoga and meditation. The decor throughout the property is rustic, in keeping with the Patagonian culture, and there have been several large panoramic windows installed through which guests can enjoy the fabulous scenery. Just 8 rooms are split over 2 different buildings, and there are also 3 private villas. As this estancia is situated less than an hour away from the bustling town of Bariloche, it is easily accessible and perfect for a short break in the Argentine wilderness.
4. Dos Lunas
This small, boutique farm house has a charming and unique style, nestled within almost 6000 acres of natural land. The original building is over 100 years old, and a sympathetic restoration project has enhanced the stunning beauty of this attractive property. With a motto of 'Outside, adventure. Inside, peace', guests can expect a wonderful stay filled with both adventure and relaxation. If you are a keen horse rider, this is the place for you, as there are outstanding opportunities to explore on horseback including an unusual night-time riding experience. Alternative activities include trekking and bird-watching, or simply lounging by the pool and soaking up the sun. Each room has been tastefully decorated, with comfortable beds and private bathrooms, allowing guests to enjoy a secluded escape.
5. Estancia Helsingfors
With glaciers, mountains and sweeping valleys on its doorstep, the Helsingfors estancia is ideally positioned in the far south of Argentine Patagonia. The name dates back to the early twentieth century when Alfred Ranström, a Finnish adventurer, fell in love with the area and decided to settle there with his wife and family. The history of the estancia, the magnificent views and the home-from-home luxury have created a delightful and traditional experience for any guest lucky enough to stay here. There are just 9 rooms, ensuring guests receive a personal and individual service, which are decorated with elegant simplicity and windows which boast fabulous panoramic views of either Lago Argentino, Mount Fitzroy or the Andes mountains. The area surrounding the property is part of the Los Glaciares National Park, and there are a variety of excursions available out into this beautiful landscape including horse riding, hiking and bird-watching. At the end of an unforgettable day out in the elements, what better than to come back to the quaint restaurant which serves fine Patagonian cuisine such as lamb and trout, complete with a selection of wines from the cellar.
Simon Williams is Director of Humboldt Travel. Humboldt Travel is a luxury travel company specialising in tailor made holidays to Latin America.
If you would like to be a guest blogger on A Luxury Travel Blog in order to raise your profile, please contact us.
Did you enjoy this article?
Receive similar content direct to your inbox.