By
Tom Marchant
on Mar 15, 2017 in
Adventure Travel
,
Air Travel
,
Attractions
,
Europe
,
Featured
,
Going Out
,
Iceland
,
Regions
,
Speciality Travel
,
Western Europe
Extraordinary landscapes have already cemented Iceland's place as an adventurer's paradise. But while plenty of countries have glaciers and mountains, or even active volcanoes, there are few destinations that can boast as many incredible and rare experiences, all in one place. From heli-hopping across unreachable mountaintops or walking in lava chambers, to diving between tectonic plates, here are seven of the most extraordinary activities Iceland can deliver for the adventurous luxury traveller.
Mountain hopping in a helicopter
Few roads and large swaths of unreachable wilderness mean there's only one way to truly travel in Iceland—by helicopter. Up in the sky, your options are limitless. Just ask your pilot and within minutes of leaving Reykjavik you can be enjoying a glass of bubbles beside your own secret waterfall or alone on a remote mountaintop surrounded by a breathless panorama of cloud-tickling peaks. Magical memories come guaranteed.
Heli-skiing
If just walking on a mountaintop isn't enough, then try skiing down it. Iceland is a heli-skiing paradise—where miles of untamed snow beckons from isolated summits and pristine valleys that you can ski right down to the ocean—it's enough to set any powder hound's pulse racing. But Iceland's stable snowpack means it's an easy ride for any intermediate skier. Just get your helicopter to drop you off in the northern Troll Peninsular, a wintery playground bound to satisfy your adventure cravings.
Go into a glacier
Glaciers entrance even the most seasoned explorers. They're fragments from a long-lost age, ever-changing. But the chance to go under the ice in the fleeting caves and tunnels is one of those once-in-a-lifetime experiences. And in Iceland, you're never far away from a glacier to explore. Whether the ice-tunnels of Langjökull or the maze of brilliant blue caves in Vatnajökull, the largest glacier in Europe, just hop onto your snowmobile to go enter their glittering, transient world.
Dive between tectonic plates
Diving between two continents is another wow-factor Iceland experience. Thingvellir National Park is where the North American and Eurasian tectonic plates meet and are slowly drifting apart, and you can dive between them in the underwater Silfra fissure. Fed by pure glacial waters, the visibility is incredible, casting everything in a mesmerising electric blue. The truly adventurous should don their dry suit and try a winter dive, when the surrounding landscapes are dusted with snow.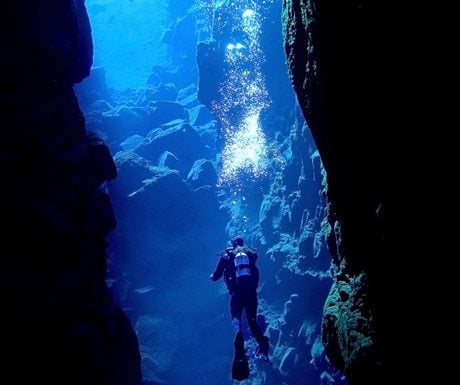 Enter a volcano magma chamber
This is one experience that you can't find anywhere else on the planet. Time your Iceland trip between May and October and the dormant Thrihnukagigur volcano opens its chamber doors. Here you can channel your inner Jules Verne and be one of the daring few to actually walk under the surface of the earth in the volcano's mammoth magma chamber. A moment that will stay with you forever.
Hike in the wilderness
A true wilderness—a place with no trace of humanity for miles—is something that only a handful of countries can claim today. But Iceland isn't like other places. The heart of the country is still largely uninhabited. Its inner highlands are an untouched hinterland, only accessible in summer when the ice melts. Then you can leave modern life (and human contact) completely behind, hiking and wild camping in pristine green valleys and mountain passes beneath the glow of a midnight sun. An experience that will resonate with any true adventurer.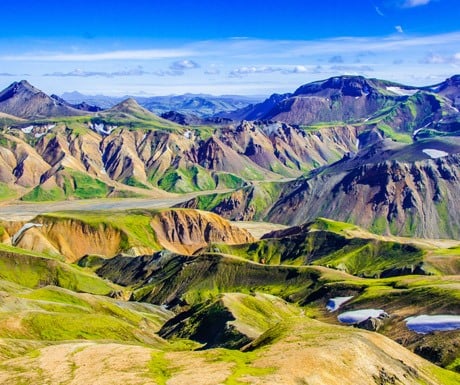 Unwind in the Blue Lagoon
By now you'll be in need of some R&R, so make sure to squeeze in another one of Iceland's unique experiences, the Blue Lagoon. Iceland is a land filled with colourful geothermal landscapes, but it's the striking turquoise pools of the Blue Lagoon which deservedly makes it onto all of the postcards and Instagram feeds. A few nights spent in chic surroundings soaking in the healing waters is the perfect end to your extraordinary adventures.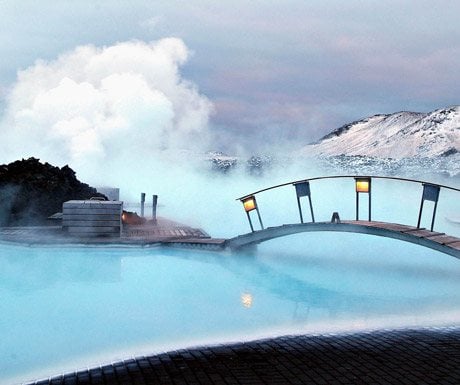 Tom Marchant is Co-founder of Black Tomato.
If you would like to be a guest blogger on A Luxury Travel Blog in order to raise your profile, please contact us.