Covering around a third of Portugal, Alentejo offers a smooth transition from the hustle and bustle of Lisbon through to the glorious holiday resorts of the Algarve in the South. Affectionately labelled the 'Garden of Portugal', Alentejo is a diverse landscape of wildflower meadows, verdant vineyards and dense cork forests. The boundaries of this region are fringed by 100km of protected coastline in the West and the granite foothills of the Serra de Sao Mamede Mountain Range in the East. Together with medieval castles and stately mansions, picturesque rural hamlets reveal a rich and fascinating history and are definitely worthy of exploration.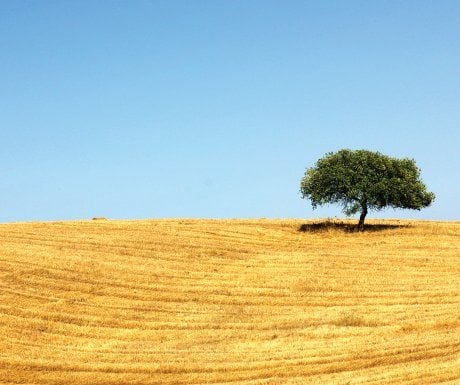 Wine routes
The art of wine-making is a source of pride for residents of Alentejo, and it's no surprise why Alentejan wines have earned a reputation for being some of the best in Europe. Whether you like your reds or your whites, there is a glass (or a bottle) for you, and what better way to discover it than taking a tour of a vineyard or winery? Many vineyards host wine tasting tours and visitors can come to sample the local variety and learn about the local wines over dinner. While there are countless estates that offer this service, Quinta do Carmo near Estremoz and Adega Major in Serra de Sao Mamede come highly recommended. While it is said Alentejan wines are young and full of exuberance, they are best enjoyed slow, and the same can be said for holidays in Alentejo.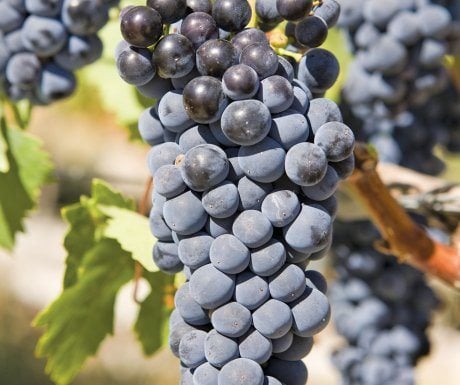 Evora
A trip to Evora is truly a trip into the past. One of Portugal's most wonderfully preserved medieval settlements, Evora, is unsurprisingly a UNESCO World Heritage site. A compact medieval centre reveals whitewashed townhouses and narrow winding lanes, while a walk along the ancient city walls reveal a sea of ochre coloured rooftops sharply punctuated by the spires of the medieval cathedral. A leisurely afternoon can be spent exploring the numerous historical attractions located in the centre, while the delightful coffee shops and cafes make for the perfect spot to grab a bite to eat.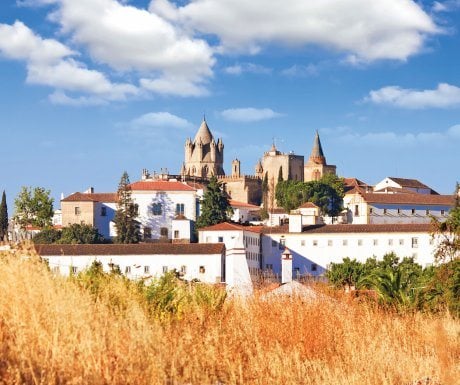 One such historical attraction to keep an eye out for is the eerily named 'Chapel of Bones' or Capela dos Ossos. This macabre yet fascinating site takes the appearance of an unassuming chapel, yet inside over 5,000 human bones have been neatly exhumed and line the ceiling and walls. Although a distinctly small site and quick to explore, the Chapel of Bones is definitely worth the minimal entrance fee.
Next on your list has to be the Roman Temple, otherwise known as the 'Templo de Diana' in the local tongue. Sources differ, but it is believed the temple dates back to the 2nd or 3rd century and features the typical motifs of Roman architecture, including 14 imposing Corinthian columns. Remarkably, Evora's Roman temple is one of the best preserved examples of Roman architecture in the whole of Portugal.
Vila Vicosa
A 45 minute drive from Evora, Vila Vicosa is an attractive village dominated by a hilltop marble castle. Named for its lush fertile soils, it is perhaps the marble which lies beneath the soil that has come to distinguish the village. It was this marble which transformed the fortunes of the town and transformed it into the 'Capital of Marble', earning it a reputation for being an 'open-air museum'.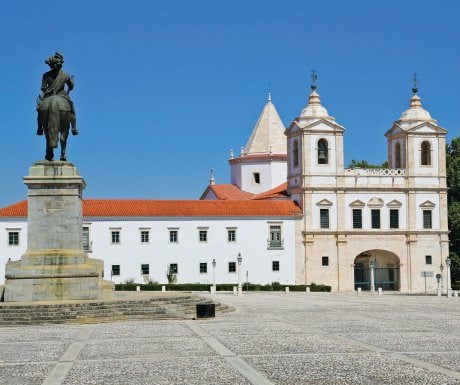 Life here is decidedly unhurried and peaceful, but this was not always the case as in 1640 the village became the official summer residence of King Joao II. Although today the village no longer serves as a summer residence to the Portuguese Royal family, visitors can still explore the royal palaces left in their wake. There are no finer examples of royal palatial architecture than the Ducal Palace; a 110 meter façade is tiled in the most exquisite examples of local marble and is a sight to behold. With more than 50 rooms and palatial gardens open to the public, visitors can enjoy a tantalising glimpse into the past and privileged access to a royal palace. Inside, interiors boast all the trimmings of royal sophistication, including enormous 16th century Persian carpets, royal portraits and the finest furniture. Visitors can also examine exhibitions showcasing period china collections, a treasure and a coach museum.
After visiting the Ducal Palace, visitors may like to take a wander inside Vila Vicosa Castle and explore its numerous hidden passages and its two fascinating museums dedicated to hunting and archaeology.
Beaches
Finally, no visit to Portugal is complete without first going to the beach, and the beaches in Alentejo are among the best in the country. Remarkably underappreciated, Alentejo's beaches are decidedly under commercialised and populated in comparison with its Mediterranean counterparts, but here lies its appeal. Here the beaches are long, the sand is golden and the sea is calm, and it are these qualities that have endeared families and a variety of water sports enthusiast to Alentejo. Lagoa de Santo Andre Beach and Praia de Melides Beach in particular are of some renown among kite surfers and thrill-seeking paragliders. Some visitors might be lucky enough to even spot dolphins and other marine wildlife frolicking in the water close to the shore.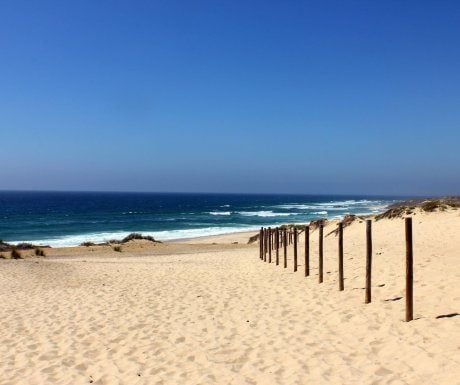 Nick Munday is Managing Director at Classic Collection Holidays.
If you would like to be a guest blogger on A Luxury Travel Blog in order to raise your profile, please contact us.