4 vegan friendly luxury hotels in the Philippines
The Philippines has long been known for it's beautiful beaches, rich cultural heritage and having one of the largest megacities on earth; but it's also well known amongst some for being one of the most difficult places to travel as a vegan or vegetarian. This is because the diet of the local population of the Philippines mainly consists of meat and more meat. Vegetables are limited, fruit isn't available in abundance and when you do find these items they are comparatively expensive. But the Philippines also has some of the friendliest people on the planet who are willing to help you find your way, English is widely spoken and there is a growing vegan scene in many places meaning that Philippines is now firmly on the 'must visit' list. For those of us wanting to travel in luxury but who don't want to compromise the vegan lifestyle, here are 4 vegan friendly luxury hotels in the Philippines. Ranging from exclusive health retreats to beachside resorts there is a wide range of luxury options for travellers who choose to live a life without exploiting animals for food, clothing, entertainment or any other reason. In fact, we were surprised to find what has to be one of the most vegan friendly luxury hotels in the world right near the country's capital.
Manila Marriott Hotel
The
Manila Marriott Hotel
is less than 5 minutes away from the Ninoy Aquino International Airport (even with all the crazy Manila traffic) which makes it a perfect first stop or place for a layover in Manila. There is a complimentary airport shuttle for all guests or you can opt for a private car to collect you to take you straight to check-in. Despite being in located in Manila, one of the world's largest and most densely populated cities on Earth, you'll find a sense of space at the Manila Marriott Hotel, not only because of the size of the hotel and the spacious suites but also because it has it's own golf course. Take some time out and enjoy a round or two or just enjoy the view from the hotel of the lush green space. There are two main reasons that the Manila Marriott Hotel makes it onto the list of our 4 vegan friendly luxury hotels in the Philippines; the food and the in-room amenities. The breakfast buffet had some vegan choices (including an accidentally vegan local dish called 'Taho' made from soft beancurd, palm syrup and sago pearls).
The room service menu also had some tasty vegan options allowing us to enjoy lunch in our two room Executive Suite.
The icing on the cake was finding Thann products in the bathroom; not only is this luxury brand a treat to use but they are against the use of child labour, are formulated from botanicals and are against animal testing making them very vegan friendly indeed.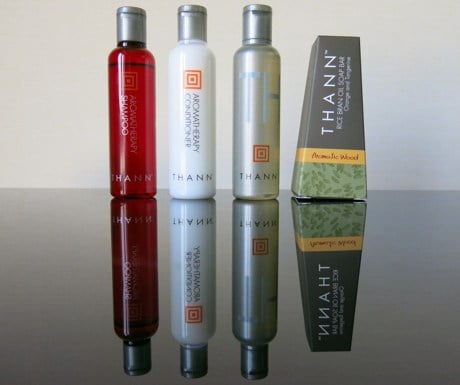 The Farm at San Benito
Just 90 minutes away from Manila by car (opt for
The Farm
's luxury transfer service to do this journey in total comfort), one of the world's most vegan friendly luxury resorts awaits you. The Farm at San Benito is impossible not to love, it's one of those perfect blends of high end luxury, natural beauty and blissful peace making it a rare place escape the stresses of the outside world. There are many therapeutic health and spa treatments available at this wellness focussed resort ranging from daily yoga and meditation sessions to full blood screening detox programmes. But the surroundings, the beautifully designed villas (book one with a decadant heated outdoor pool) are just as likely to have a rejuvenating effect on you as you immerse yours in acres of coconut tree plantation filled with twisting moss covered pathways, lakes, pools and waterfalls as well as wandering peacocks to complete the picture.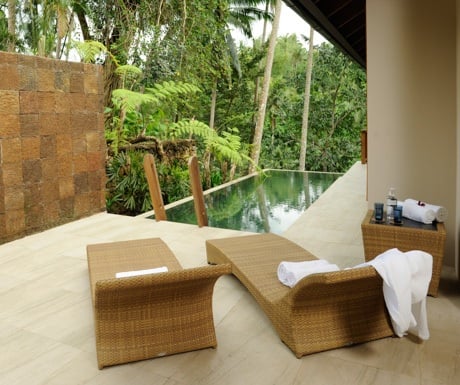 One of the things that makes The Farm at San Benito exceptional though is that the resort only serves vegan food, much of which is made from organic and seasonal ingredients that are grown on the resort. You can wander around the vegetable patches and see the plants laden with fruits and vegetables, then take a seat in the restaurant and eat wonderfully imaginative, vibrant food that is all 100% healthy, delicious and vegan.
It's likely that the food at the aptly named Alive! (the name of the main restaurant at The Farm at San Benito) will be unlike anything you have tried before, a mix of raw and cooked dishes from an extensive international menu. There are light options such as fresh spring rolls in an almond butter sauce as well as comfort food like a burger slathered with a cashew mayonnaise and homemade tomato ketchup. There are desserts to die for (think natural ice creams sandwiched in between sweet dehydrated coconut 'crackers' and rich raw cakes filled with nutrition as well as indulgence).
The Farm at San Benito is certainly a special place to visit but be warned, you may never want to leave.
Shangri La Mactan Resort and Spa
Whilst in Cebu the
Shangri La Mactan Resort and Spa
is the best place to enjoy a luxury beach escape on Mactan Island, one of the most popular places to visit in the province. Expect a holiday feel complete with a family friendly pool, a well maintained sandy beach, on site spa, water-sports and even a pristine 6 hole golf course.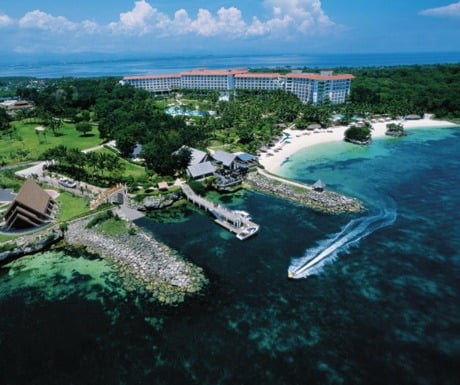 With several places to eat and drink on resort, comfortable rooms and exceptionally friendly and accommodating service from the staff, there is little reason to leave this luxury paradise and venture outside. Days begin with a leisurely breakfast where staff tailored the already significant options for vegans to offer even more options, many of which showcased local dishes. But no one visiting The Shangri La Mactan Resort and Spa (or Mactan island itself) should leave without eating in Acqua, the Italian restaurant in the resort. The vegan food here is the definition of luxury with dishes like 'Ajo Blanco and Tomato Tartare' setting the tone for what is sure to be one of your best meals of the year. The mixture and balance of flavours was extraordinary with layers of tomato sweetness, fresh mint, rich and creamy almond cold 'soup' laced with a hint of vinegar and the rest of the courses that followed were equally as impressive.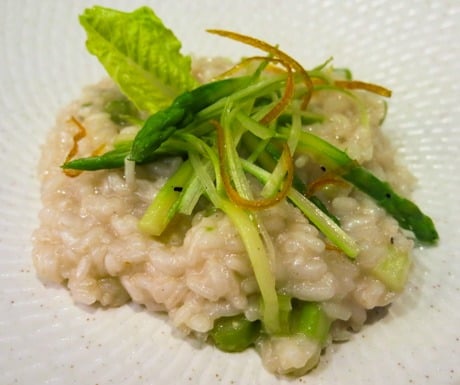 And for those wanting to sample Cantonese cooking, Tea of Spring offers a range of vegan friendly dishes to be enjoyed in a traditional Chinese style dining room.
Cebu City Marriott Hotel
Located right by Ayala Mall, the most prestigious shopping and entertainment district in bustling Cebu City, the
Cebu City Marriott Hotel
is well equipped for vegan guests. The pool offers a relaxing retreat from the traffic filled streets outside and inside the hotel the staff work hard to offer a high standard of service which is sure to meet the needs of any vegan guest looking for a luxury city hotel stay in the area.
Vegans will do well to request a special menu prepared by the super friendly Thai executive chef and his team, focusing on a fusion of Thai flavours as well as more familiar Filipino and international dishes.
In addition to the good food and great service at the Cebu City Marriott Hotel, you'll be perfectly located to explore the growing vegan scene in the city with options like air fried 'tofish', tofu sisig (a Filipino special) and even vegan donuts at your fingertips. You're also close to all the cultural sites worth seeing, like the hugely important 'Basilica Minore del Santo Niño' church. The Philippines may have a reputation of being a difficult destination for vegans but this certainly isn't true when you put yourself in the hands of luxury hotels and resorts who seem to bend over backwards to adjust their service to cater for vegans. Our 4 vegan friendly luxury hotels in the Philippines certainly opened our eyes to the best side of the Philippines, a country packed with friendly people, good beaches and sightseeing opportunities as well as some outstanding vegan food.
Paul Eyers is Founder of Vegan Food Quest.
If you would like to be a guest blogger on A Luxury Travel Blog in order to raise your profile, please contact us.
Did you enjoy this article?
Receive similar content direct to your inbox.