By
Karyn Wofford
on Mar 24, 2017 in
Accommodation
,
Attractions
,
California
,
Florida
,
Going Out
,
Hotels
,
Nevada
,
New York
,
North America
,
Regions
,
Restaurants
,
USA
Hard Rock owns countless hotels, casinos and cafes which are sprinkled through 74 countries. 174 cafes have popped up in major cities all over the world. While they serve your typical American fare, like cheeseburgers, ribs and steak, Hard Rock Café is perhaps more famous for its massive rock memorabilia display. In fact, they boast the largest collection in the world, with handwritten notes, original lyrics, iconic outfits and famous instruments, all from the music world's most notable stars like David Bowie, John Lennon, Elvis and The Beatles. Four particular locations in the US are, above all, the most mesmerizing.
Orlando
Florida is home to the largest café structure; it sits along the City Walk, right outside Universal Studios. The largest display of Hard Rock's music culture collectibles can be found here. Every inch of the walls are coated with autographed pictures and elaborate costumes, including along the wooden staircase that leads to private dining rooms on the upper level. Elvis' suit from Viva Las Vegas and Buddy Holly's signature, black-rimmed glasses also grace the walls. A full size vintage car replica sets on a pedestal in the bar's center and is an eye-catching centerpiece to the multi-level attraction.
Hollywood
Simply residing in Hollywood, California gives this Hard Rock Café tourist allure. It's perfectly situated right off the Hollywood Walk of Fame, in the Hollywood and Highlander Center. An 18 foot wide, digital interactive screen takes center stage, allowing guests to see memorabilia photos and information up close. Smaller screens are situated in booths, where other Hard Rock locations can be virtually explored. A pair of brown, leather pants worn by Jim Morrison, for nearly two years, would have to be one of the most notable items hanging around the joint.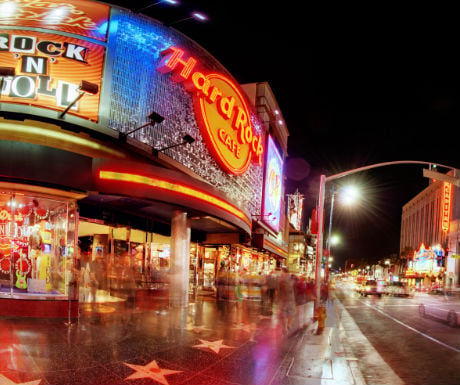 New York
In 2005, Times Square's Paramount Theater was converted into a Hard Rock Café. In 1926, the historical building was a movie house, which later hosted live music shows and flashy movie premiers. Elvis' very first movie, Love Me Tender, premiered here in 1956. The Beatle's trademark collarless suits glimmer in a display case. Times Square, also known as the "Crossroads of the World", features many other attractions like Madame Tussaud's wax museum and Ripley's Believe it or Not!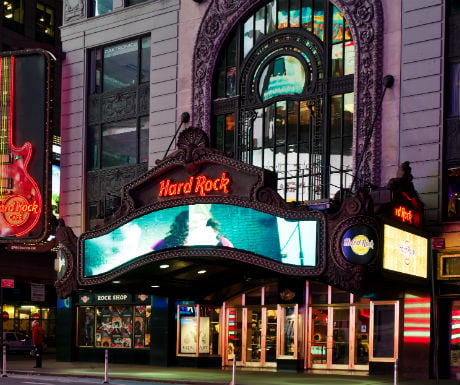 Las Vegas
Hard Rock Café fits seamlessly into the glittery backdrop of the Las Vegas Strip. Constructed with plenty of large windows, guests can clearly see the electric city while they dine. Conveniently situated beside MGM Grand and the Excalibur Hotel and Casino, the neon lit hotspot is a great place to enjoy Sin City without getting into too much trouble. On the third floor is a concert style venue, complete with a built in stage, killer lights and sound, as well as audiovisual effects for a modern experience. A sleek lounge and patio dining area are also available at Las Vegas' enormous, contemporary café.