Spring slowly but surely returns to the northern hemisphere. The sun shines brightly and pushes us out of our homes. The obvious conclusion: we want to drive in a convertible! But which mountain road and which cars are ideally suited? Find it out here. No area is better suited to cross a mountain pass than the Alps. The highest mountain range of Europe is over 1'200 kilometers long and is located in the countries France, Monaco, Italy, Switzerland, Liechtenstein, Germany, Austria and Slovenia. Read about some of the most stunning mountain pass roads in the Alps.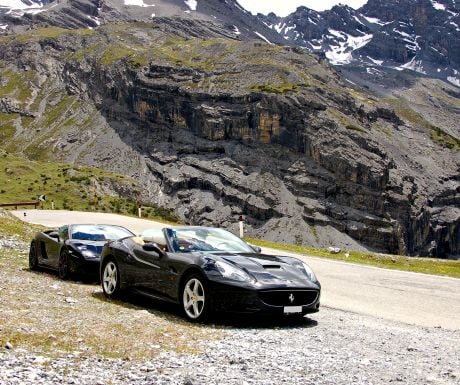 Switzerland
Switzerland is known for its countless mountain passes with challenging but beautiful hairpin turns. We recommend the combination of Furka Pass and Grimsel Pass. The 28 kilometers of the Furka Pass are fit for traffic between about May and October. A maximum incline of 11% guides you to the summit of 2,429 meters above sea level. The Route goes from Realp to Oberwald, but if you take a turn at Gletsch, you will directly reach the Grimsel Pass.
The Grimsel Pass promises another 32 kilometers of pure driving pleasure, trafficable from May to October as well. It has the same 11% maximum incline as the Furka Pass but only a summit of 2,164 meters above sea level. From Gletsch, you can follow the road to the valley of Innertkirchen. Experience this driving adventure from Realp to Innertkirchen and enjoy just under 60 kilometer of mountain roads. Panoramic view and lots of horsepower included!
Germany
Even though Germany is a little less known for alpine passes, there are enough opportunities for nice car trips. The Rossfeld panoramic motorway (Rossfeldpanoramastrasse) is particularly interesting. The highest continuous road of Germany on 1'570 meters above sea level ranges over a distance of 15.4 kilometers with a maximum incline of 13%. To its advantage, it is fit for traffic the whole year round. The Rossfeld panoramic motorway reaches from the Klaushöhe in the south to Oberau in the north.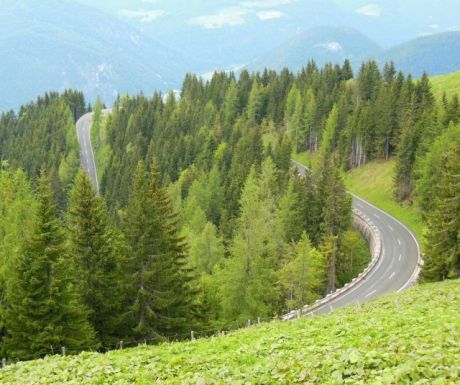 Austria
Like Switzerland, Austria doesn't know any shortage of stunning mountain roads. One of them is the Nockalm Street (Nockalmstrasse), elected as most beautiful mountain pass of the country on multiple occasions. With a maximum incline of 12%, the street leads you on 35 kilometers to a summit of 2'049 meters above sea level. It is trafficable from the beginning of May until the end of October. From Innerkrems to the north to Schiestelscharte in the south, 52 hairpin turns await, each named after a native plant.
Italy
Even though there are multiple attractive mountain passes to be found in Italy, one caught particularly much attention: the Stelvio Pass. 82 hairpin turns spread over almost 50 kilometers of mountain roads with a maximum incline of 15%. From Prad am Stilfser Joch to Bormio, the serpentines lead to a summit of 2,757 meters above sea level. Stelvio Pass caught worldwide attention when Top Gear elected it the most beautiful mountain pass of the world. This attracts car enthusiasts from all over the world who want to drive on those legendary hairpin turns themselves.
Benedikt Lüchinger is CFO at Edel & Stark Group.
If you would like to be a guest blogger on A Luxury Travel Blog in order to raise your profile, please contact us.