Travelling with luggage can be cumbersome sometimes so choosing good quality luggage that can be wheeled about with ease can make all the difference. Here we've picked out 10 of the best to make your journey from your accommodation to the airport as effortless as it can be before you get it checked in, ready for the main hold.
Executive Smart Case from Numinous London
This executive luggage case from Numinous is designed for today's modern traveller, and comes in 24″ and 28″ sizes (as well as a hand luggage size). The 28″ size ensures a spacious interior, perfect for longer journeys or trips where packing is a little more challenging. Luxuriously designed and with a high exterior finish, the SMART Executive 28″ case also features a biometric fingerprint lock and built in scales to ensure no last minute panics at the airport.
VinGardeValise® from Fly With Wine
Welcome to the world's first suitcase exclusively designed to transport wine. This suitcase is a luxury item designed to be durable and lightweight, capable of not only transporting wine but also acting as a normal piece of luggage where other articles can be stored. The wine luggage suitcase comes in two different sizes – a grande and a petite, both with the ability to hold wine and anything else you are travelling with. With many travellers making trips to wine countries around the world, this is the perfect case for preventing possible broken bottles and high shipping costs for wine.
The Traveler series of cases from Aleon are made with quality Aircraft Grade Aluminum which is heat treated and anodized for industrial strength. With their hardside and riveted construction, as well as reinforced corners, they are lightweight and durable and come with a ten year warranty. Armed also with interior packing compression panels, TSA combination locks, high density double quad dual wheels and a multi-stage telescoping handle, this is an item that is a pleasure to wheel around. The ALEON Traveler comes in three convenient sizes: the 26″ Traveler, the 30″ Macro Traveler and 32″ Macro Plus Traveler.
Hartmann Ratio Classic Deluxe from Mori Luggage and Gifts
Hartmann Ratio Classic Deluxe Gliders from Mori Luggage and Gifts feature a removable, dual folded, gusseted garment suitor that includes leather accents, a foam roll bar to reduce wrinkling, and zippered mesh accessory pocket. It's built from durable ballistic nylon and handsome full grain leather and comes with a wider, contoured handle system that provides 12 positions of height adjustment for unmatched ease of movement, and a sleek, leather handle. It comes with StrideAlign technology, designed and engineered to bring comfort, ease, and mobility to the travel experience. Spacious, front zippered pockets allow for versatile packing and multiple interior pockets have been designed for organized and tailored packing. The medium case pictured measures 21.0″ x 19.0″ x 11.0″ but other sizes and styles available.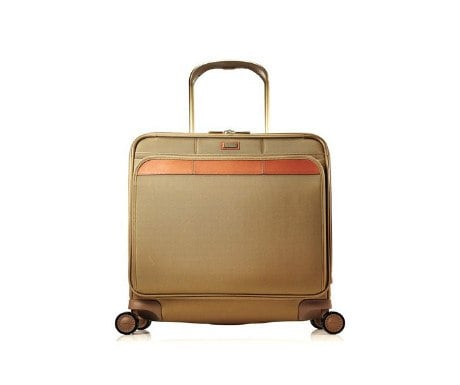 SkyRoll makes the only luggage with a wrap-around garment bag, meaning you'll never have to fold suits or dresses again. It's like having two pieces of luggage in one. Rolling up large clothes means fewer creases & wrinkles in a more compact size, making it perfect for business trips, weddings, cruises and so on. The SkyRoll Spinner is designed mostly for women because the garment bag is extra-long and able to hold long dresses without folding, plus it comes with a matching toiletries kit. This luggage item is designed as a carry-on by the standards of most U.S. airlines, but it's a bit bigger than many of the European airline's carry-on size limits so would be more suited to the main hold within Europe. The spinner wheels allow for easy rolling without tilting and an internal padded laptop/tablet sleeve is perfect for protecting electronic devices.
Love Me, Love My Dog suitcase from Radley
The Love Me, Love My Dog medium hard shell suitcase from Radley will have you gliding through the airport while adding a playful twist to your style. Made with your travel needs in mind, this suitcase is ultra-lightweight and designed with a resistant solid exterior (a polycarbonate/ABS shell) which is less likely to crack or scratch. With a simple zip around fastening, it also features internal double divider packing sections, so you can pack as much in as you need while keeping organised. This suitcase includes a four wheeled base for ease of movement, integrated TSA approved dial lock and extendable pull handle, making it must-have luggage that you can travel with time and time again.
Lite Shock Spinner from Samsonite
The lightest suitcase from Samsonite's Curv® collection, Lite-Shock combines minimal weight with maximum impact resistance. This hard shell suitcase's self-reinforced organic design and ultra-light, high comfort components result in an extra lightweight luggage collection, setting a new standard. Light-Shock remains strong without the need for a thick outer shell thanks to the shock absorbing nature of the design. Curv® is known for its high energy absorption, outstanding impact performance, especially at low temperatures. There's a one-slot, integrated TSA lock, for secure travelling to the USA and lockable zippers, plus a top carry handle and side carry handle for easy grip and easy lifting. Four sporty, smooth and silent wheels allow 360° rolling in multiple directions, for easy manoeuvrability.
The Piazzale from Maxwell Scott Bags
The Piazzale is a traditional wheeled leather suitcase. There are several lined compartments and pockets, both on the inside and the outside of this structured case. There are luggage straps inside as well as a smaller zipped pocket to ensure belongings are stowed safely. For ease of use the case has both a pull along handle, plus two further flat leather handles to enable carrying. Complete with a telescopic pull-along handle, and robust wheels, this hard wearing, durable case can be used both for short overnight trips and weekends away. It can even be used as carry-on luggage on most major airlines.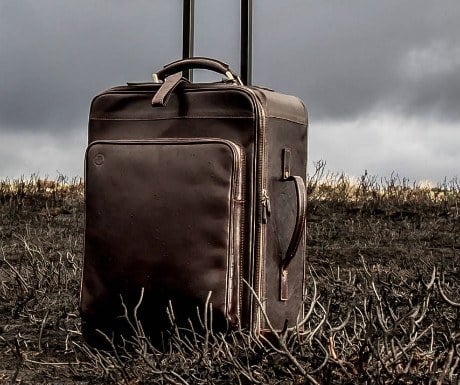 Gem Gardens suitcase from Ted Baker
Ted Baker gives your luggage collection a glamorous upgrade with the ROSINE suitcase. Adorned with the ornate floral jewels and butterflies of the Gem Gardens print, it's guaranteed to induce some serious style envy come baggage reclaim. Its four button design wheels for 360 manoeuvrability and the extendable handle with moulded handgrip, as well as a side carry handle, mean moving your case around is a beeze. There's a zip around main compartment and two main interior compartments and buckle strap along with a colourful, printed lining.
New roller case from Louis Vuitton
Keep an eye out for the new roller case from Louis Vuitton. Designed by Apple designer Marc Newson, himself a frequent traveller, the case has a molded inner core and a shock-proof outer shell built from a newly-formulated polypropylene composite. It claims an internal cavity that is 13% larger than similar bags thanks in part to a telescopic handle that protects the outer corners of the case, rather than taking up valuable interior space.