7 highlights of northern Thailand
For all the familiarity of Thailand's powdery beaches and Bangkok's glittering skyline, look north and you'll find somewhere quite different. Northern Thailand was largely an independent region until the beginning of the last century, a bastion for hill tribes each with a distinct identity. We've selected our highlights of the region, taking you from the outlandish architecture of Chiang Rai to the Shan Hills of Mae Hong Son.
Discover Chiang Rai's artistic heritage
Many international galleries reference work by Bangkok-based Thai artists, but the art scene in Chiang Rai is beginning to draw attention. The Lanna Kingdom (a northern Thai Empire that ruled from the 14th-18th century) left behind a rich legacy of artworks, with many fine examples housed in the Mae Fah Luang Gallery and Oub Kham Museum. These collections of sculpture, painting and pottery have inspired a flourishing community of artists, from the traditional craftspeople of the surrounding hill tribes to contemporary sculptors and painters.
Angkrit Gallery, to the north of Chiang Rai, holds a regular schedule of talks by artists and film screenings. Over the road, you'll notice an eclectic cluster of buildings created by one of Thailand's national artists, Thawan Duchanee. Baandam Museum (Thai for 'black house') contains Duchanee's huge collection of paintings, sculptures and artefacts. Architecturally, the museum is a mixture of traditional teak structures and more experimental glass, brick and concrete buildings, including white igloo-like domes. Many buildings are open to the public, exhibiting a macabre collection of animal skins and bones, as well as ethnographic objects. The largest structure is laid out for a fantasy banquet, the table decorated with a snakeskin runner and lit with chandeliers made from horns.
Explore the surreal White Temple
Thailand's long history of Buddhist devotion is hard to miss, with gleaming stupas rising from almost every skyline. If you're wary of adding another temple to your itinerary, Wat Rong Khun, better known as the White Temple, is quite different. A short drive from Chiang Rai, its silhouette may mimic the tiers of a traditional temple, but it was built by artist Ajarn Chalermchai in 1997.
The temple's unusual white façade symbolises purity, while the millions of glittering clear mirrors that adorn it are said to represent the wisdom of Lord Buddha shining through the universe. To enter the ubosot (main temple), you need to pass over a bridge flanked by hundreds of outstretched clay hands. Entering the temple, you'll see traditional-style Buddhist paintings covering the walls. Look closer and, within them, you'll find surreal depictions of contemporary events and figures including the attack on the Twin Towers, George Bush sitting astride a missile and Superman flying from the mouth of a demon.
Appreciate Thailand's national animal at Elephant Valley
Illegal logging and agriculture have caused Thailand's wild elephant population to decrease dramatically over the last 100 years, making elephant conservation vital. Elephant Valley in the Chiang Rai region rehabilitates domestic elephants, aiming to return them to the wild.
You can visit the sanctuary as part of a small group tour. There's no elephant riding, bathing or shows: the experience focuses instead on watching the elephants' natural behaviour, as they tear down bamboo or enjoy a mud bath. A guide will be on hand to explain the rehabilitation process as you walk through the sanctuary's forests and grasslands on foot, looking out for the elephants. There's also the opportunity to help with feeding time —many rehabilitated elephants still need their diet supplementing — as well as enjoying a freshly cooked picnic lunch.
Visit the Royal Agricultural Station
The province of Chiang Mai is a well-trodden route for travellers, but head up into the hills toward the Burmese border region of Angkhang and you leave most of them behind. Among the network of Burmese, hill-tribe and Yunnanese villages here, you'll find the Royal Agricultural Station.
King Bhumibol Adulyadej initiated the project after illegalising the production of opium, to find suitable alternative crops to cultivate in the cool mountain valleys. The hillsides are now covered in thriving agricultural plots tended by local villagers. Visiting the station, you can explore the flower, vegetable and herb gardens, as well as a sensory garden and orchard. Many of the station's staff are farmers from the surrounding villages, trained by visiting botanists to cultivate new species suitable to the local climate.
Celebrate New Year with a hill tribe
The hill tribes of northern Thailand have maintained an almost mystical quality, isolated from the mass tourism and development the country has seen in general. Even when you do manage to visit a tribe — for this, you'll need a guide and driver as public transport is virtually non-existent — having a meaningful interaction can be a challenge.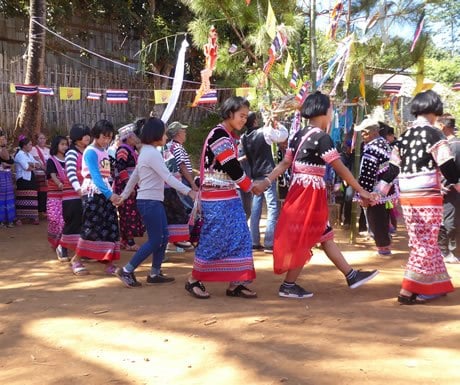 Visiting during a festival can give you the chance to meet the local community, with the New Year bringing the most enthusiastic celebrations. Everyone dons traditional dress, homes are decorated and huge feasts held — and visitors welcomed. Each tribe has its own calendar, with New Year celebrations running from December through to April. The Karen tribe hold their celebration before the start of the rice-growing season, on a day usually chosen by the village witch doctor. The Lahu celebrate in late March or April, beginning with a ceremony to worship their ancestors.
Delve into the caves beneath the Shan Hills
The province of Mae Hong Son is hemmed in by the steep gorges of the Shan hills, which run north to the border with Burma. Large tracts of the hills are limestone, riddled with an expansive cave network, little of which has been mapped. Tham Nam Lod Cave, part of the Tham Lot cave system, is the easiest to explore, located an hour and a half north of the town of Pai.
You enter the cave through a cathedral-sized chamber flooded with natural light, this leading to a series of smaller chambers. Stalactites dangle from the ceiling like chandeliers, the shallow Nam Lang River running underneath. Local people have devised a system of bamboo rafts for visitors to navigate farther into the cave system. Floating into the darkness, you're accompanied by a lantern-bearing guide, but it's wise to bring a torch with you, too. The last chamber houses the remains of a teakwood coffin, thought to have been carved by the Lawa tribespeople over 1,000 years ago.
Walk the hills of Mae Hong Son
Using Mae Hong Son town as a base, you can access a network of trails to explore the surrounding hills. It's best to be driven out to a surrounding hamlet, where you can join tracks that lead deep into the jungle. The routes aren't marked, at times only visible to an experienced eye, so a local guide is a must.
If you're prepared to tackle a steep climb, summiting one of the Mae Hong Son's peaks will reward you with panoramic views of the surrounding hills below. As the jungle begins to thin out, you walk through highland meadows often dotted with wildflowers. Wildlife is tricky to spot, but you might see the occasional deer scampering away, as well as eagles and buzzards circling high above. Opt for a full-day walk and your guide will provide a picnic lunch. A traditional Thai picnic is a carefully crafted art: sections of bamboo are skilfully cut to act as a makeshift kettle, bowl and cup. Rice or noodles are cooked over an open fire, usually served with a boiled egg or any vegetables that were to hand, and the meal is finished off with a cup of tea.
Craig Burkinshaw is Founder of Audley Travel.
If you would like to be a guest blogger on A Luxury Travel Blog in order to raise your profile, please contact us.
Did you enjoy this article?
Receive similar content direct to your inbox.