Some people may recall a time when flyers could light up a cigarette onboard, say "bon voyage" to a loved one from right at the gate, or even enjoy a luxurious lounge atmosphere complete with a piano bar from economy class. While traces of these times may be noticeable on in-flight signage or the flight attendants' safety warnings, some of these rules may surprise you. Take a look at these 10 surprising airline rules you may never have known about:
Smoking
Unless you like to light up, you're probably glad you can no longer smoke onboard flights today. Once upon a time, airline cabins were divided both by status (first class and economy class) and recreational habits. Airlines didn't even charge smokers a premium for the privilege. Both smoking and non-smoking tickets were sold for the same price. Airlines started phasing out smoking sections on U.S. domestic flights in 1998. By the mid-1990s, all U.S. flights were smoke free.
Fly supersonic
From 1976-2003, flyers on a tight schedule could fly from London to New York in less than 3 hours supersonically via Concorde. Today, the same trip takes nearly 8 hours. In July 1985, Phil Collins gained global attention when he used Concorde to participate in both the U.K.  and U.S. Live Aide concerts. Phil started the day playing at Webley Stadium in London, before catching the British Airways Concorde for New York. He then shuttled down to Philadelphia and joined Eric Clapton on stage. The golden age of commercial supersonic travel ended when Air France and British Airways suspended Concorde flights in 2003. There's talk that supersonic flights may make a comeback, but so far, they have been absent from 21st century life.
Pay for your airline seat during the flight
Imagine this: it's 1985. You're in Buffalo, NY and need to fly to New York tonight. There's no Internet, no cell phones, no e-tickets. How do you get on the flight? You just drive to the airport, go through security, get on the plane and pay on board once airborne. It may seem unbelievable, but that's the way it was. Peoples Express is probably the most well remembered first generation low cost carrier. Their revenue model was simple: pay the price and pay on board. Rapid expansion and mounting debt eventually led to their being taken over by Continental, but we'll give it to them that they were an innovator.
Write your own ticket
While occasional travelers could pay for their seats mid-flight, frequent travelers were empowered to write their own tickets. Some carriers sold pre-written ticket books, allowing the flyer to write in the dates as needed. When most airline ticket sites launched in 1995, self-written tickets became a thing of the past.
Visit the cockpit
In the 20th century,a trip to the cockpit was nearly automatic for kids of almost any age. Commercial aviation forever changed post 9-11, and the trips to the cockpit largely became a thing of the past.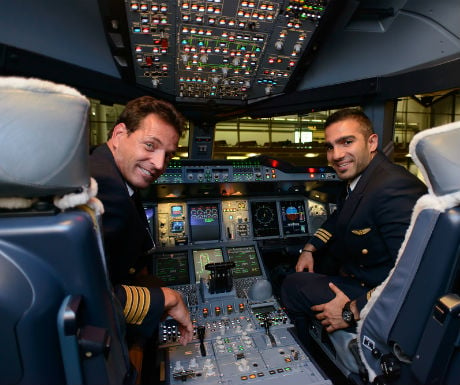 Fly anonymously
In the 20th century, IDs were only required when flying internationally. There were no ID checks for flights within the U.S. Tickets were technically non-transferrable, but unused nonrefundable tickets were regularly bought and resold. If you bought a nonrefundable ticket then decided not to fly, you'd place a classified ad in your local paper trying to unload the ticket. There were even brokers in larger cities that specialized in matching holders of non-refundable tickets with buyers for a fee.  The name on the ticket couldn't be changed, but since airport security didn't check IDs, it didn't matter.  D.B. Cooper used this loophole to his advantage after skyjacking a Northwest flight and parachuting out the back door over $200,000 in cash.
Fly without excessive bag fees
Airlines have always charged for excess baggage, but only in the past two decades have flyers been trapped into paying outrageous bag fees. In the 20th century, savvy flyers would use a skycap to check as many bags as needed for a $20 bill.  Skycap magic also worked with boxes. A Passport Premiere subscriber recently reminded us that he checked six boxes of Dole pineapples between Honolulu and New York (over 100 lbs!) for $20 using a skycap!
Relax onboard in the economy class lounge (yes, economy!)
Back in the day, airlines cared about the comfort of its economy class flyers. Airlines competed on service rather than price. American Airlines' widebody aircraft featured a piano bar in coach, and other carriers followed. By the mid-1980s, economy class lounges were phased out as competitive threats from deregulation hit full throttle.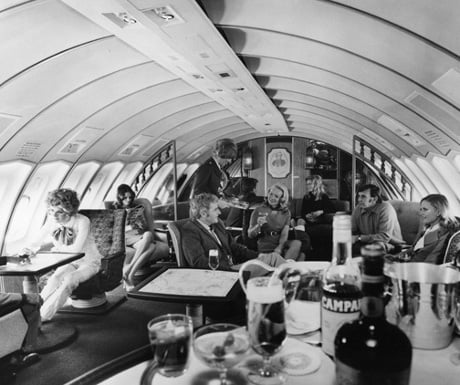 Your economy ticket entitled you to a desirable economy class seat for free!
Back in the day, the passenger paying the least still had access the most desirable seats – aisle seats, bulk head seats, or the emergency exit row – even without preferred or elite status. Your ticket even included amenities like meals, drinks, pillows and blankets. Today on flights, it seems that everything is for sale. These additional fees can sometimes cost more than the fare itself on some deeply discounted routes. There's even been talk about putting a meter on the lavatory and charging for toilet paper.
Upgrade with a wink and a smile
When mileage programs were still in their infancy, dropping a few compliments to the gate agent could deliver you from the pits of economy to first class. Today? Well, human check-in agents have mostly been replaced with kiosks and on-line check in. You can give the kiosk all the compliments you want, but it won't result in an upgrade. It doesn't even get you out of the dreaded middle seat unless you're ready to pay!
Lars Condor is the Managing Director of Passport Premiere.
If you would like to be a guest blogger on A Luxury Travel Blog in order to raise your profile, please contact us.