By
Spencer Groves
on Apr 25, 2017 in
Accommodation
,
Antigua and Barbuda
,
Asia
,
Barbados
,
Caribbean
,
Europe
,
Family Travel
,
Greece
,
Hotels
,
Indonesia
,
Malaysia
,
Mexico
,
Middle East
,
North America
,
Regions
,
Resorts
,
Speciality Travel
,
United Arab Emirates
,
Western Europe
As any parent knows, you're only as happy as your least happiest child – and keeping children happy, especially away from home, can be hard work. Finding a holiday resort that makes this as easy as possible, with plenty of tyke-pleasing facilities, is the first step towards a harmonious family holiday.
The option of a good kids club is often high on the priority list. Whilst you probably won't want to pack your little ones off for the entire week, a few mornings or afternoons here and there gives you the chance to switch off and relax – whilst the youngsters get to make new friends and try some new activities in a safe environment. The best kids clubs have warm, engaging and attentive staff, with lots of creative and sporty things to do.
If childcare is what you're after, read on for our selection of top family-friendly resorts with great kids clubs – where it's likely you'll find they're begging you to check them in.
Europe
The Romanos and The Westin Resort, Costa Navarino, Greece
Best for ages 4 months – 18 years
Located in the southern Peloponnese peninsula, Costa Navarino is one of Greece's finest five-star beach resorts, surrounded by unspoilt countryside and scenic ancient ruins. This resort was recently voted as the "Best Family Destination" in the Mediterranean – and it's easy to see why. There are two specifically designed play areas for kids (one for babies and toddlers, and one for kids aged 4-12) – with an almost overwhelming choice of activities on offer.
It's all new and has been really well designed, with clever touches built-in like drop-down mirrors for face-painting, and a giant in-floor keyboard that just begs to be played. Outside, there's a large outdoor play area with plenty of slides, shade, and scope for imaginative play. Older kids can also enjoy football, basketball, racquet sports and golf.
Costa Navarino has plenty for teens too – they're invited to make new friends and play beach volleyball, football, water games, contests, bowling and billiards – as well as making the most out of the resort's other facilities like watersports and the go-karting track.
Within the resort there are ample facilities, including the waterpark, with a shallow splash pool, slides, and water toys. For bigger children and adults, there are also three larger water slides, as well as a basketball court, volleyball, badminton, table tennis, ten pin bowling, pool tables, indoor cinema and Playstation consoles. And that's all before we've even mentioned the calm, sandy beach.
There's also lots the whole family can do together, like mountain biking (with attachable kids seats for youngsters – or balance bikes if they're feeling independent!), paddle-boarding, and – the latest fad – electronic trikes (similar to Segways, but much more stable!)
Sani Beach, Halkidiki, Greece
Best for ages 4 months – 11 years (+ teens in peak summer season)
Families are extremely well catered for at this resort in Halkidiki, which is ideal if you're looking for a 'fly and flop' type holiday with five-star style. The kids club takes children from 4 months old, with a 1:3 staff ratio. The Melissa Mini Club is complimentary for kids aged 4-11, with a ratio of staff at 1:8. There are lots of activities on offer, including arts and crafts, face painting, T-shirt painting, pantomime, mini disco, and cookie making, as well as themed parties. There's also plenty going on outdoors, from organised pool games to table tennis, gymnastics, treasure hunts, bird-watching tours, and forest school style activities. During peak season (July/August) there's also a teens club – think watersports, football tournaments, taster spa sessions, and so on.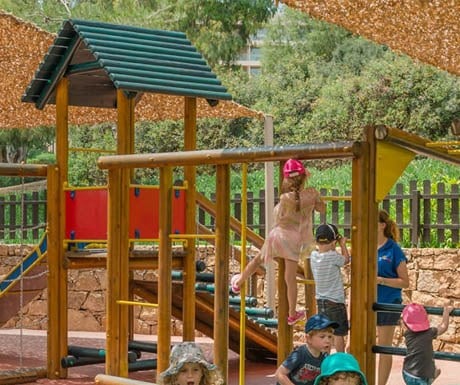 Sani is famous for its free-of-charge Babe Watch service. For half an hour, the resort's staff will keep an eye on your children, playing games and building sandcastles with them, whilst you get to enjoy a break on the beach sunbathing, swimming, or reading a book – uninterrupted.
There's also tonnes to do within the resort: snorkelling, adventure playground, tennis tuition, football academies, cookery lessons, art classes, watersports, and open-air yoga for adults – or borrow bikes and scooters to explore the resorts smooth, traffic-free pathways. They've recently introduced baby swimming lessons as well, in the warm indoor pool at the spa.
The Far East
Grand Mirage Resort and Thalasso, Bali
Best for ages 4 – 15 years
This friendly beachfront resort in Nusa Dua has lots of perks for adults and children alike. At the kids club youngsters are looked after by caring staff, who lay on an array of activities including aerobics, mask-making, football, jewellery-making, fruit-carving and cookery. There's also a new waterpark outside, together with a separate family pool, which has a large waterslide.
Within the kids club, there's a soft play area, as well as a banana-shaped billiards table, games room, and mini boxing ring.   Outdoors, there's a playground and giant garden chess game – both of which are close to the resort's two restaurants, so the children can play whilst you're waiting for the food to arrive. The 'Cool Lounge' is free and open to all guests, where you can hang out and take advantage of the pool tables, air hockey, table tennis and PlayStation consoles. If you're feeling tuneful, there are also two dedicated karaoke room.
For no extra charge (and providing you're over 9 years old), you can go on a Seawalker experience – donning an astronaut-style helmet and taking a walk along the sea bed amongst the fishes. Also, don't miss the chance to check out the spa – it's really beautifully done, and even children can enjoy being treated to a Balinese massage.
Shangri La Rasa Ria Resort & Spa, Borneo
Best for ages 5 – 11 years
Located on a vast sandy beach, backed by rainforest and a 64-acre nature reserve, there are tonnes of activities to suit all personalities at this resort. If you've got a budding artist they'll be kept amused with puppet-making, batik painting, leaf weaving and instrument making. If your child can't sit still, there's dancing, treasure hunts, mini-Olympics, kayaking, and pony rides. If you've got an eco-warrior, there are gardening and nature explorer activities. There's also the 'Ranger for a Day' programme for animal lovers aged 5 – 11, where they can assist the rangers in their daily tasks, feeding the baby orangutans, and learning about Borneo's rainforest.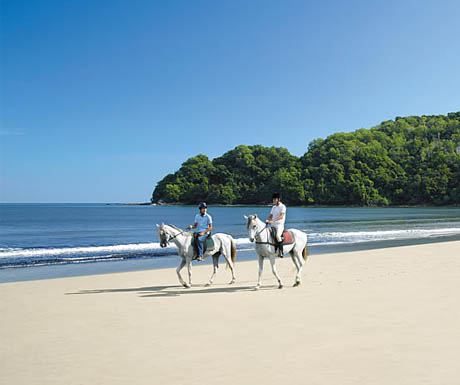 One of the best things about this resort has to be the onsite orangutan sanctuary, which is usually home to around 3 or 4 baby orangutans. The pools are also well kitted out for children, with shallow areas and waterslides.
The Caribbean
Carlisle Bay, Antigua
Best for ages 6 months – 19 years
This chic boutique hotel in Antigua is reminiscent of the kind of place you might have chosen pre-kids, with a myriad of little touches to keep everyone happy. The Caribbean Cool Kids Club (open 7 days a week) is suitable for children aged six months to six years. There's a paddling pool, jungle gym, and sand pits as well as lots of organised activities such as lizard hunting, treasure hunting and arts and crafts. During the main school holidays, the Crew Blue programme also operates 5 days a week. It's complimentary for children aged 7-12 years and runs activities such as raft building, starfish hunting, football, sailing, zip-lining, and excursions to Stingray City.  Crush is the teenage club for 13-19-year-olds – with its own chill-out room with a Wii U, table tennis, and organised activities like beach parties, wake-boarding, mocktail-tasting, tubing, and tennis workshops. There's also a cinema room for movie nights.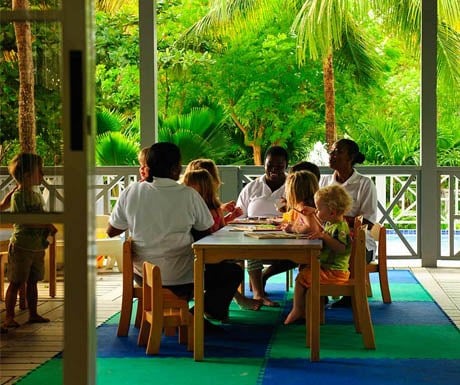 Kids' high tea is served by the pool at 5pm, leaving the restaurants free for grown-ups in the evenings (babysitting is readily available).   There's a choice of two beaches, and two sections of the hotel work very well in ensuring that those with children and those without can holiday in harmony.
Turtle Beach by Elegant Hotels, Barbados
Best for ages 3 – 12 years
This four-star all inclusive property is located on the South Coast of Barbados, with a family-friendly atmosphere and easy access to Dover Beach. The staff running the popular Flying Fish Kids Club have a really good reputation. They're welcoming, caring and friendly – and it's really them that makes the kids club here so special. Children can learn about Barbados culture by becoming an Honorary Bajan – learning the lingo, and making Bajan food. They'll even be given a souvenir Bajan passport to take home. There are lots of arts and crafts on offer, as well as activities like beachcombing, and movie nights under the stars (the kids club is open till 9pm). The whole family can join in with island tour excursions, and weekly activities like calypso dancing lessons and beach kite flying. Older kids can learn to surf or boogie board, or go kayaking and hobie cat sailing with instructors from the newly revamped Aqua School.
The resort has plenty of things for children to do outside of the kids club. There's a dedicated children's pool and a jungle gym, as well as table tennis, pool table, table football, and lots of beach games for older children. You can also pre-order kids meals, to be served at a time and location to suit – which takes the hassle out of dinner time.
Mexico
Finest Playa Mujeres, Cancun
Best for ages 3 – 15 years
"I'm bored" are two words you won't hear at this action-packed resort near Cancun, which has something for children of all ages. At Finest Playa Mujeres, there are all-day activities for everyone from toddlers to teens – whether it's in the pool playing games, beach soccer, crafts, video games, riding horses, zip lining, water balloon fights, making tie-dye t-shirts, playing on the water slides and more. The kids club is split into three age groups (Mini club, Maxi club, and teens club). There's also the 'Imagine Lounge', a supervised area near the restaurants with movies, games and consoles where the youngsters can be dropped off whilst parents enjoy a quiet meal (open at breakfast and dinner time).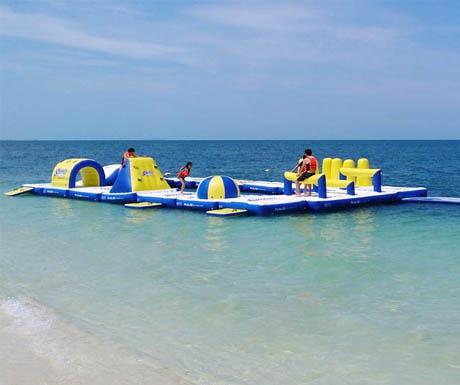 There's a children's pool with its own built-in playground, with a separate shallow pool just for babies and toddlers. There are three indoor areas are grownup-free zones, plus a kids plaza, mini spa and mini theatre. For older kids, kayaking, snorkelling, sailing, windsurfing, paddle boarding, water polo, table tennis, volleyball and more are part of the all-inclusive fun – together with a floating 'waterpark' just off the beach. They also have some impressive entertainment shows for kids, like an actor-led pirate scavenger hunt throughout the resort – culminating with a sword fight on the beach and an appearance of a 'cannon-firing' pirate ship.
Dreams Riviera Cancun Resort and Spa, Riviera Maya
Best for ages 3 – 12 years
There's lots to do at this lively mid-size resort on the Riviera Maya. The Explorer's Club for Kids aged 3 – 12 is open late until 10 pm. Each evening you're given a schedule of the following days organised activities – typical activities include things like cooking classes, rock climbing, bungee trampoline, bingo, piñata, hide and seek, and jewellery making – although they are other options if your child doesn't feel like joining in. Every week, the kids are given the chance to 'camp out' on the beach with their new friends – under full supervision – whilst you get a chance to enjoy a meal at the resort's adults-only restaurant. The Explorers Club is a strictly parent-free zone, but you're given a beeper so you can be contacted at any time.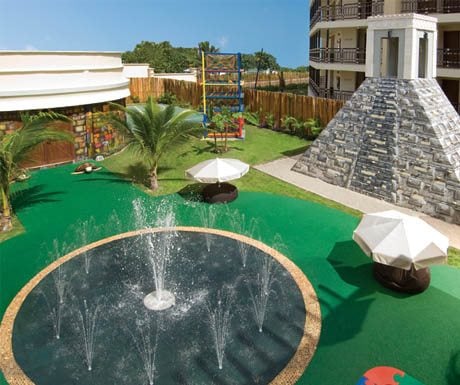 There's a large, shaded outdoor playground for kids next to the kids club, with a pyramid-shaped climbing wall, and squirty fountains in the floor. There's also a planetarium kids theatre, and lots of watersports for the whole family to enjoy. Every evening, the resort lays on some family-friendly entertainment – typically juggling and fire shows, live music, and illusionism.   If you fancy getting out and about and exploring, nearby you can go swimming with dolphins, or explore the ancient Mayan ruins at Chichén Itzá.
Middle East
Jumeirah Zabeel Saray, Dubai
Best for ages 4 – 16 years
Sinbad's Kids Club has been expanded recently, and now includes a mini water park area, as well as larger indoor and outdoor play areas, and a separate kids pool. It's also complimentary for all guests aged 4 -16 years. The children are divided into four groups according to their age, and tagged with a wristband – then they're free to enjoy all the supervised activities. Indoors there are games consoles, iPads, a giant in-floor keyboard (on a stage) and soft play, whilst outdoors the climbing wall, pool and mini-water park are infinitely popular.   There are also lots of organised activities, like cooking classes, arts and crafts, camel rides, talent shows, magic shows, and games. Whilst not necessarily the healthiest snack options, complimentary ice cream and popcorn keep spirits high. The kids club is open late until 10pm each evening.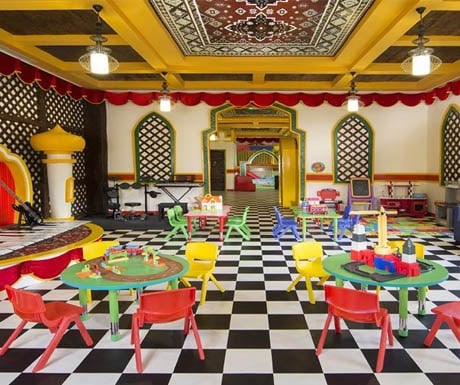 As a five-star-plus resort, the Jumeirah Zabeel Saray pretty much has everything you could possibly wish for – including the largest spa in the UAE. As guests, you'll also receive complimentary unlimited access to Jumeirah's Wild Wadi Waterpark – one of the best in Dubai, home to some record-breaking rides and slides. They also have a fab half board package, which allows you to dine at a choice of 60+ restaurants – including those at other Jumeirah hotels, at Wild Wadi Waterpark, and even some in Dubai Mall.
Atlantis The Palm, Dubai
Best for ages 3 – 18 years
A heaven for children, Atlantis Kids Club is a vast space with so much to do, you might struggle to get your kids out of it. There's a Command Centre, where they'll find the latest in electronic entertainment, the Play Zone where they'll be able to take part in team games and challenges, and The creation zone – which is where all the arts and crafts happen. There's also a pirates soft play area, with front row views into the hotel's huge aquarium.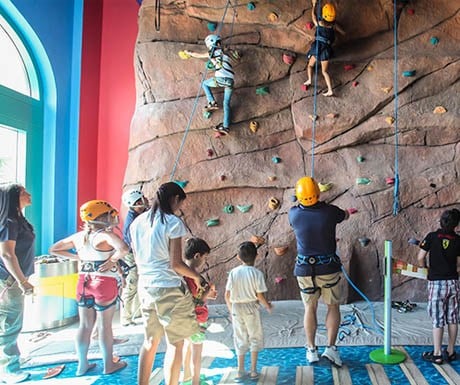 Every evening, kids can stay for a pizza dinner (between 5:30pm – 8:30pm). Essentially a giant party brimming with games, crafts and entertainment, the themes range from Superheros to Willy Wonka, Arabian Nights, Under The Sea and more. For teens (13 – 19), Club Rush is open from 3pm – 6pm and 7pm – midnight each evening. There's a mocktail bar, internet cafe, karaoke, table football, cinema room, and dance floor.
Kids love this resort – it's the biggest, brightest and best family hotel in Dubai. Aside from the gargantuan waterpark, there's the chance to swim with dolphins, explore the Lost Chambers Aquarium, and enjoy the pools and beach. There's also The Zone, a state of the art video game arcade filled with simulators and shoot 'em ups, and a large outdoor playground.
Spencer Groves is Commercial Director at letsgo2.
If you would like to be a guest blogger on A Luxury Travel Blog in order to raise your profile, please contact us.