Celebrating over a million social media followers with some new business cards
I'm delighted to announce that
A Luxury Travel Blog
now has over a million followers across its various social media channels. Over 700,000 followers on Twitter, around 300,000 page likes on Facebook, over 20,000 on Instagram, and approximately 10,000 each on both Google+ and Pinterest, not to mention a few hundred thousand on some secondary accounts and collectively a few tens of thousand elsewhere (Flipboard, LinkedIn, YouTube, etc). With all figures taken into account, the total social following is in fact somewhere around the 1.4 million mark. To mark this milestone, we decided to get some new business cards and enlisted the help of
Aura Print
with that task. They specialise in digital and litho printing for a range of
UK
clients and have experience in printing not just business cards, but also other materials such as leaflets, banners, flyers and more. I had a few ideas about how I might want my business cards to look and Auraprint ran with my 'luggage label' concept. I think they did a pretty good job with in, in fact, and hope you'll agree.
Personally, I don't like to put too much detail on my business cards and am pleased with the simplicity: just my website address, my name (and a few letters that follow), how to contact me and some statistics for my main two social channels (Facebook and Twitter).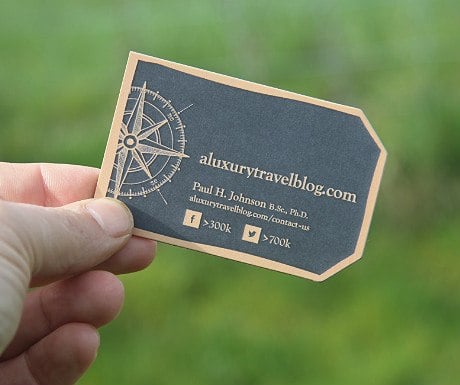 What I'm really pleased with though, and that the photographs don't show, is the thickness and quality of the card. These are not flimsy at all, but are instead a really substantial thickness, giving the kind of rigidity that you might expect from a real luggage tag. The feel of them is something that exudes quality – something that is really important to me as a luxury travel blogger. There's no suggestion that corners have been cut here (excuse the pun since two of them have been!) but instead you are given the impression of quality and attention to detail. On the reverse, I've kept it 'short and sweet' also, just listing a few awards and mentions that I'm proud of: Winner of 'Best Travel Influencer' in the Innovation in Travel Awards from WIRED magazine; selected as 'one of the world's best travel blogs' and 'best for luxury' by The Daily Telegraph; and Winner of 'Best Travel Blog' in the Travelmole Web Awards.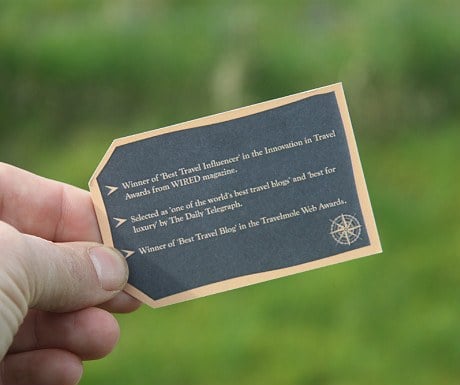 I would love to hear what you all think of the new cards. In the meantime, thank you Aura Print for a job well done… working with you on this small – but nevertheless important – aspect of my business has been a pleasure!
Disclosure: These business cards were supplied by Aura Print.
Did you enjoy this article?
Receive similar content direct to your inbox.