By
Janice Nieder
on May 09, 2017 in
Accommodation
,
Attractions
,
Food and Drink
,
Going Out
,
Hotels
,
Missouri
,
North America
,
Regions
,
Restaurants
,
Travel Miscellany
,
USA
Maybe it's the fact that the median ago in Columbia, MO, aka COMO, is under 27 years old that accounts for a city that's burbling with creativity, innovation, and just plain niceness.  You'll need a long weekend to fully explore Columbia's vibrant, tree-lined downtown streets packed with art galleries, indie boutiques, music venues and an exciting mash-up of ethnic restaurants.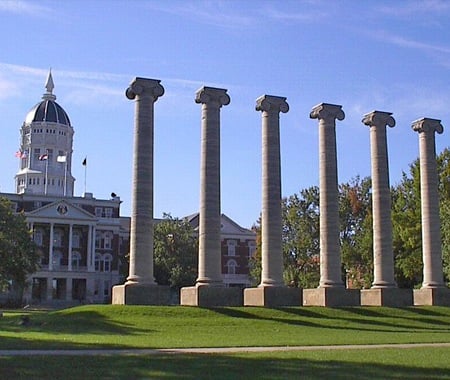 Best things to do
Take a walk around the University of Missouri, the first public university west of the Mississippi River. Affectionately referred to as Mizzou, the entire campus is designated a botanical garden, and the Francis Quadrangle includes 17 buildings on the National Register of Historic Places, including The Residence, where presidents and chancellors have lived since 1867. Bragging rights go to Sheryl Crow and Brad Pitt who both attended.
Shop the downtown area where there's a store to fit every need ranging from a fragrant Makes Scent shop to Yellow Dog Bookshop which is crammed with new and lightly-used book. It's interesting to note that the shop was funded by a successful Indigogo campaign launched by a couple that wanted to share their love of good books.
As you stroll around town note the generous sprinkling of outdoor sculptures and other public works of art, even down to the painted traffic signal boxes, thanks to Columbia's Percent for Art program. It calls for 1% of the cost of new city construction or renovation projects to be used for site-specific public art.
A few blocks away is the North Village Arts District. My fave stop here was  ARTlandish, a gallery full of pottery, glass, found object sculptures, jewelry and unique clothing items, all handmade by local artists. Head downstairs to The Catacombs, housing about 20 artisan crafts booths. I stocked up on enough one-of-a-kind birthday presents to last me a year at extremely reasonable prices.
Columbia rocks when it comes to festivals, particularly their film festivals. The granddaddy of them all is the noteworthy, super fun, four-day True/False Film Festival. Equally loved by both filmmakers and film lovers this unique event, which recently celebrated its 14th year, offers a diverse range of documentary films (the only common denominator is the level of excellence) with a novel, pre-film, live music component.  During True/False, you'll laugh, you'll cry, and you'll certainly be putting on your "thinking cap". The only common denominator in these transformative films is their level of excellence.

Another inspiring happening is The Citizen Jane Film Festival, now in its 9th year, an ode to amazing female filmmakers worldwide.  C.J. works hard to support female directors, which I was shocked to find out account for only 2% of the U.S.'s top films.
For a once in a lifetime opportunity, on August 21st, 2017, Columbia will be in the direct path of totality (which means perfect views) for a total solar eclipse!
Best eats
Café Berlin: This lively music venue also serves the best breakfast in town. Sit back and enjoy the sounds because everything is made to order, including their yummy 'Compost Pile' a homemade biscuit topped with grilled veggies, Jack cheese, and a 1/3 pound burger covered in gravy with a fried egg on top!
Sycamore: This sophisticated, Chef-owned eatery manages to still maintain a cozy feel, offering tasty New American fare carefully sourced from Missouri's finest organic farmers, orchards, ranchers, brewers, bakers, & cheese makers, while most everything else is smoked, baked, or cured in-house. It's hard to choose between the craft beers, meticulously selected wines, and original barrel aged cocktails mixed with homemade syrups.
Everything on the menu will tempt you but copy my order and I guarantee you'll leave smiling. Start with the Special Salad of romaine, applewood smoked bacon, radishes, soft-boiled egg, buttermilk dressing and sourdough croutons, followed by their signature (fell-off-the-bone) Boneless Beef Short Ribs, which spend the night braising in Belgian style abbey ale. For dessert you have to go with the Ginger Mascarpone Icebox Cake anointed with a gingersnap cookie crust that Chef Mike's mom perfected.
Best sleep
Perched right on downtown's main drag, the upscale, contemporary Broadway Hotel, the only LEED certified hotel in Mid-Missouri, offers warm spacious rooms filled with local works of art, complimentary Wi-Fi, and fine dining at ElevenEleven. Head up to the Roof, for a fabulous birds-eye view of COMO while sipping a handcrafted cocktail as you warm yourself at one of the outdoor fire pits. Bonus points for the piping hot choco-chip cookies that lie in wait for you at the front desk.
Note: There is a 24-hour fitness room but if the weather is nice, nix the gym and head to the MKT Nature and Fitness Trail, which starts downtown and intersects the Katy Trail State Park, where you can bike, jog, or stroll along the longest the longest rails-to-trails conversion in the U.S.