By
Paul Eyers
on May 20, 2017 in
Accommodation
,
Asia
,
Food and Drink
,
Going Out
,
Hotels
,
Regions
,
Resorts
,
Restaurants
,
Thailand
,
Travel Miscellany
We've been visiting Thailand for nearly 20 years, it's the kind of country that's easy to fall in love with so it's no surprise that we find ourselves wanting to go back again and again. The 'Land of Smiles' has it all; beaches, islands, national parks, beautiful temples, modern cites, bustling markets and some of the best food in the world (yes, even when you are a vegan). Vegan luxury travel is a serious business in Thailand and there are numerous places to stay where you can enjoy the best of Thailand vegan style.
Veganism is about adopting a lifestyle that does not exploit animals or their by products for food, clothing, entertainment or anything else. It's kinder to your health, to the planet and to animals and it's a trend that's on the rise (a 360% rise in the last 10 years to be precise). Vegan luxury travellers like to enjoy the best parts of high end travel like everyone else and we've made it our mission to find the best hotels, restaurants and things to do for those, like us, who love vegan luxury travel.
Here's our list of 10 of the best hotels for vegan luxury in Thailand, tried and tested by us to ensure they tick all the boxes for some perfect vegan luxury travel.
Although reachable by car in a just a few hours from Bangkok, Evason Hua Hin feels like a million miles away from the fast paced buzz of Thailand's capital city. You'll get sea views, a huge free form pool to relax by and the chance to experience 'Blue Lotus – The learning center of plant-based cuisine'. Learn how to cook in a professional level cooking school which is integrated into the hotel (we did a vegan raw food course). The breakfast offerings are one of the most vegan friendly we've ever seen with a separate 'Vegan Food' station as well as fresh juices, nut milks and homemade jams.
2. Four Seasons Resort Chiang Mai
Four Seasons Resort Chiang Maiis one of those beautiful places where you can truly lose hours of your life in absolute heaven. Located in the Mae Rim Valley overlooking the Doi Suthep Mountain Range around 20 km outside of the the central 'Old City' area, this stunning luxury property gives you a real taste of Thai culture. Set in lush rice fields, there is a daily 'farmer's parade' where the staff who have been working in the rice fields all day sing traditional songs, dance and play music as they leave for the day.
The resort's design is reminiscent of a traditional Thai village with pavilions set around the rice terraces which combine perfectly with the Lanna Kingdom styled features found elsewhere throughout the resort. The pool is near perfection as is the food served in the Terraces restaurant which overlooks the rice fields. Vegans can enjoy eating locally grown organic ingredients created into delicious traditional Thai food or excellent quality Italian dishes. There is also a fully equipped cooking school where you can learn the secrets of making Thai dishes which are famous in the region. Like the rest of the resort the cooking school is totally first class.
3. Kata Rocks
Kata Rocks, located overlooking the popular Kata Beach, is a real beauty of a modern designed beach resort. The super-sleek design will make you dream of living aboard a super yacht with striking white, shining clear glass and bow shaped canopies strutting out towards the ocean below.
As the name suggests, it's built on rocks which stretch all the way down to the sea below. Enjoy stunning views where the clean modern design contrasts against the rugged natural beauty of the area. The villas are high end luxury defined; our 'Ocean Loft Sky Villa' even had a fully equipped high tech kitchen where we were able to arrange a personal vegan cooking class with the chef. Not only did we eat delicious vegan food but we were able to learn how to cook it in the comfort of our own villa too.
Located on the busy island of Koh Chang, this luxury Thai beach resort is tucked away in a peaceful bay meaning it really does live up to it's name. It's a laid back resort with little to do but relax on the beach or relax by the pool.
One of the best features of the hotel for vegans is the food which is some of the best we found on the island. Sumptuous Thai curries filled with tofu and vegetables, tasty noodle dishes, soy rich mushroom sauces ladled over perfectly cooked broccoli, Thai favourites like spring rolls and mango sticky rice; the list of vegan friendly food is endless and all delicious.
Located in Phuket on the prestigious 'Millionaire's Mile' this luxury option on one of Thailand's most popular islands let's you have a taste of heaven with a team of 'Angels' to make you comfortable, a golden infinity lawn and some of the most breathtaking sea views around. Vegans should visit during the annual Thai 'Phuket Vegetarian Festival' where many residents choose to follow a vegan diet for 10 days as well as taking part in some unusual ceremonies which involve a shocking but culturally rich display of ritual self-mutilation.
Don't worry though, any shock will be soothed on return to Paresa Resort with delicious Thai vegan food, sunset's to die for and a dip in the starlit pool. The in-house cooking school is also top class.
Chiang Mai is another of Thailand's regions that is well visited by tourists from all over the world and the Shangri La Chiang Mai is an excellent luxury option. It offers the world class Shangri La service paired with an excellent location near to both the airport, the old city and famous night bazaar.
Imagine beautifully manicured gardens, an inviting pool set amongst green lawns, lush tropical plants and pretty lotus ponds and you'll start to understand why this place is a wonderful escape from the busy city outside. For vegans, breakfast time includes some traditional Thai staples of noodle soup and rice congee plus endless fruit, juices and coffee but also some must try Thai dishes like a perfectly cooked vegan 'Pad Thai'. Vegans should also take the opportunity to dine in the Shangri La's 'China Kitchen', the only Chinese Szechuan restaurant in the city.
A combination of the highest levels of luxury and a commitment to sustainable, environmental friendly tourism sets the Six Senses brand aside from many other operators in the region. You'll find Six Senses Yao Noi in Phang Nga Bay, reached by private boat transfer from Phuket. Built on the site of a former rubber plantation, the resort is surrounded by plants and local fruit trees to encourage wildlife.
Dining in the Hilltop Reserve overlooking the magical infinity pool and breathtaking sea views beyond, the memorable and delicious vegan Thai food we ate was one of the highlights of our stay. However, vegans will also be delighted with the complimentary ice cream parlour which had a huge array of vegan sorbets to eat until your heart (and stomach) is content.
8. Sofitel Krabi Phokeethra Resort
Home to Thailand's largest hotel swimming pool (it's blissfully huge), this great luxury option in Krabi lets you explore the beautiful surrounds including stunning beaches (right nearby), the famous scenic limestone karsts of the area which are perfect for rock climbing as well as nearby islands. Or relax in the comfort of the resort with its 7000 square metre lagoon style pool or well kept 9-hole golf course.
There is a breezy colonial style to the hotel, mixed in with classic Thai design. Vegans can eat tasty Thai dishes like tofu stir fried with holy basil or exceptional Indian food (the cauliflower and cashew filled kofta was amazing).
This 'design hotel' is a wonderful mix of upbeat city energy with the calmness of nature, reflected well in areas like the outdoor infinity pool that looks out over the iconic Lumpini park. You'll feel relaxed and at home, whilst at the same time feeling you are right in the centre of one of the world's liveliest cities (which you are).
The spa is a cut above the rest, offering a bespoke service where you can choose your treatment, music and even flavour of tea served afterwards. Treatments (using vegan products) are thorough and will take you to new levels of relaxation and wellness. Being vegan at this luxury property is particularly easy because of the personalised, consistent and proactive service. Specially made vegan food, showcasing the delicious cuisine of Thailand, was served to us every morning, alongside being able to select vegan items from the buffet.
10. Soneva Kiri
Koh Kood is one of Thailand's best kept secrets, a beautiful island which is a stones throw away from Bangkok which has escaped the mass tourism of other Thai islands. It's also home to Soneva Kiri, one of the world's best luxury resorts, located on a palm fringed beach with a backdrop of pristine rainforest. This is eco-luxury at it's best, where the very best doesn't cost the planet.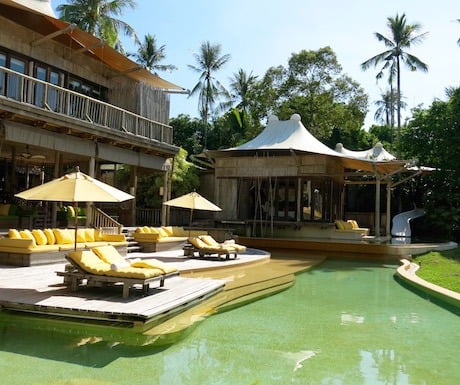 Vegans will be well at home here with afternoon teas up in the rainforest canopy, delivered by zipline, a complementary chocolate room and ice cream parlour with plenty of vegan options, delicious food on the menu in each of the resort's restaurants including one of the best meals we ever ate in Thailand at the riverside 'Benz' restaurant.
Tempted by our 10 of the best hotels for vegan luxury in Thailand? Well the good news is that Thailand is such a vegan friendly luxury destination that there are more. We'll keep exploring this beautiful, culturally rich and diverse destination to bring you more of the very best in luxury travel that is suitable for vegans.
Paul Eyers is Founder of Vegan Food Quest.
If you would like to be a guest blogger on A Luxury Travel Blog in order to raise your profile, please contact us.