Italy's Amalfi Coast is one of the country's most picture-perfect spots, but also gets extremely busy during high season. The iconic towns of Sorrento, Positano, Amalfi and Ravello attract many thousands of visitors between the months of April and October, when the weather is warm and sunny. Visitors might therefore assume that there are many fantastic beach options up and down the coast – and there are. However when we discuss Amalfi Coast beaches with our Italy Beyond the Obvious travelers, there are a few things we think they should know.
The beaches of the Amalfi Coast are more rocky than sandy
The Amalfi Coast definitely has some sandy beaches, but they are not the miles-long expanses of white sand that are familiar to travelers who have visited Caribbean islands or even beaches in the Italian regions of Apulia or Sardinia.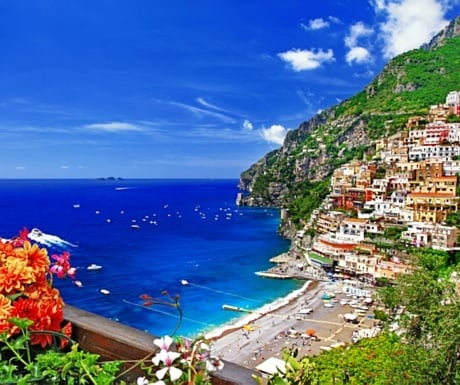 The Amalfi Coast itself is rocky, with mountains that drop straight down into the sea in many places. Many of the towns themselves are built on these jagged hillsides, making them very picturesque from the water, and with abundant fantastic sea views on land. But there are no beaches with miles-long stretches of pristine sand. There is plenty of sand, just in smaller sections, such as in the Positano beach photo.
The beaches of the Amalfi Coast get very busy in high season
The Amalfi Coast is not an off-the-beaten-track area of Italy, so don't expect to find empty beaches or secluded spots unless you hire a skipper to take you to a beach that is only accessible from the water.
On weekends beaches get even busier, when they fill up with both visitors and locals. Busy beaches can also mean challenging parking, sardine-packed commuter trains from Naples to Sorrento, fully-booked lunch restaurants, and everything else that goes along with weekend beach-going crowds. Therefore, plan ahead. Tip: Hotels that have beaches restricted for hotel guests' use are a great bet for travelers who prefer fewer crowds.
Book your sunbed in advance
For travelers accustomed to arriving at a beach and putting down a towel on a free patch of sand, this bit of advice can be confusing. "I don't need a sunbed", they tell us. "And furthermore, why would I pay money to occupy a spot on the beach?"
Many beaches are run by stabilimenti balneari, organizations that rent out sunbeds, umbrellas, and towels, and have beach showers and concession stands that sell snacks and drinks. If an area of the beach is run by one of these organizations, visitors are not allowed to put down a towel on the sand. But, since most hotels do not allow guests to take hotel towels to the beach, and since most travelers do not want to pack beach towels in their suitcases, renting a sunbed can be a great solution. Just don't wait until the last minute to make a sunbed reservation, or you might not find one.
Check the Blue Flag designation
Travelers who want to find a beach with clean waters can search out beaches with the "Blue Flag" designation, which is awarded to the cleanest beaches every year. On the Amalfi Coast in 2017, only the beaches of Positano, Massa Lubrense (on the Sorrentine peninsula) and Anacapri earned this designation. More information, including the comprehensive list of Blue Flag beaches all over Italy, can be found on the website www.bandierablu.org
For fewer crowds, go south
Sorrento and Positano have beautiful beaches but are very busy in high season. The solution? Head south! Reserve a sunbed on the beach at Minori or Maiori, two lovely villages just a few minutes south of the town of Amalfi.
Or, head 2 hours further south to the beautiful long and sandy beaches near Paestum. Continue another hour further south to the area near the Palinuro peninsula, (pictured) famous for its natural arch.
With a little bit of advance planning and correctly-set expectations, a day or so on an Amalfi Coast beach can be a wonderful way to relax and enjoy the beautiful scenery.
Madeline Jhawar is Owner of Italy Beyond the Obvious.
If you would like to be a guest blogger on A Luxury Travel Blog in order to raise your profile, please contact us.