The Principality of Monaco is famous for its mega-yachts, super cars, casinos, and star-studded parties. However, there is more to Monaco that meets the eye. Do you want to get under the skin of the Principality and discover the heart of Monaco? In our list, you will find the places where you can dine and party with the locals and discover the true meaning of luxury.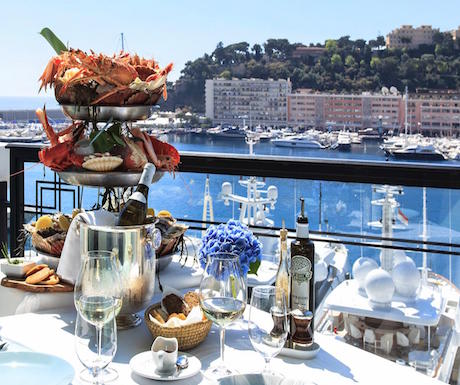 1. La Marée
At La Marée, the word "exclusivity" is given its full meaning.The selection of freshly caught fish is displayed on the counter, and you can place your order according to your taste – crudo, salt crust, in foil, or "à la plancha". The chef will make any wish come true. Enjoy the feast while admiring the views of the Port and the Prince's Palace to the sounds to live music.
2. Le Quai des Artistes
This is one of Monaco's finest seafood restaurants. Established in 1999, it offers fantastic service and an extensive wine selection in an elegant setting. The restaurant interior is decorated with artworks of contemporary artists. Try the degustation platter with the lobster and order a bottle of chilled Province rosé. This is the perfect choice for a dinner date.
3. Le Bar du Quai
This bar opened in 2015 as an extension to the great Quai des Artistes restaurant. It features contemporary art and some of Monaco's best bartenders. It's a great place to go after a delicious dinner to start off a night in Monaco. This bar attracts a young, vibrant crowd and is the insider's choice for some late-night sushi.
4. Stars 'n' Bars
This sports bar and restaurant, located on Port Hercule, is a Monaco institution that serves food around the clock and does daily Happy Hour from 5PM to 7PM. There is a big outside lounge and restaurant area that looks onto the harbour and the F1 track. Stars attracts a young crowd with its cool and casual atmosphere and great music. It's ideal for aperos before dinner.
5. La Note Bleue
This hip beach-side restaurant serves fantastic Asian/Mediterranean fusion food to the sounds of a live jazz band. Come here to forget about your worries and let the day melt away as you savor one delicious dish after another.
6. Le Pinocchio
Monegasques consider this restaurant to be their best-kept secret, serving freshly homemade pasta with a touch of haute cuisine. Le Pinocchio is also known for its meat dishes. The service is extremely friendly, though not many of the waiters speak English. The atmosphere in the old town of Monaco is very romantic at night, so this is another good option for a dinner date.
7. Jack's
Located on the Port Hercule, this funky location rarely has any free spots, buzzing with locals who are looking to party. Enjoy cocktails or an iced bottle of rosé, make new friends and see where the night takes you!
8. Casa Graziella
This is a family-run restaurant on the port of Fontvieille. Head here for some delicious Italian/Mediterranean fusion dishes and fantastic wine. Definitely have the bruschettas and the squid ink quadrotti. For desert, do not resist their home-made gelato. It's the best in town!
9. Beef Bar
Enjoy a juicy stake or something else that makes your mouth water from the wide selection of burgers looking out to the Fontvieille harbour. This is a local hotspot for dinner, so you need to booking in advance if you want to get a spot! Lunches are quieter, so it's easier to walk in and grab a table. The truffle burger is to die for.
10. Bella Vita

Located on the pedestrian zone, right near the Port Hercule, this Italian restaurant is an insider's favourite. Try the seasonal dishes by ordering the Plat du Jour or enjoy their signature escalope de veau au citron followed by a delicious Tiramisu. They have a great wine list and the selection changes frequently.