5 of the best safaris in Africa
In the past, a safari (the Swahili word for 'journey', itself derived from the Arabic 'safar' meaning the same) was an overland journey to hunt big-game. These days it more often refers to short trips to observe and photograph wildlife. Thankfully, killing the subject matter and taking trophies is no longer considered essential. Here are our picks fro the five best safaris in Africa:
Wildebeest migration
Over 2 million wildebeest follow a circular migratory pattern around the border area between Kenya and
Tanzania
in search of fresh pasture. The importance of this cycle is now well recognised and much of this land is protected; as the Masai Mara Game Reserve (Kenya) and
Serengeti National Park
(Tanzania).
The grazers are a temptation too great for predators to miss and the poor wildebeest must run the gauntlet between lions and leopards on land and avoid the huge crocodiles waiting in ambush as they seek to cross any rivers across their route. The annual migration also incorporates the natural life cycle for the wildebeest so choose your season carefully to be in the right place if you particularly want to see courtship or birthing. Unfortunately, much has been made of the regularity of the migration when in fact there is considerable variation in route and timing year-on-year. Booking a particular lodge for a set of dates therefore brings a certain amount of risk – even if you are willing to travel out in vehicles in search of the herd each day. A recent innovation is to set up mobile camps as these can be placed close to actual route for any season. Mobile camps are considerably more comfortable than they sound and normally operate from July to November and from December through to March.
Suggested stays
For a great experience, check out Nomad Tanzania's
Serengeti
Safari Camp. This is camping, but elegantly done.
Ngorongoro Crater
As one of the premier safari destinations, this volcanic crater in Tanzania offers a dense and varied selection of wildlife and a good selection of mid-range and luxury lodges on the crater rim. Since there is plentiful prey the predators are also seen in force. A visit here is a lifetime experience and one of the best opportunities to see the Big Five in one day. Ngorongoro is one of the most beautiful settings for an African safari and many visitors find themselves just as absorbed by the backdrop as the foreground action. You'll need to be up early to catch the best of the morning mists, but then you will have memories to savour for long after. The animals within Ngorongoro Crater tend to be residents so it is possible to visit year round. If you cannot take time off when more seasonal options are at their best then this could be the destination for you.
Suggested stays
Our pick for your nights here is the Ngorongoro Crater Lodge, perched on the edge of the crater itself. The views are simply divine.
Okavango Delta
The Okavango Delta is an anomaly. The Kalahari is renowned as one of the harshest deserts in the world and yet here it is interrupted by the waters of the Okavango River, which fan out into a wetland wonder; and 'oasis' on a grand scale. Only 2% of the water passes beyond the delta area, the rest evaporates or is consumed by the local flora and fauna. Travel within the delta is not always by the typical open-topped safari vehicle but is more often by mokoro (a traditional dugout canoe). For most visitors this adds a completely different dimension to the experience, making it a very personal one between you and your guide. Their keen eyes will help you to spot the wonders of nature up close and with as much explanation as you desire. Visitors to Okavango are likely to see a wide range of wildlife including some of the great African mammals such as elephant, buffalo, lion and zebra as well as hundred of bird species, amphibians, reptiles, fish, insects and exotic plants.
The rainy season between November and March features mostly short thunderstorms with October to February being the hottest and least pleasant time for a visit.
Suggested stays
In the Okavango we recommend Pelo Camp for those who intend to make the most of the unique water-borne experiences. For those who prefer their comforts to be on dry land the Sandibe Safari Lodge is sure to fit the bill.
Kruger National Park
Kruger is
South Africa
's most exciting African safari destination. Classic packages here offer abundant wildlife in spectacular wilderness settings with every conceivable creature comfort once you return to base for the night. As a long-established destination, Kruger has a well developed tourism infrastructure with a wide range of accommodation and sightseeing options. Whatever your particular interests you are likely to find something suitable here. Established in 1898, this national park is unrivalled in the diversity of its life forms. Kruger is home to an impressive number of species: 336 trees, 49 fish, 34 amphibians, 114 reptiles, 507 birds and 147 mammals. The south-east of the park is said to be the best place to see the Big Five though it is the Skukuza Area that is home to the highest concentrations of leopard in the world.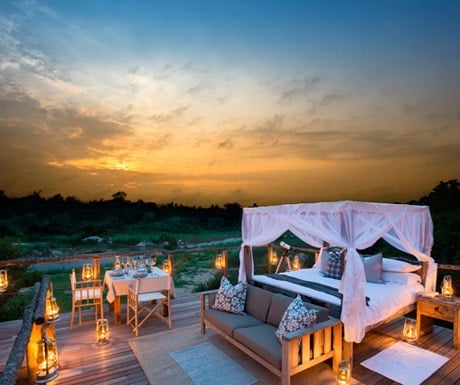 Kruger Park is an all year round destination, with each season bringing its own highlights. Game viewing can be at its best during the dry winters months, however the wet summer season brings migrant birds and is a time of full waterholes, lush bushveld and newborn life.
Suggested stays
Two lodges stand out amongst the crowd in Kruger: Lion Sands River Lodge with its 20 luxurious thatched rooms and intimate Dulini Leadwood Lodge where only 8 guests stay at any time.
Kafue and Victoria Falls
Kafue National Park is Zambia's oldest and largest National Park; Victoria Falls need no introduction—and the combination is one that offers a whole gamut of lifetime experiences. Kafue is very much off the beaten track with a timeless sense of remoteness. The open grassy plains team with wildlife including large prides of lion. The plains are also most suitable for spotting cheetah, not one of the Big Five and therefore a very under-rated predator species. The more adventurous visitors to this area are drawn to extreme bungee jumps and some of the best commercial white water rafting in the world. Those with a lower tolerance for adrenalin might still be interested in a hot-air balloon ride or some of the excellent fishing.
The best time to visit Kafue are the months June through November when the wetlands start to dry up and the wildlife is concentrated around the permanent sources of water. The rains usually return some time in December.
Suggested stays
In Kafue you will need to stay in a Bush Camp to see the best of the wildlife. Both Shumba and Busanga Camps come highly rated.
Sangeeta Sadarangani is Founder and Owner of Crossing Travel.
If you would like to be a guest blogger on A Luxury Travel Blog in order to raise your profile, please contact us.
Did you enjoy this article?
Receive similar content direct to your inbox.