By
Craig Burkinshaw
on Jun 14, 2017 in
Africa
,
Asia
,
Cambodia
,
Celebrities
,
Egypt
,
India
,
Japan
,
Louisiana
,
New Zealand
,
North America
,
Oceania
,
Regions
,
Travel Miscellany
,
USA
,
Vietnam
,
Worldwide
Visual effects in film may have advanced dramatically, but most directors still choose to shoot in real locations, taking advantage of some of the world's most dramatic landscapes or filming in period settings that add authenticity to a scene. There's something quite special about seeing these pseudo-fantasy locations in real life, adding an extra dimension to a well-known site or leading you to little-visited regions you'd never have originally considered.
Here we've picked experiences which lead you behind the scenes, from sleeping overnight on the set of 1994's Interview with the Vampire to horseback riding through Middle-earth.
Stay overnight on the set of 1994's Interview with the Vampire
Oak Alley Plantation, Louisiana, USA 
Located around an hour's drive from New Orleans on the banks of the Mississippi, Oak Alley Plantation is an antebellum mansion dating back to around 1839. The property's style and character has been so well preserved that it was chosen to feature in the 1994 film adaptation of the Anne Rice novel, Interview with the Vampire, starring Brad Pitt and Tom Cruise.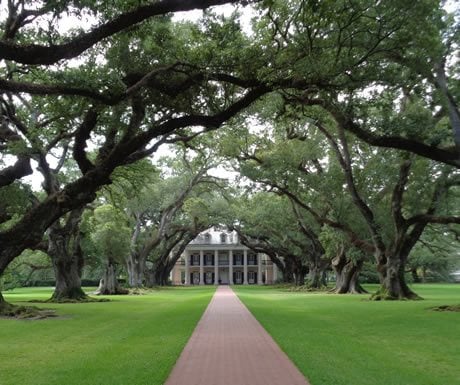 The film is set in late 18th-century Louisiana, with Oak Alley serving as the home of wealthy plantation owner-turned-vampire Louis (Pitt). Exterior shots of the imposing house with its white columns, large shuttered windows and full-length balconies featured in several scenes, as well as the distinctive corridor of oak trees leading up to the mansion. They give the plantation its name.
Visiting today, it feels like no time has passed. You can take a tour, led by a guide in traditional dress, to learn about the plantation's history, including a poignant visit to reconstructed slave quarters and a recreated Civil War encampment.
There's also the option to stay overnight in one of the eight cottages dotting the plantation's grounds, some of which are over a century old. With much of the film (unsurprisingly) shot at night, strolling through the trees after dark under the glow of the mansion's lights is like walking right onto the set.
Cruise aboard Agatha Christie's Death on the Nile steamship
Steam Ship Sudan, Egypt
Built in 1885 as a gift for King Fouad and launched as a cruise vessel in 1921, the Steam Ship Sudan continues to ply the waters of the Nile to this day. It has carried many famous passengers over the years. In 1933 Agatha Christie was one of them, and is said to have been inspired to write her 1937 crime novel, Death on the Nile, following her cruise.
So it was only right that, decades later, the Sudan was used as the prime filming location for the 1978 screen adaptation of the Poirot classic. Starring the likes of Peter Ustinov, Bette Davis and Dame Maggie Smith, the film was almost entirely shot aboard this classic paddle steamer. Its period furnishings (including mahogany floors, brass bedsteads, wall-mounted telephones and servant bells) offered the authenticity required to set the scene.
You feel like one of the characters as you travel between Luxor and Aswan aboard the Sudan, passing ancient tombs and temples and observing everyday Egyptian life along the river. The ship's original pistons and paddle wheels can still be seen, and staff deliver a first-class service, with the barmen even wearing white gloves as they would have in the ship's early days.
There are just 18 cabins and five suites, including a suite named after Agatha Christie and a Hercule Poirot cabin. You may also have the opportunity to watch the film during your cruise, which is regularly played in the ship's library.
Take a horseback ride through Peter Jackson's Middle-earth
Near Queenstown, New Zealand
You can make like a citizen of Rohan on this one-way, one-and-a-half-hour horseback ride named 'The Ride of the Rings'. It takes you from the tiny township of Glenorchy, just north of Queenstown's Lake Wakatipu, to Paradise, a one-farm hamlet shadowed by the peaks of Mount Aspiring National Park.
You'll ride through native bushland speckled with gnarly matagauri trees (which were, in fact, edited out of the Lord of the Rings films since they're so synonymous with New Zealand's South Island). The route hugs the banks of the Dart, a silvery braided river, and during the whole ride you're surrounded by the Dart Valley walls and the many peaks towering above them. You'll occasionally splash through streams.
Your guides at Glenorchy's Dart River Stables equip you with helmet, riding boots and all the necessary gear. First-time riders are given a short, comprehensive introduction, but the horses — usually a mixture of thoroughbreds and Clydesdales —are specially selected for their gentleness and are ideal for complete beginners as well as experienced riders.
Setting off in a small group, your guide will point out the various locations used in Jackson's opus. They might include the swathes of ancient red beech forest drenched in goblin moss — it not only inspired the design of the Ents but also took a starring role as Lothlórien. Or the stony Dart River Estuary, which provided the backdrop for Saruman's Isengard. You can even look beyond to the snowfield-topped summit of Mount Earnslaw, which Sean Bean (Boromir) famously chose to scale in full costume.
Gain an insight into glittering Bollywood
Mumbai, India
Slumdog Millionaire, Life of Pi and The Best Exotic Marigold Hotel may have brought international attentional to India, but these efforts are minor compared to country's own cinematic output. Bollywood, India's Hindi cinema industry, makes 900 films a year on average — more than double that of Hollywood. It's as essential to Mumbai as Hollywood is to LA.
You can take a tour of some of the studios that surround the city. The exact nature of the tour depends on the filming schedules, but you can wander around some of the sets, peek behind the scenes and if you're lucky, see filmmaking in action.
There's also the chance to visit a sound studio and dance workshop where a team of professional dancers will perform a range of elaborate Bollywood dance routines. Get to your feet and join the dancers, who can teach you some of the basic hastas (hand movements) and rhythmic steps that make this style of dance so unique.
Follow in the footsteps of Bill Murray and Scarlett Johansson
Tokyo, Japan
Director Sophie Coppola stayed in Tokyo's Park Hyatt while promoting her first film, The Virgin Suicides. She was so enamored with the hotel that she wrote 2003's Lost in Translation with it in mind. You can stay at the hotel (it's a convenient and particularly comfortable base for exploring Tokyo) or simply enjoy a drink at the New York Bar, where many of the scenes were shot.
To continue your night in the spirit of the film's stars, Bill Murray and Scarlett Johansson, try Japan's staple form of entertainment: karaoke. You can find a karaoke booth in almost every corner of Tokyo, but head to the Shibuya district to visit Karaoke-kan, which was made famous in the film. It has become popular due to its on-screen fame, so booking ahead is recommended.  There's a rail of costumes by the door to help you get into character, and maracas and tambourines can be ordered from a menu in your booth.
Explore Angkor Wat with a member of the Tomb Raider crew
Siam Reap, Cambodia
The enigmatic temples of Angkor have been the backdrop for a number of feature films including Tomb Raider, In the Mood for Love and Transformers: Dark of the Moon.  If you wander through the temples you might spot a few familiar sites, but the best way to get behind the scenes is to take a tour with a guide who was part of the crew for Tomb Raider.
As you explore a number of temples, your guide can show you clips from the movie before leading you to exactly where it was filmed. In Angkor Thom you can see where actors Daniel Craig and Iain Glen chased after Angelina Jolie in the 2001 film. It's also much quieter than Angkor Wat, making it a good spot to investigate the extraordinary bas-reliefs. In the jungle-clad Ta Prohm you can see where Jolie (as Lara Croft) found a secret entrance to the temple, as well as admiring the tree roots that have thrust their way through the temple stonework.
Lunch is served at Sala Kdei, a traditional wooden house on the shores of the royal bathing pond. This was the unit base of the Tomb Raider crew, which grew to more than 500 during the peak filming period. You'll finish the tour with a visit to a key filming site, and arguably the most impressive temple: Angkor Wat.
Seek out King Kong's territory
Phong Nha-Ke Bang, Vietnam
The pop-culture icon King Kong has been re-booted in this year's Kong: Skull Island film, which used central Vietnam's primordial landscape as a backdrop. Of particular focus was the world's largest cave network in Phong Nha-Ke Bang National Park.
Some caves are easily accessible, including Paradise Cave which has a boardwalk running 1 km (0.6 miles) into the colossal cavern, past stalactites the height of 25-storey buildings. Other caves are only accessible on multi-day expeditions where you can swim through subterranean lakes past waterfalls and camp in cathedral-sized caverns.
You can't visit any film sets, but stay at Chay Lap Farmstay and you'll find King Kong's giant hand — used as a prop in the film — rising from the grass in the property's garden. With a collection of simple but comfortable cottages, as well as a pool, herbal sauna and restaurant, it's an ideal base from which to explore.
Craig Burkinshaw is Founder of Audley Travel.
If you would like to be a guest blogger on A Luxury Travel Blog in order to raise your profile, please contact us.