It can be rare to find the kind of escapism that affords you the luxury of genuinely beautiful beachside lounging and truly exhilarating activities. In this respect, Los Cabos has it all. Retreat to this Mexican outpost on the Baja Peninsula, and by all means choose a sunspot and relax – but for the moments when you want something more, culture abounds on land and colour is the name of the game at sea. Magical and otherworldly, this is a beach destination of surprising contrasts.
Nature… on land
Beyond the gold and blue coast fringing Los Cabos there are vast swathes of the Baja Desert to explore. Feel the sands of time as you do a guided nature trek through a dramatic desert landscape that is peppered with giant cacti, indigenous flora and ancient rock formations.
Nature… on sea
The waters of Los Cabos are home to one of the richest marine environments, making them a lively place for discovery. Get up-close-and-personal with whales within Magdelena Bay, spot sea lions playing in the turquoise waters of Espiritu Santo Island, a UNESCO World Heritage Site, or dive the coral reef with a kaleidoscopic array of fish.
Culture… on land
Delve into the history of our prehistoric ancestors as you discover the incredible rock paintings within Baja's many desert caves. Some of the most striking rock art can be found at Sierra de San Francisco, where there are hundreds of caves.
Culture… on sea
A small coastal community to the north-west of Los Cabos, Todos Santos (meaning 'All Saints') was founded in the 18th century. Today it is a vibrant celebration of culture. Wander the art galleries and boutiques, catch one of the many little festivals, and experience the culinary wonders of its restaurants – and all with breath-taking Pacific views.
Get active… on land
Round off a day in Los Cabos with a sunset horse ride along the beach. Not just wholesome and romantic, it'll give you a new perspective on the endless throngs of stunning coastline too.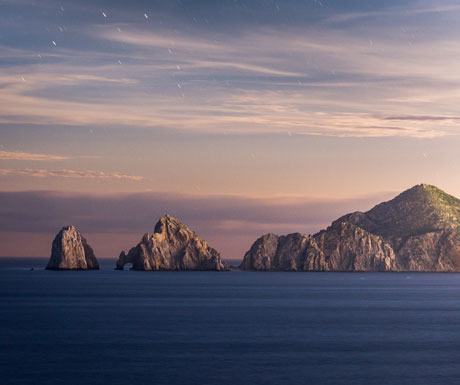 Get active… on sea
There are countless different water sports on offer in Los Cabos. Whether it's reflecting on the day ahead as you surf some waves, paddle-boarding in a quiet bay or a sunset boat trip – or some more adrenaline-inducing parasailing, hydro-flyboarding or jet-skiing – you can find something to fit your mood.
Tom Marchant is Co-founder of Black Tomato.
If you would like to be a guest blogger on A Luxury Travel Blog in order to raise your profile, please contact us.