Did you know that Marco Polo once wrote that Sri Lanka was the finest island he had ever seen? Ever since the 12th century until present day, Sri Lanka has remained a popular exotic island country which is descended upon by travellers each year, especially during the peak holiday seasons. Visiting Asia's tropical paradise is a once in a lifetime experience that you'll never regret for it offers the perfect combination of luxury, scenic views, rich culture, and abundant history.
Imagine travelling to a small island akin to the ones you may have read about in fairy tales as a child – a magical destination where you'll find misty mountains, golden beaches, lush green tea trails and blue azure waters that will captivate your senses. If you're thinking of travelling to an exotic island in the south of India, let this be your ultimate luxury travel guide to Sri Lanka.
When is the ideal time to visit Sri Lanka
The temperatures remain pretty much constant throughout the year given Sri Lanka's position close to the equator. Sri Lanka has two monsoon seasons which is why the ideal time to visit the west and south west coast's is from May to September, whereas the east coast and northern region is ideal between October and February. However, the weather mostly remains dry and sunny for the rest of the year.
Explore the lush green tea districts
Whether you're going to Sri Lanka for a holiday with your family or travelling with your better half, visiting Sri Lanka's lush green tea districts is an absolute necessity. Sri Lanka has seven tea districts and each one is known to produce tea with a rich, distinct character and aroma that tea connoisseurs consider one of best in the world. Tea plantations in Kandy don't exceed more than 1300 meters and produce intensely flavorsome, full-bodied tea with bright copper tones.
Nuwara Eliya, on the other hand, is another tea district located in the mountainous region where temperatures are low and the scenery is breathtakingly beautiful. Teas produced in Nuwara Eliya are pale in color and have a delicate, exotic flavor. Another tea district found in the same vicinity is Uda Pussellawa. Tea produced in has a strong flavor with a hint of rose attributed to the heavy rainfall. By year end, this region becomes especially cold.
Exposed to the winds of both the southwest and northeast monsoons, tea produced in the remote district of Uwa region has a unique aromatic flavor and unmistakable character. Other tea districts present in Sri Lanka are Ruhuna, Dimbulla and Sabaragamuwa.
Experience the royal Sri Lankan heritage
Make your trip memorable by visiting Sri Lanka's most famous historical sites and ancient temples that will leave you mesmerized with their picturesque beauty. From December to March, the best places to visit are Sigirya Rock, Yala National Park, the Anuradhapura temple and the Dambulla cave temple.
Sigirya Rock
Christened as the eighth wonder of the world by the Sri Lankan locals, the Sigirya Rock is visited by thousands of tourists each year. The Sigirya Rock is a massive plateau formed by the magma of an extinct volcano and served as a Buddhist monastery in the 3rd Century BC. Later on, the royal residence of King Kasyapa was built on this very rock. With ancient paintings carved into stone to walls polished to a mirrored finish, the Sigirya Rock transports you to the ancient era where Sri Lanka was home to Buddhist monks and monarchs.
Yala National Park
Frequented by tourists throughout the year, the Yala National Park is home to 32 different species of mammals including the Sri Lankan Big Four – the sloth bear, wild buffalo, leopard and elephant. Take a 4×4 Safari through Yala and explore the Sri Lankan wildlife like never before. Book a luxury safari tour with Kulus travels that offer the ultimate safari experience like no other – complete with open barbecues and lunches and most importantly, the dip and dine breakfast served on small tables in the river.
Anuradhapura
Once the capital city of Sri Lanka, the sacred city of Anuradhapura now in picturesque ruins is definitely worth visiting. In its prime, Anuradhapura was a commercial complex with palaces, sculptures, reservoirs and public buildings. Anuradhapura became the 'sacred city' for Buddhist travelers and pilgrims after the Sir Maha Bodhiya, the tree under which Buddha attained enlightenment was planted in the city. Today, Anuradhapura is a world heritage site and visited by thousands of travelers and Buddhist pilgrims each year.
Golden Temple of Dambulla
The Golden Temple of Dambulla has been a sacred Buddhist pilgrimage site for more than 22 centuries. The cave monastery is adorned with Buddhist murals and 157 ancient statues. The cave temple complex of Dambulla has five sanctuaries and considered one of the best preserved monasteries in the world.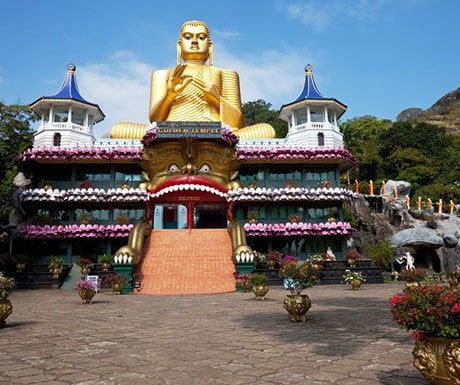 If you plan on visiting Sri Lanka anytime between July and August, don't miss out on the Kandy Perahera. This is one of the oldest festivals in Sri Lanka to honor the Sacred Tooth Relic and the four guardian gods. At the Kandy Perahera, you can expect dancing elephants, music, dancing and exotic fire breathers and whip wielders. The procession usually lasts for ten days and held in order to plead with the rain gods for more rainfall during the year.
For the love of azure blue beaches
The city of Trincomalee
Located 257 kilometers north-east of Colombo, Trincomalee is one of the world's finest deep water harbors with rich historical roots. Over the years, Trincomalee has become one of the most frequented tourist spots among whale watchers and divers. Tourists also have the opportunity to dive, snorkel and swim at dive centers located at Nilaveli and Uppaveli. A short 8-kilometer drive onward from Trincomalee will take you to another famous tourist spot – the seven hot springs at Kanniya. The water is known to have therapeutic properties and different temperatures from one well to another.
Luxury yachts trips
Let the summer fun begin with a private trip along the heavenly coastal belt around Sri Lanka. You will have an experience of a lifetime as you spend hours gazing the azure blue waves, refreshing winds and the dewy sea breeze. That's not all, you will also have the opportunity to go for a swim, snorkel, fish or even watch whales and dolphins as they stop over at picturesque places.
The once in a lifetime whale watching experience
The Mirissa harbor on the west coast of Sri Lanka is swarmed by tourists all year around for it is the ideal whale watching location. A whale watching excursion is a truly one of a kind experience where dolphins and whales glide past you nonchalantly. Raja & The Whales Tour Company is passionate about sea creatures and provides tourists with excellent eco-friendly luxury whale watching tours while working side by side to protect these wonderful sea creatures.
Ultimate luxury villas and spa experiences
Forget all your worries, relax and unwind at some of the best private luxury villa resorts in Sri Lanka. Whether you're looking for accommodation for your extended family, or a romantic spa break with your loved one, the tropical paradise has something for everyone. Luxury spa resorts in Sri Lanka offer Ayurveda spas, infinity pools, private plunge pools and most importantly, 5-star accommodation at jaw-dropping scenic locations that'll make you want to stay just a little bit longer.
Sri Lankan culinary delights
The restaurant scene in Sri Lanka, especially Colombo is hot and happening. From tea festivals to seafood extravaganzas to fine dining, there's something to suit every taste. If you want to experience the best of Sri Lankan food culture, Colombo should be on top of your list. The capital city of Colombo is where you'll find the most expensive and lavish restaurants that serve the best Sri Lankan cuisine.
The Gallery Café
The Gallery Café, formerly the world famous architect Geoffrey Bawa's office, serves the best Sri Lankan cuisine with a twist. Specializing in fusion innovation and fine dining using freshly picked local elements, the Gallery Café opened in 1998 and has been popular among locals and tourists alike ever since. That's not all – The Gallery Café also has a built-in art gallery where the best works of art by local artists and designers have been showcased.
Nihonbashi
Named the 38th best restaurant in Asia (in San Pellegrino's list of Asia's 50 Best Restaurants), Nihonbashi is the place to be if you're a fan of fusion cooking. Best known for its charcoal grill and hotpot dishes along with other Sri Lankan culinary delights, Nihonbashi is run by Dharshan Munidasa. The calm, minimalistic Zen-like décor of the restaurant is definitely a treat for sore eyes.
We hope you find this short travel guide useful in planning your holiday in Sri Lanka. Whether you're out on a family trip or your honeymoon, be sure to check out these places to make your stay in Sri Lanka memorable, and feel free to contact one of our experts for further Sri Lanka travel advice.
Mark Tulloch is Co-Founder at Asia Holiday Retreats.
If you would like to be a guest blogger on A Luxury Travel Blog in order to raise your profile, please contact us.