By
Paolo Macchiaroli
on Aug 20, 2017 in
Accommodation
,
Adventure Travel
,
Africa
,
Bahamas
,
Caribbean
,
Central America
,
Costa Rica
,
Regions
,
Seychelles
,
South Africa
,
Speciality Travel
,
Vacation Rentals
Wildlife tourism is on the rise, so it is becoming harder and harder to find places which remain unspoilt. We have selected below our top 5 villas that will provide you with an enriching and private wildlife experience.
Immerse yourself in 20,000 acres of private land in the stunning Waterberg Mountains, three hours north of Johannesburg. Once a private residence owned by an English family, Leobo has recently become available for holiday rentals and for exclusive use only.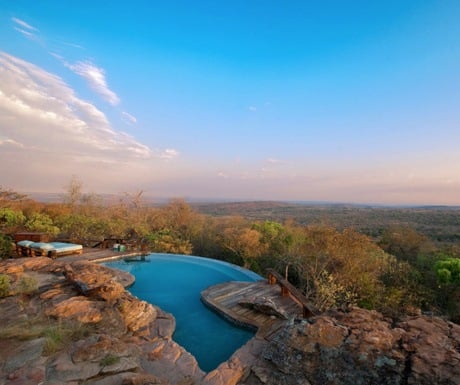 This has become one of the most breathtaking safari houses in Africa and as it becomes your private home for the duration of your stay, game drives and meals are available whenever you want them, so you can spot the wildlife in full privacy, surrounded by the unique atmosphere of the untouched nature.
Leobo offers a fantastic safari experience that you will never forget, and even better, it is malaria-free, making it a safe option for families.
Villa Manzu
Intending to become the first carbon neutral nation through the nurture of its rainforests, Costa Rica is one of the countries with the biggest array of wildlife worldwide.
Villa Manzu (link removed as website no longer active – 2021) is an impressive villa and private sanctuary located in flanked by lush vegetation on the Peninsula Papagayo. Sitting on five acres of private land, there is plenty of opportunity to spot different species, whether it is from the pool or an arranged excursion. Swing in a hammock and spot brightly coloured birds, or take a seat on the terrace and watch monkeys jump through the trees.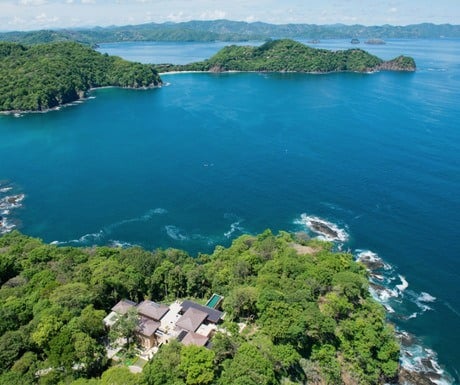 For those who prefer a day out from the villa, the waters of Costa Rica are a breeding ground for marine life, including turtles, dolphins, and hundreds of tropical fish. The staff will take you on a snorkelling adventure, or perhaps you would prefer a rainforest tour finished by a trip to the hot springs.
Over Yonder Cay Private Island
The Bahamas might not be the first place you think of if you are considering a holiday to spot some wildlife. It might surprise you that this chain of Caribbean islands offers an array of opportunities to meet some rare species.
Over Yonder Cay Private Island is a stunning venue to relax in, with four individuals designed villas that make the most of magnificent views and your own private beaches, it is easy to think of this as your own slice of heaven.
Away from your private pool, this exclusive island offers excellent diving, and snorkelling safaris which will suit all abilities. Over Yonder Cay boasts its own reef, home to rays, turtles, more than a dozen species of tropical fish, and colourful coral. Excursions can be arranged to Inagua National Park where guests can enjoy watching nesting flamingos and other exotic wildlife. Sailing trips offer the opportunity to spot dolphins, manta rays, and huge shoals of fish. Being home to the 3rd largest barrier reef system in the world, the Bahamas offers a unique experience.
Fregate Island Private is one of the most unique holiday getaways in the world, home to 16 stunning villas, the seclusion of the island will leave you feeling a million miles away.
Not only does this island offer a host of fantastic staff, five star accommodation, and some of the most beautiful beaches in the Indian Ocean, but due to conservation efforts, there is a stunning variety of wildlife.
Fregate is home to 2,200 free-roaming Giant Aldabra Tortoises, native to the Seychelles these tortoises have sadly become extinct in many parts of the world and the Seychelles is one of the only places on Earth you can see them in their natural habitat. Through the rehabilitation of indigenous forest and the planting of thousands of trees, Fregate has become a breeding ground to over 100 species of tropical birds.
Off shore, the private PADI Dive Centre gives guests the opportunity to explore the magical marine world of the Indian Ocean. In deeper waters guests can find whales, dolphins and giant mantas, in the shallower waters surrounding the beaches, guests will sea large shoals of colourful fish. On the beaches themselves, lucky visitors can see the endangered Hawksbill Turtle and Green Turtle nest on the beach, and is one of the few places where sea turtles will come ashore and nest during the day.
Where in the world can you walk on the beach alongside penguins? Cape Town of course! 26 Sunset Villa is delicately perched above the Atlantic Ocean in the exclusive neighbourhood of Llandudno. Not only can you visit the Boulders Beach native penguin colony but you can take an unforgettable journey along South Africa's famous Garden Route where you can go whale spotting or catch a glimpse of Oudtshoorn's cheeky ostriches.
26 Sunset Villa not only offers breathtaking sea views, but the chance to relax and unwind with your own private butler and chef. Providing well appointed accommodation, suits are complimented by natural stone and wood tones.
Paolo Macchiaroli is CEO of My Private Villas..
If you would like to be a guest blogger on A Luxury Travel Blog in order to raise your profile, please contact us.