Bali is home to an abundance of holiday accommodation in all shapes and sizes, with everything from budget hotels to 5 star hotels and resorts. The often popular accommodation choice, however, is to rent a luxury villa in an area best suited to your type of trip – and there's plenty of villas in Bali, in fact, thousands. With so many competing to be the trendiest villa on the island, we have decided to handpick a dozen villas in Bali that offer something different to the norm. Enjoy!
Villa 1880
Situated in Batu Belig and just a few minutes walk to the beach, this incredible luxury villa is the creation of famous architect Marcus Foley and his team. Its design is centred around a fully restored antique colonial Joglo, with a mixture of contemporary and period features throughout the home. A first floor terrace offers the opportunity for group barbeques or events – including wedding parties – as well a great place to take in the nightly sunset views over the ocean and horizon.
Consisting of 4 king size bedrooms as well as an 8 bunk bed room for the kids, this villa is popular with large groups and families celebrating special occasions. Its located in a prime area of Bali; near the beach and secluded, yet not far from the upmarket area of Seminyak and all it has to offer.
Bedrooms: 5 bedrooms (sleeps 16)
Features: Architectural beauty, has it's own spa, 3 minutes walks to beach
Location: Batu Belig, Bali
Price: from £450 per night
Villa Abida
For those looking for small, cosy holiday accommodation that has a quirky traditional feel, Villa Abida could be the answer. Located within the main upmarket tourist spot of Seminyak and therefore walking distance to many bars and restaurants (and shops, and the beach!), this two bedroom villa is a little treasure.
It's structural design is similar to a traditional Balinese house and it's been renovated with a truly unique decor encompassing monochrome white and black interiors throughout and finished to a very high standard. This villa is very spacious; consisting of two full size bedrooms both en-suite and with additional lounge areas, an large living areas with dining and kitchen facilities, and an outdoor garden and swimming pool. There's not many two bedroom villas in Bali which offer guests so much space.
Bedrooms: 2 bedrooms (sleeps 4)
Features: Good location within upmarket area, large rooms and grounds, cute and quirky design
Location: Seminyak, Bali
Price: from £169 per night
Villa Bibi
The two-floored Villa Bibi is the ideal villa if your group wish to stay in a truly luxury Balinese themed holiday home. The two-floored accommodation is centered around a large private pool and tropical landscaped garden. With large spacious living areas, this private estate is a popular addition to our list of unique Bali villas as it keeps with it's traditional look and feel while offering a luxury stay to all it's guests.
Solid teak wood flooring, roof, and furniture runs throughout the house giving it a natural homely feel, with artistic decor, open roof bathrooms, and large outdoor living spaces adding to the appeal. Guests enjoy chilling out on one of the beanbags by the pool during the day and before heading out for dinner at night. Like many villas in Bali, Villa Bibi has it's own staff – a Balinese husband and wife team who are as popular with the guests as the villa itself.
Bedrooms: 5 bedrooms (sleeps 10)
Features: Traditional Balinese design, good location
Location: Seminyak, Bali
Price: from £290 per night
Villa Shalimar
We've included Villa Shalimar Estate in this list of unique Bali villas but it would be more apt to describe this as an entire beach side resort! Villa Shalimar actually comprises of 3 villas on the same grounds, which can be rented separately or all together. Booking the whole shabang means you've rented an enourmous area of prime located grounds for holiday bliss that can sleep up to 24 people – and, as it's situated on the famous Echo beach, your group basically have their own beach front.
With 8 in-house staff (comprising of chefs, housekeeping, drivers, and security guards) attending to your every need you will all be well looked after – it's no wonder so many visitors to Bali find it more comforting and cost effective to share a villa instead of booking hotel rooms.
Bedrooms: 12 bedrooms (sleeps 24)
Features: Rent an entire fully-staffed resort on the beach, sleeps up to 24 people
Location: Canggu, Bali
Price: £600 per night until 30 September 2017!
Villa Kelusa
Located in Ubud, Bali, this villa compound is set upon 3 hectares of lush tropical rainforest and surrounded by beautiful rice paddies. Guests embrace it's infinity pool that looks down upon the deep gorge of the holy Pakuseba River and with panoramic views of a distant ridge of nine ancient volcanoes.
Secluded from the outside world and set amongst unspoiled land, this villa is just a few minutes drive to Ubud – the village made famous by Juliet Roberts in the film Eat Pray Love – which prides itself as the art centre of Bali; full of culture and historial heritage sites. Villa Kelusa has 10 staff including a villa manager, 4 housekeepers, chef, gardener, security guard. If required it can also accommodate a masseuse a babysitter.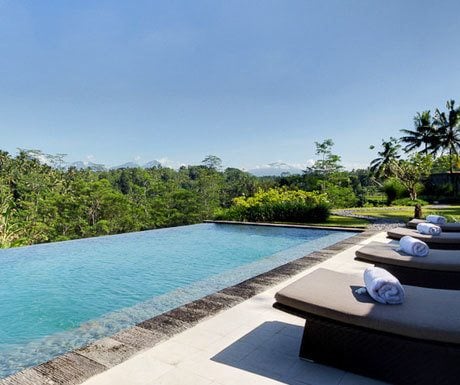 Bedrooms: 4 bedrooms (sleeps 8)
Features: Infinity pool with panoramic views, large resort-style grounds, traditionally Balinese designed villa
Location: Ubud, Bali
Price: from £450 per night
Villa Impossibles
Last, but by no means least, this unique villa is one of the most sought after holiday homes in Bali. Situated at the bottom of a clifftop overlooking Impossibles Beach and the Indian Ocean, this villa is popular with surfers, large groups, wedding parties, and those looking for serenity and picturesque views. Impossibles Beach – a famous surf spot with advanced to professional surfers from around the globe – is found under the white stone hills and cliffs and guests can expect to have their own private beach on their doorstep.
It's secluded location is so remote that it is quite difficult to travel to and guests will have to let go of their phones during their stay as there's next to no phone signal. However, the beautiful spacious rooms and lounge areas have been designed to appreciate the spectacular views of the ocean and evening sunsets.
Bedrooms: 6 bedrooms (sleeps 12, bedrooms can be booked separately)
Features: Set on a cliff, serenity, picturesque views, fully staffed, secluded beach
Location: Pacatu, Uluwatu
Price: from £65 per night for one room or £374 per night for the entire villa
Mark Tulloch is Co-Founder at Asia Holiday Retreats.
If you would like to be a guest blogger on A Luxury Travel Blog in order to raise your profile, please contact us.