Located in Italy's northeast corner just a few hours north of Venice, Italy's Dolomites mountains are known for spectacular scenery and a distinct culture that seems more Swiss or German than Italian.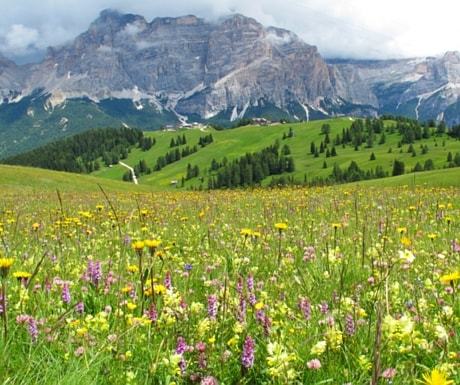 When we work with self-described scenery junkies at Italy Beyond the Obvious, the Dolomites are one of the first places we recommend. In addition, the area is arguably also Italy's most family-friendly region. Below is just one example of a perfect day for a group of people between the ages of 2 and 72.
After breakfast, take the lift up a mountain
Start your day with a hearty mountain breakfast and then walk to the nearest lift. This area of Italy has two high seasons: wintertime, for skiers, and summertime, for hikers and bikers.  Buy a ticket or a pass and take the lift to the top.
Follow the well-marked paths to lunch
While we always recommend having a hiking map, the trails in this area of Italy are incredibly clearly marked. The well-maintained signs include trail numbers and hiking times, and the distance to mountain lunch restaurants. Note that hiking times refer to the amount of time it takes a fit local to walk the path. Our group, which included a toddler and an adult about to have knee surgery, moved more slowly.
Looking at this sign, one could decide whether to walk an hour and 40 minutes to Pralongia', or, walk an hour and 5 minutes to the (excellent) Las Vegas restaurant.
Enjoy the scenery on trails of every length and difficulty
Our group consisted of 18 people whose ages spanned 7 decades but who had also not seen each other in awhile and wanted to chat rather than get a workout. We had one stroller, three small children with boundless energy, a core group of adults with good fitness, and several people who needed to move more slowly. Everyone walked to lunch.
Sit down for a gourmet lunch of local specialties
The mountain restaurants in the Dolomites are not a pre-wrapped-sandwich-in-a-fridge sort of deal. These places have gourmet menus, extensive wine lists, and actual espresso machines.  Italy isn't known for having separate children's menus, but any restaurant will make a child a plate of simple pasta upon request.
Let the kids play
While the adults finished lunch, the kids went to the restaurant's playground and adjacent petting zoo. Lounge chairs were available for anyone who wanted to take a nap after lunch.
Learn about local history and culture
After lunch, some of our group took the lift back down to the valley to take a nap. Others continued hiking on more difficult trails. Another group went to visit the Ladino Museum to learn more about local history and culture.
Re-group for a pre-dinner drink of local wines
This area produces some excellent wines, and while they do not get as much press as those from other Italian regions, we highly recommend them. Cin–cin!
Watch the mountains turn pink at sunset
This phenomenon happens only in the Dolomites, for a few minutes at sunset, in the right weather conditions. If you're lucky enough to see it, stop whatever you're doing and try to get a photo. In local dialect, this is called the Enrosadira.
The perfect day described above was in the Val Badia, a valley about 3 hours north of Venice. Val Badia towns include San Cassiano, La Villa, and Corvara, among others. The Dolomites mountains are full of beautiful valleys, cute towns, well-maintained playgrounds, excellent restaurants, and lifts that cater to hikers. What more does anyone need for a perfect holiday?
Madeline Jhawar is Owner of Italy Beyond the Obvious.
If you would like to be a guest blogger on A Luxury Travel Blog in order to raise your profile, please contact us.