By
Neil Wolkodoff
on Aug 23, 2017 in
Accommodation
,
Hawaii
,
Hotels
,
Leisure Travel
,
North America
,
Regions
,
Resorts
,
Spas & Pampering
,
Speciality Travel
,
USA
Nothing like a beach breeze and flowing palm trees to make you relax during a spa treatment. On the Big Island of Hawaii, there are four venues that are unique in their approach, and worth your time to get the 'aaahhhh' factor. As our explorations revealed, sometimes bigger is not better as some of the smaller venues have unique services found nowhere else.
Hapuna Prince Hotel Spa
The Hapuna Prince Beach Hotel and resort was built quite a few years ago with great beach access, but not much thought at that time to spa treatments. However, even though space is small, with just a few rooms, the staff is extensively trained and will provide a fabulous massage. In 2018, the hotel will be adding more spa footage so that the spa will have more space but the same great staff.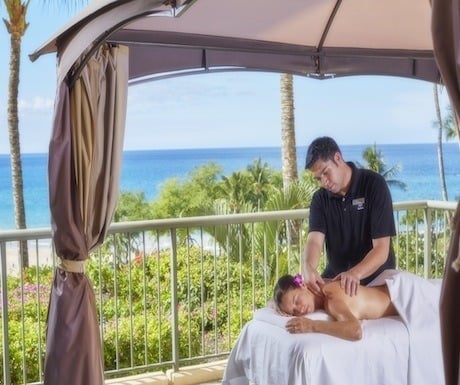 Hale Ho'ōla at the Volcano
If your spa experience needs an infusion of local & natural botanicals combined with traditional treatments, then Hale Ho'ōla at the 4,000-foot mark on the Kilauea volcano provides that unique experience. The beauty of the Volcanoes National Park is just around the corner, and that grandeur spreads to the spa. The Lā'au Hamo treatment combines massage with plant and flower extracts, which makes this a unique combination. And, with the natural environment, their emphasis on the spiritual aspects of balanced living is in harmony with the surroundings.
Hualalai Spa/Four Seasons
The spa at the Hualalai/Four Seasons is a top-notch experience from check-in to shower. It features great men's and women's locker rooms with various wet treatment options besides the massages and facials. You even get Olympic-caliber hot and cold plunge treatments. The massage of choice here is the Lomi Lomi, using rhythmic motions. The spa experts use a variety of ingredients, from black lava salt to crushed macadamia nuts combined with scented oil and botanicals in your treatment for an individualized approach.
Kohala Spa/Hilton Waikoloa Village
The Kohala Spa at the Hilton is massive and includes their athletic facilities as one of the included amenities. Palatial locker rooms and wet areas are available for both men and women. The best option here is the Naupaka White Flower Ritual, which starts with the Awa Root & Ginger foot ritual, then a blend of essential oils slowly applied to scalp and hair. Using local herbs, and more essential oils combined with white lotus flowers are employed in the massage portion.