A common question we're frequently asked from travellers that are visiting Bali for the first time is whether to stay in a hotel or book a private villa. So if you're in the midst of planning a holiday to Bali, it's worth considering your options first before booking your accommodation. Here's our quick rundown on the main types of holiday accommodation in Bali.
Reasons to book a hotel in Bali
There's plenty of hotels in Bali – over a thousand in fact – and these range from budget hotels to 5 star luxury hotels on the beach. We all know about the general experience of staying in a hotel but let's think about the actual benefits. A hotel has many rooms, standard services, and shared facilities for all guests. So, in a hotel you'll be surrounded by lots of hotel staff as well as other guests. You'll have access to all the facilities such as restaurant, gym, and pool, and the hotel might even host special event nights for it's guests. If you're travelling alone you'll probably be more keen to stay in a hotel as you'll not be so isolated. Therefore, we believe a hotel is the right choice for solo travellers. If you're not a solo traveller, read on.
Reasons to rent a villa for your Bali holiday
You should know that booking and staying at a villa is almost always going to be a better choice than a hotel room; whether your group is made up of family members, or if you're bringing a bunch of friends for an intimate event or party. There are a whole host of benefits.
You have the entire villa (and it's grounds) all to yourself, no sharing.
All of your group are under one roof, so you're always together.
You have dedicated staff waiting on your needs, as well as your own driver and chef if required.
The facilities at the villa (such as swimming pool, kitchen, and garden) are all yours to use at any time of day or night.
You can fully stock up on your own food and drink if you wish.
You pay per night for the entire villa – not per person – so the cost can work out cheaper than hotel rooms.
Villas are generally more secluded and set back from the main streets, so they're far more peaceful and secluded.
It's far easier to customise a villa to your own needs. Need a pool guard for your young children? No problem, just request it in advance.
You can host your own party – even wedding ceremonies!
There's some absolutely incredible villas in Bali that offer lots of luxury for your money.
We compare staying in a private villa in Bali to staying in your very own 5 star hotel where all the staff and facilities are just for you! So, we recommend booking a villa if you're thinking about a special trip with your family, friends, or loved one. However, if you like the sound of a private villa that also includes everything a hotel has to offer, read on.
Reasons to stay at a Bali villa resort
At Asia Holiday Retreats we love promoting our villa resort complexes which house multiple private villas all within one estate. Well, imagine staying in your own luxury villa with all the perks and privacy that we already mentioned about villas, and on top of that having all the benefits of staying in a hotel. In Bali, there are a select few villa resorts on large curated grounds in strategic tourist locations that are extremely popular with guests. Here's our favourites.
The Residence Seminyak
Absolutely one of the most popular (if not the most popular) villa complex in Bali, The Residence Seminyak is strategically located in a quiet area just a few minutes walk from Seminyak's famous "Eat Street"; a famous street in Bali with a plethora of restaurants, bars, and boutique shops. With ten well-maintained private villas, all with their own private pool and unique interiors, The Residence Seminyak offers guests the privacy of their own accommodation within a secure environment which is fully staffed with professionally trained team members.
The villas range from 1 bedrooms to 5 bedrooms. This complex is ideal for honeymooners and couples as well as large families with young children. Within 200m you will reach "Eat Street" and with Seminyak beach only 1km from the resort, the location of The Residence Seminyak couldn't be much better for those wishing to have everything on their doorstep.
Villa Kubu
Located less than 1km from Seminyak beach, Villa Kubu is a boutique villa hotel & spa that offers guests private and spacious one, two and three bedroom pool villas while providing guests all the luxuries of staying in a hotel – it has it's very own spa, restaurant, and bar.
Consisting of 17 well-designed private villas that feature modern facilities within a traditional architecture, the villas at Villa Kubu are all set within their compound with tropical garden. The resort has over 100 staff to look after your every need – they even have their own nanny!
The Layar
A neighbour of The Residence Seminyak and therefore strategically located near the action and the beach, The Layar is all about luxury with it's spectacularly design-led villas in an exclusive resort. With cutting-edge contemporary architecture and incredible interiors, the 23 villas offer large spacious living spaces for those that enjoy the finer things in life.
Each villa embraces it's very own large swimming pool surrounded by a private landscaped garden, on top of the 5 star service offered by the professionally trained staff. Villas are available as 1, 2, 3, or 4 bedrooms.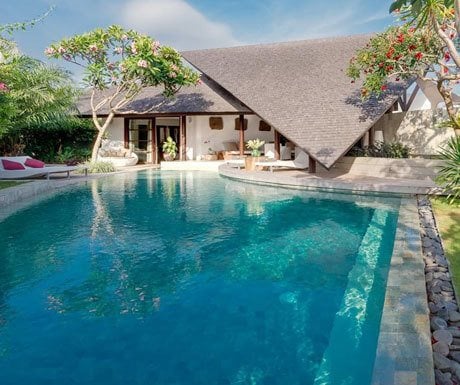 So, if you're travelling alone we would suggest booking a hotel room for your stay. If your visiting Bali with your other half – either for fun, romance, or honeymoon – we suggest a hotel if you wish to mingle with other holidaymakers, or book a villa if you're looking for some privacy, a dedicated service, and serenity. However, if you're heading to the Island of Gods in a group, whether with family or friends, we really do definitely recommend renting a luxury villa for your stay – the benefits are huge and we truly believe if you stay in a villa just once, you'll never stay in a hotel again.
Mark Tulloch is Co-Founder at Asia Holiday Retreats.
If you would like to be a guest blogger on A Luxury Travel Blog in order to raise your profile, please contact us.