By
James Jayasundera
on Sep 05, 2017 in
Accommodation
,
Asia
,
China
,
Europe
,
Hotels
,
India
,
Indonesia
,
Ireland
,
Regions
,
Resorts
,
Sri Lanka
,
Western Europe
September is upon us, and 2017 has seemingly whizzed by in a flash… But looking back at our travels of this year, we've managed to fit it all in; from Nepal to the Cotswolds, Thailand to Bhutan and India to Indonesia, we've travelled throughout Asia and the British Isles in search of the finest experiences out there to make sure our clients get the very best holiday imaginable.
From the latest newcomers in the luxury world to old favourites, there are so many extraordinary destinations, but sometimes the most exceptional trips aren't necessarily the most expensive or the ones using the most popular hotels. Lesser known destinations hover under the radar, but when visited by our clients, they escape the crowds, are individually looked after by fascinating characters and experience rituals and landscapes that have remained unchanged for centuries. We love an underdog and so, for those who prefer hidden gems to hyped-up hotspots, here is our list of five of the most outrageously underrated destinations…
1. Ladakh, North India
There are no two ways about it, Ladakh is spectacular, both physically and culturally. An isolated and remote Himalayan desert fringed with soaring snow-capped mountains, where sweeping valleys and the milky blue Indus River carve their way through the ancient and raw landscape. The ubiquitous Tibetan Buddhist culture weaves itself throughout the region, and dramatic monasteries sit high on rocky peaks, whilst the dreamlike monastery horns blow out across the silent valleys, transporting you to another time and world.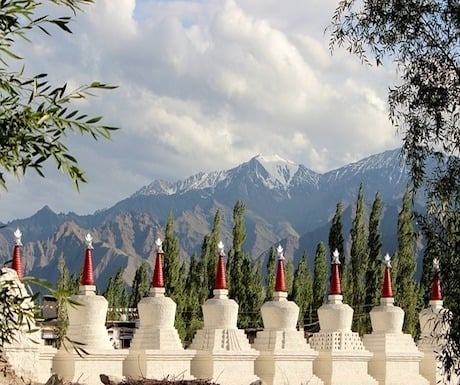 Ladakh, meaning "land of high passes", is often bypassed in favour of India's more popular tourist routes such as Rajasthan or the Golden Triangle, but it's pristine natural beauty means there are so many low-key activities for travellers looking to enjoy the serene environment. A peaceful cycle or walk through local villages gives a fascinating insight into rural Ladakhi life, and the Indus River offers gentle rafting through provincial settlements and majestic whitewashed monasteries.
Stay: Shakti's Village House or The Ultimate Travelling Camp
When to go: Mid-May to mid-September
2. Chengdu, China
With a population exceeding 14 million and a skyline bristling with new developments, Chengdu is evolving at a great speed. On the surface, the capital of the Sichuan province seemingly has little to offer, but dig a little deeper and you will come across its authentic Sichuanese roots, a fascinating history and a rich culture which still prevails. People are drawn to the city's vibrant nightlife and the relaxing teahouse culture, with some institutions serving the same brews for generations, but it's the hot and spicy Sichuanese cooking technique that reigns supreme.
Named a UNESCO City of Gastronomy in 2010 there are said to be more than 40,000 eateries in the city, from restaurants to street vendors serving up mouth-watering dishes and snacks on every street. This is a place where food is taken seriously and made to perfection. And of course, there is China's very own indigenous bear, the iconic panda. Chengdu's Panda Breeding and Research Centre is the best place to enjoy close-up encounters with these docile beauties, and sometimes one can delight in a heart-warming cuddle with a sooty-eyed panda cub, a luxury in the luckiest sense.
Stay: Diaoyutai Boutique Hotel or The Temple House
When to go: March to June and September to November
3. Ireland, The British Isles
Whilst I love exotic destinations there are some undeniably incredible experiences to be enjoyed closer to home. Underrated and overlooked, Ireland is a magical land full of captivating castles, traditional country homes, sensational hotels and ravishing scenery, and it's virtually on our doorstep, being just an hour's flight from London. The island's lush vegetation, a product of its mild climate and frequent rainfall, earns it the sobriquet the 'Emerald Isle'. It's impossible not to be struck by the intense and shifting beauty of the Ring of Kerry, the Beara Peninsula and County Donegal – places of wild coastal cliffs, white sand beaches, lush green valleys and gin-clear lakes.
The classic warm Irish hospitality is quite rightly legendary, and Ballyfin, Ireland's most luxurious hotel, showcases the best of it all. A Regency manor house and steeped in Irish history, Ballyfin is a place of history, romance and great natural beauty. It is authentic and the very best of the best, with the incredible ability to make guests feel at home, allowing you to enjoy the simple things in life, away from the stresses of daily life.
Stay: Ballyfin, County Laois
When to go: April to October
4. Kumana National Park, Sri Lanka
The wildlife in Sri Lanka is the best in Asia, and the little-known Kumana National Park is an idyll for wildlife enthusiasts and keen bird watchers. Quietly tucked away on the northern fringes of its busy neighbour Yala, Kumana is a much less visited corner of the island, but no less abundant of beautiful scenery and wildlife. The vast open plains, the meandering Kumbuk River and the lapping ocean, create a perfect environment for leopards, elephants, bears and birdlife (Sri Lanka has 444 recorded species of resident and migratory birds), not to mention the thousands of flora and fauna species which convert this park into an intricate ecosystem.
The park is also home to protected caves and archaeological sites, each with its own captivating story; from ancient cannibalism to prehistoric men whose paintings depict stories from a primaeval era. Kumana Mobile Tented Camp is a simple yet brilliant camp, and for close wildlife encounters, with no crowds whatsoever, nothing beats it. It is run by the best wildlife experts in the field, who know the park inside out; one of them is the former park warden who has worked and lived in the park for over forty years!
Stay: Kumana Mobile Tented Camp
When to go: January to September
5. Sumba Island, Indonesia
Wild, rugged scenery, fertile jungle and emerald paddy fields, whispering volcanoes, pristine unspoilt beaches and warm turquoise seas… there is so much more to explore in Indonesia than just Bali. Venture 250 miles east of Bali, and you will find the unexplored and far-flung spice island of Sumba. The 'Forgotten Island' is something very special, and it is not hard to see where the nickname came from, as it feels like an island yet to be discovered by the rest of the world.
Sumba is home to the seductive and fully eco-conscious Nihi Sumba Island, a village of twelve thatched-roof luxury villas overlooking a sun-bleached beach and the turquoise ocean beyond. Colourful coral and marine life make for sensational scuba diving and snorkelling, or you can go on forest treks and village excursions – traditional animist communities and Stone Age sites have remained unchanged here for centuries. To wind down, the hotel has a breezy living and dining room, a cliff-top bar, a spa and a yoga studio, or you can hop on a deluxe speedboat to chill in your own private slice of paradise.
Stay: Nihi Sumba Island
When to go: May to September
James Jayasundera is Founder and Managing Director of Ampersand Travel.
If you would like to be a guest blogger on A Luxury Travel Blog in order to raise your profile, please contact us.