By
Harshi Hewage
on Sep 11, 2017 in
Accommodation
,
Asia
,
Attractions
,
Food and Drink
,
Going Out
,
Hotels
,
Regions
,
Restaurants
,
Sri Lanka
,
Travel Miscellany
Kandy is the hill country capital and gateway to the tea region of Sri Lanka. This former Kingdom is a colourful, bustling city of markets, temples, spice gardens, a picturesque lake and surrounded by scenic natural beauty – offering a range of cultural and dynamic experiences for all types of travellers. Located in the centre of the island and accessible by road, train or even sea-plane, the city is ideally located for most itineraries en route to or from Colombo, the cultural triangle or tea country. While there is plenty to keep one entertained for days in Kandy, here is how to best experience this vibrant city in an action packed day.
Rise and shine
After a tropical breakfast, make the most of the cool of the morning and head to the nearby university town of Peradeniya and visit the Royal Botanical Gardens. A nature lover's paradise, these vast and beautifully maintained gardens are home to a great variety of native medicinal plants, fragrant flowers, spices and towering rows of palms and giant bamboo. The orchid nursery is a must see showcasing hundreds of delicate orchids from all over the world. A visit to the spice garden is a sensory experience as you rub, sniff and nibble your way through exotic native spices. Well-read botanists can be booked to walk you through the fascinating facts and ayurvedic uses to the plants. If you prefer a more relaxed excursion, simply spend hours strolling the maze of paths through this 147 acre garden wonderland.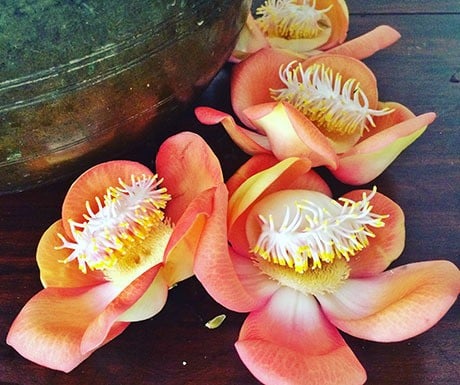 Mid-morning stroll
Visit the heart of the city, the Kandy Lake. Built in 1807 by King Sri Vikrama Rajasinha, the protected lake located smack-bang in the middle of the city, is shrouded in myth and tales that local Kandyans are always willing to share. Shaded by frangipani trees, enjoy a walk around the 3.4km perimeter of the lake to really take in the vibe of this frantic city. Be sure to take a time out and cool down with a snack of pineapple doused in salt, pepper and chilli, a favourite local delicacy from mobile street vendors balancing their produce precariously on their heads.
Afternoon delight
When it's time for lunch, head to the Empire Cafe, a relaxed foodie haven down bustling Temple Street. The café is housed in the colonial, Olde Empire Hotel a designated UN conserved building that has been around since the 1890's. During its time the Olde Empire building has been used as a coffee factory, rollicking pub and since the 1970's a tourist guesthouse and restaurant frequented by lawyers and legal workers from the once neighbouring district court and many others. The menu offers a range of fresh Western dishes, signature Empire classics with a Lankan twist as well as a divine rice and curry spread, all made with locally sourced, seasonal produce. Choose to dine in one of the kitsch turquoise and pink dining rooms or take a seat on the breezy verandah over-looking the Temple of the Tooth and watch the lotus sellers going about their daily trade. There are a variety of boutiques in the immediately surrounding area of the café worthy of a browse. Selyn, a fair-trade certified handloom store, is a personal favourite. The shop is well laid out with colourful fabric selections and take-home mementos including sustainable jewellery, kids toys, keyrings and stand-out tableware. A little further a-field is the Kandy market, a memorable shopping experience with vendors peddling exotic fruits, fabrics, spices and leather goods — be ready to bargain!
Twilight
The sacred Temple of the Tooth or Sri Dalada Maligawa is Kandy's most sacred site. This Buddhist temple is a palatial complex of atriums and gardens with the most revered and intricately decorated chamber said to house the sacred tooth relic of the Buddha. Purchase a lotus from the vendors on Temple Street then take a twilight guided tour through the incense scented grounds of this significant site alongside hundreds of worshippers dressed in white, making their daily offerings. There is a daily cultural show at the temple grounds starting from 5pm, a worthwhile opportunity to witness displays of traditional drumming, masked Kandyan dancing and mesmerizing fire twirling. If you are lucky enough to be in Kandy in August, book your tickets in advance to Esala Perahera for a jaw dropping, vivid, parade of cultural and historical significance that kicks off at nightfall.
Overnight stay
For a guaranteed memorable sojourn in luxury and significant Kandyan history, book a stay at The Kandy House. Located just outside the city, this former royal ancestral home, built in 1804 has been sympathetically restored to its former glory while seamlessly blending the creature comforts of today. With only nine uniquely designed bedrooms this property has the feel of staying in warm family home rather than a hotel. Indulge in a gourmet three course dinner on the sprawling garden verandah, or request a romantic private dining experience in the ambalama overlooking paddy fields or down by the hidden infinity pool surrounded by a manicured, tropical jungle. At the end of the night retreat to your spacious and richly decorated bedroom, prepared with fine linens and a luxurious four-poster bed fit for a King and Queen!
Harshi Hewage is the Marketing Manager at Manor House Concepts.
If you would like to be a guest blogger on A Luxury Travel Blog in order to raise your profile, please contact us.