The French are lucky! They live in a country which is blessed with an endless variety of places to visit and things to do. Combined with a superb climate in the south, many choose to holiday at home… but rather than head out during July and August they wait until October which is regarded by many as the perfect time for a road trip. The bulk of the tourists have left leaving miles of quiet roads leading to beautiful towns, cities and 'tourist attractions' that are blissfully free of tourists! Still, it's not only the French who choose to take advantage of this perfect time of year for a holiday in France. The well-informed traveller also heads south to Provence where the weather is still warm to enjoy a sun-drenched holiday before winter sets in.
With the crowds much reduced, it is the perfect time to explore some of the stunning villages, towns and cities that are dotted across Provence. So, pack a bag, hop in the car and let's get going!
Avignon
Described as the heart of Provence, Avignon overflows with churches and stunning chapels. The pièce de résistance is the World Heritage listed Palais des Papes which is the largest gothic palace ever built. Serving for seven decades as the seat of papal power, its sheer scale gives testament to the might of the Roman Catholic church in the 14th Century. These amazing buildings blend with the calm waters of the River Rhone across which stretches (halfway) the famous Saint-Bénézet Bridge. In addition to amazing architecture, make the most of the numerous theatre and music festivals for which Avignon is famed. You are also perfectly placed to visit the famous Côtes du Rhône vineyards.
Arles
Arles is synonymous with the artist, Vin Gogh who took inspiration from the quality of light in Provence. Arriving in 1888 he produced more than 300 pieces of work over a 15 month period. Today, Arles offers visitors shady squares, colourful houses and an opportunity to explore the Roman ruins which are found across town. Vin Gogh isn't the only famous artist to frequent Arles. Picasso was also hugely attached to the town – the art collection at Musée Réattu included numerous drawings donated by Picasso. If possible, try and time your visit so you can attend the Saturday market… one of Provence's best.
Les Baux-de-Provence
An extremely picturesque medieval town, this is a great little place to visit for the views and magnificent setting. Small squares, shaded terraces and narrow streets add to the charm. Upon arrival it's worth getting the steep climb to the top out of the way first allowing you to leave behind many of the other visitors. At the top, looking past the ruined ramparts you'll be able to take in sweeping panoramic views over Arles and the Camargue. Heading back down you'll find lots of bustling shops, museums and more. Exhibitions are run regularly and much emphasis is placed on the Medieval history of the town – perfect for history enthusiasts!
Aix-en-Provence
Probably one of the prettiest towns in Provence, if not France, Aix-en-Provence is a beautiful mixture of 15th-17th-century townhouses, leafy squares and churches. Described as 'chic' 'upmarket' and 'fashionable' it's the perfect destination for a refined city break. First things first – whatever you do, don't try and drive into the middle. Instead, park up in one of several large car parks on the outskirts before walking into the pedestrianised old town. You're spoilt for choice on both the shopping and eating front with numerous café's, restaurants and boutiques. It's the perfect place to stroll with plenty to see including a magnificent cathedral. For art lovers, stop by the small studio of the famous artist Paul Cézanne, with his furniture, still life model & work tools.
St Remy-de-Provence
For a small town there is plenty to see and do in St Remy-de-Provence. This compact, relaxed Provencal town nestles in the hills of Les Alpilles. In common with many pretty Provencal towns you'll find medieval alleyways, shady squares replete with fountains and plenty of attractive buildings housing numerous art galleries. The town is surrounded by stunning olive groves whose olives are used to produce a variety of products. The most famous producer, Moulin du Calanquet is located a short distance from the town centre and is open to visit.
The Glanum Ruins
Whilst you're on the outskirts of town take time to head to Roman town of Glanum. This ancient settlement was buried under earth and rocks until 1921 when it was discovered. Today an array of ruins greets you around which you are free to wander. Pop into the visitor centre to get a better feel for the historic significance of this site.
Marseille
Ever since it was the European Capital of Culture in 2013, Marseille has managed to shrug off its often undeserved image problem. Whilst it's not Cannes or St Tropez, Marseille is a vibrant, edgy city packed with flash museums and rich with hundreds of years of history. Visitors should head to the bustling Vieux Port upon arrival to take in the rows of yachts packed into the marina. Leaving the port you'll find yourself going uphill to the Le Panier district which is the oldest area of the city. Packed with a bewildering array of lanes which conceal artisan shops, and ateliers it's a fun area to explore. The République quarter offers a contrast with modern boutiques. As you might expect for a large city there is a seemingly endless events calendar with something for everyone. For a country which is so focussed on wine, beer lovers might like to take in Oktoberfest (Oct 26-Nov 4) when the Munich beer bonanza comes to Marseille.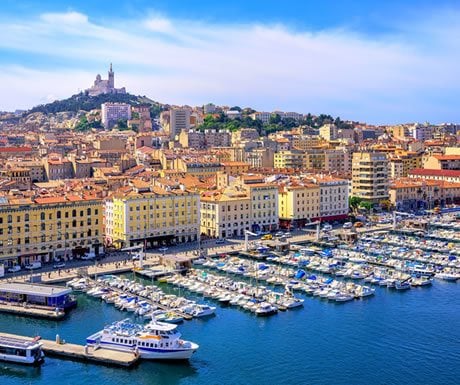 Saint Tropez
St Tropez might just be the antidote to the grittier experience which is Marseille. Needing little introduction, St Tropez is probably the most famous resort in Europe. Attracting the rich and famous for many decades, this extravagant town is like no other. If it's glitz and glamour you're after then this is the place for you! After spending time inland, this is your opportunity to head to the beach. L'Escalet Beach is a favourite with a mixture of golden sand and fine pebbles lapped with crystal clear waters. After time spent enjoying the sun, head back into town to the bustling Vieux Port, home to an incredible array of superyachts. It's a great spot to take a table at one of the many restaurants and enjoy something to eat whilst watching the world go by.
Bandol
This pretty seaside resort is located in a sheltered bay which protects it from the wind making it a perfect location for some autumn sun when you can enjoy the gentle climate at this time of year. With three beaches, a yacht harbour and coastal footpaths to walk there is plenty of opportunity to make the most of its waterfront location. For beach lovers, the Plage de Renecros is probably the most stunning – only a few minutes from the centre you'll find smooth sand, shallow waters and a couple of restaurants around the edge making it the perfect location for a long day on the beach. One of Bandol's oldest attractions is Île de Bendor. A small island just minutes off the coast, this car free island was bought by Paul Ricard of Ricard pastis fame in 1950 and is now home to a hotel, five restaurants, artists village and two museums making for a fun day trip!
Le Castellet
A superb little village, Le Castellet is a popular destination and for good reason. Its elevated position gives you superb views over the surrounding vines (which produce the fantastic Bandol AOC wines) and overlooks Sainte Baume mountain ridge to the north and the nearby village of La Cadière d'Azur to the south east. As the name hints, the village began life as a stronghold. Entry is through one of two fortified gates and further evidence of the villages past lies in the sections of the old ramparts at the top of the village which still survive today. The village is dominated by the huge chateau which is now home to the Mairie. To the left of this keep an eye out for the 'Trou de Madame', a small arch which at one time was probably a concealed entrance to the village and later used by ladies to watch for their returning husbands! Le Castellet really lends itself to a gentle stroll around the cobbled streets which intersect with shady squares. When you've walked enough, stop at one of the restaurants for a leisurely lunch. Outside of the village there is plenty to do – pop to one of the surrounding vineyards (Moulin de la Roque is a favourite) or for motor racing enthusiasts you'll definitely want to visit the amazing 'Circuit Paul Ricard' racetrack.
L'Isle-sur-la-Sorgue
Nicknamed 'Venice of the Comtat' or otherwise known as the Antique Capital of France, this charming Provencal town is located just 25km from Avignon. As the names suggest it has numerous canals running through it and is home to lots of antique dealers. Most weekends you'll find 300 or so stalls at the market packed with all manner of trinkets… perfect for the bargain hunters amongst you! And if this isn't enough then you'll also want to visit one of the International Antiques Fairs which take place twice a year at Easter and mid-August which attract people from around the world. Antiques aside, this is a wonderful walking town, with small streets leading you past pretty buildings and across footbridges over the canals. Plenty of cafes and shops compete for your attention making this a lovely little town to explore.
Su Stephens is Owner of Olives & Vines.
If you would like to be a guest blogger on A Luxury Travel Blog in order to raise your profile, please contact us.