Everyone's talking about Bali right now and no wonder – it was voted TripAdvisor's number 1 destination for 2017 and, for sure, the never-ending coastline of sandy beaches is one of the reasons why. We've already explained why renting a villa in Bali is the most popular type of accommodation so now we're going to show you some incredible luxury villas that are set directly on Bali's wonderful beaches.
1. Villa Tantangan
Situated in the cultural region of Tabanan, the 3-bedroom Villa Tantangan is a set on a huge 7000 square metres of lush grounds which you get all for yourself. With a striking modern design and infinity pool overlooking the beach, this villa is popular with golfer as right next door is the famous Bali Nirwana Golf Club, designed by the golfing legend Greg Norman. The villa is powered completely by solar power making it one of Bali's newest additions to the small range of eco-friendly accommodations on the island.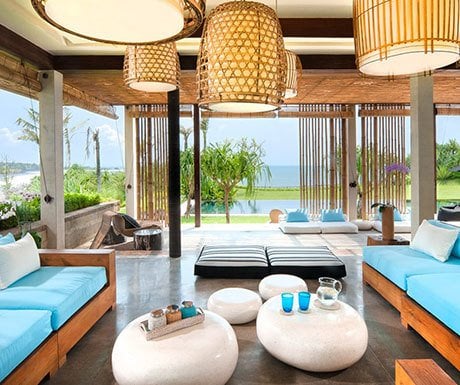 Bedrooms: 3 bedrooms (sleeps 6)
Location: Tabanan, Bali
Price: from £493 per night
2. Villa Samudra
Set on Pabean Beach in Ketewel, a quiet region on the South-Eastern coast of Bali, Villa Samudra offers absolute privacy on your very own beachfront location. What makes this villa extra special is it's views of Mount Agung (Bali's famous volcano as well as highest point on the entire island) as well as Nusa Penida Island. With spacious rooms and contemporary decor, Villa Samudra is popular with those looking for their own cosy getaway.
Bedrooms: 3 bedrooms (sleeps 6)
Location: Ketewel, Bali
Price: from £569 per night
3. Villa Puri Awani
Villa Puri Awani is also located in Ketewel and away from the tourist hotspots making it another special beachfront villa where guests can more or less claim the beach for themselves. With a games room next to the ocean as well as it's own private infinity pool, guests can be entertained within their own party and within serenity. Enjoy meals prepared by your private chef at your own BBQ, a massage in the in-house spa centre, or burn a few calories in the villa's private fitness centre.
Bedrooms: 4 bedrooms (sleeps 8)
Location: Ketewel, Bali
Price: from £872 per night
4. Villa Semarapura
Providing private luxury holiday accommodation with dramatic ocean views over a cliff side temple and lush tropical gardens, Villa Semarapura is another exquisite villa for those wishing to avoid the tourism trap and instead relax while watching Bali's beautiful evening sunsets. This 5-bedroom villa is spacious and grand and packed with entertainment features to keep guests satisfied. Your own luxury hotel for your friends and family, and also a popular wedding venue.
Bedrooms: 5 bedrooms (sleeps 10)
Location: Cemagi, Bali
Price: from £1180 per night
5. Villa Arnalaya
Set in Canggu – and area of Bali that's popularity is growing fast – Villa Arnalaya provides guests with a high level of sophistication and style with stunning architecture and interior decoration. With it's own private gym, large beautifully manicured gardens, views of the Indian Ocean, a 20 metre swimming pool and private tennis court, Villa Arnalaya delivers on all levels.
Bedrooms: 5 bedrooms (sleeps 10)
Location: Canggu, Bali
Price: from £1437 per night
6. Villa LeGa
One of our personal favourites! Set in Batu Belig, just a short distance from the main Seminyak strip, Villa LeGa is strategically located to have the best of both worlds. A superbly designed villa on the beachfront where guests can walk down the beach to the most famous beach clubs in Bali – Potato Head, Ku De Ta, and The W Hotel. This villa also has a very special terrace where guests can entertain friends, wine and dine, or simply sit back and watch the sunset. Fully managed and a first class choice!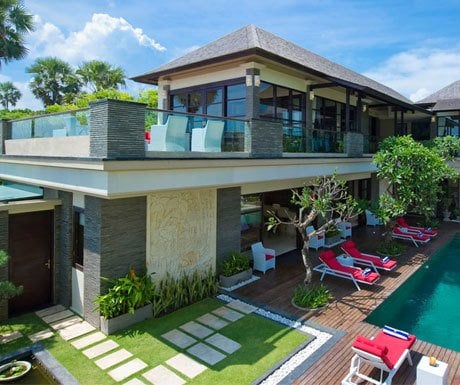 Bedrooms: 5 bedrooms (sleeps 10)
Location: Batu Belig, Bali
Price: from £827 per night
7. Villa Ambra
Villa Ambra is a beach front property located at Pantai Lima, Canggu. With Canggu fast becoming the most sought after destination for villa staying visitors, this villa aims to provide guests with a true Bali experience as well as luxury stay. The villa itself has a traditional feel to it through period features and thatched roof. In the surrounding area guests will not be able to miss the gorgeous rice paddy fields, local fisherman, and the occasional Hindu ceremony on the beach in front of the villa.
Bedrooms: 5 bedrooms (sleeps 10)
Location: Canggu, Bali
Price: from £1031 per night
8. Villa Marie
Part of the elite Pandawa Cliff Estate, Villa Marie's traditional Balianese compound style and layout is a dream villa in a serene ocean view setting. Set back from the Pandawa clifftops, each and every room offers views across the endless infinity pool and the Indian Ocean. With 6 spacious bedrooms and large areas to lounge around, this villa is ideal for families and friends looking to spend quality time in a private accommodation.
Bedrooms: 6 bedrooms (sleeps 12)
Location: Bukit, Bali
Price: from £1100 per night
9. Villa Pala
We love the Pandawa Estate so much that we in fact included two of it's villas in this list. And this is their signature villa, the one and only Villa Pala. With highly stunning views over the Indian Ocean and set high on top of the Pandawa cliffs, this incredibly designed villa is the perfect venue for a special family holiday or destination wedding venue.
Bedrooms: 6 bedrooms (sleeps 12)
Location: Bukit, Bali
Price: from £1437 per night
10. Villa Puri Nirwana.
Villa Puri Nirwana is an absolute beachfront property with pure luxury living, set on a massive 5000 square metres of manicured lawns, tropical gardens and can accommodate up to 22 guests. With enough full time staff to cater to your every whim, Puri Nirwana is the perfect retreat for those seeking luxurious and private relaxation amidst Bali's breathtaking surroundings.
Bedrooms: 6 bedrooms (sleeps 12)
Location: East Bali
Price: from £1327 per night
11. Villa Taman Ahimsa
With a traditional and contemporary design, Villa Taman Ahimsa in Cemagi – on Bali's southwest coast – provides ocean views and beautiful charm. Another villa popular with groups on a golfing holiday while living in luxury and peaceful surroundings. With 7 spacious bedrooms and large living spaces, this villa is also a potential wedding venue. As well as being close to the famous golf courses, it's also a short drive to more beaches in Canggu as well as the everything Canggu has to offer. A bit further and you'll reach Seminyak with an abundance of high-end restaurants and bars and, of course, beach clubs.
Bedrooms: 7 bedrooms (sleeps 14)
Location: Cemagi, Bali
Price: from £1054 per night
12. Shalimar Estate
Villa Shalimar Estate is one of the grandest villa rentals available in Bali. With 12 spacious bedrooms residing in 3 different buildings, this estate is exactly that: a massive ground which is an extremely popular destination wedding venue – the tropical lawns between the villas and the ocean can easily host 200 persons seated and 250 standing. Set on the beachfront with gorgeous views over the horizon, Villa Shalimar is also surrounded by peaceful rice paddy fields, making it a luxury villa set in Bali's untouched nature. Crystalline pools, lush flowering gardens, shading palm trees, and high quality amenities to satisfy even the most discerning guests.
Bedrooms: 12 bedrooms (sleeps 24)
Location: Canggu, Bali
Price: from £1435 per night
Mark Tulloch is Co-Founder at Asia Holiday Retreats.
If you would like to be a guest blogger on A Luxury Travel Blog in order to raise your profile, please contact us.