Sanctions are slowly being lifted from Iran, and since 2015, it's become easier to travel through this warm and welcoming land, its rich history and culture ripe for the picking. Autumn and Spring are the best times to go, as temperatures are mild and comfortable. In my two week visit I witnessed so much beauty, I hardly put my camera down. Here is a breakdown of just a few of my favourite spots:
Nasir ol Molk Mosque, Shiraz
Also known as the Pink Mosque, this stunning place of worship is best visited early in the morning. Firstly to avoid the crowds, but more importantly, to experience the sun streaming through the stained glass windows creating a kaleidoscopic rainbow you can walk through and literally bathe in! Aside from taking photos, take a moment to sit and really absorb the different frequencies of light. After all, colour is said to have healing properties. I certainly came away feeling uplifted and energized.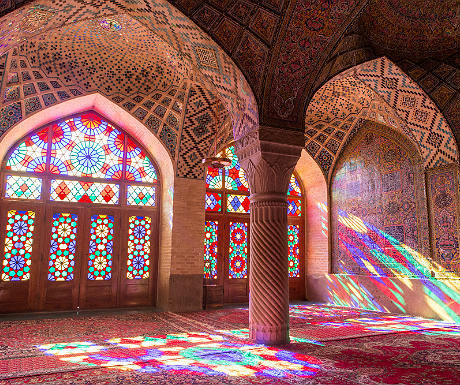 Tip: wear white if you really want the colours to show up on your clothing and avoid using the harsh camera flash, as natural light is in abundance here.
Naqsh-e-Jahan Square, Esfahan
The central square in Esfahan is a great spot to watch locals crafting away in their shops, as you walk past you can hear the tap-tap-tap of geometric patterns being imprinted onto the famous decorative metallic plates, which can be found hanging on the walls of most Iranian people's homes. However, the real gem is the restaurant of the same name, just a few streets away, whose interior is adorned with a deliciously vibrant palette of colour. To see it empty, arrive before the lunch hour rush. Within moments after this photo, every table in the place was filled with locals and groups of schoolgirls from a nearby university.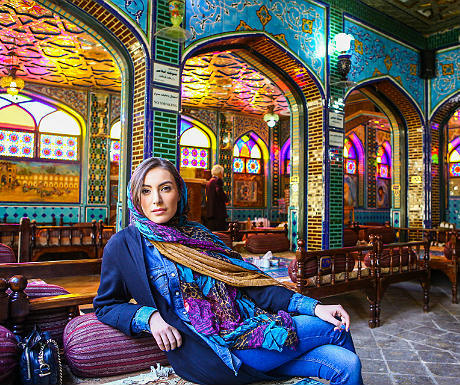 Tip: pick a table near the balcony for a view of the busy courtyard below. People-watching from a height is just as interesting!
Bagh-e Eram Gardens, Shiraz
This garden is best seen in spring when the flowers are in bloom. The word Eram means 'heaven' and the gardens really are a little slice of paradise. There are persimmon trees dripping with heavy orange fruits (aka Sharon fruit), which line the paths, providing a shady respite from the midday sun. I was lucky enough to travel with a beautiful model for most of my time in Iran. For the below picture, I have used the in-camera 'double exposure' setting, available on most good DSLRs.
Tip: you will need one photo which has a strong subject, outline or silhouette with a clean background (in this instance, one spiky palm tree with a plain sky background) followed by another exposure which can be taken afterwards, which has a more textured, patterned or colourful element (in this instance my model, wearing her headscarf in the Arabic fashion). This can also be done vice-versa. It takes a little experimenting, but once you get the hang of the layering technique, it can provide some really interesting and unique results.
Tabiat Bridge, Tehran
This modern work of art, which was completed in 2014, was designed by award-winning female architect Leila Araghian. The word 'tabiat' means nature, which is apt since this curvaceous bridge connects two of the city's parks. It offers a wonderful view of the sprawling city, sandwiched between the rocky snow-capped mountains and the bushy green parks. Friendly locals use it as a meeting place and can be seen grabbing a chance for a selfie.
Tip: landscapes work well using the rule of thirds, in this instance, one third mountains, one third green bushes, and the final third being shared by city buildings and blue sky.
Golestan Palace, Tehran
So many aspects of this place are photogenic. From the beautiful tiled designs around the exterior, which make a perfect framing for group pictures and portraits, to the mosaic walls of the bathhouse and the mixture of colourful stained glass windows and dramatic mirrored ceilings of the interior. There are some parts of the complex where photography is not permitted and you will see signs clearly letting you know (although I saw plenty people taking a sneaky shot when the guard wasn't looking!).
Tip: a wide-angled lens would be useful here, as the decorations stretch from floor to ceiling and it can be difficult to squeeze everything in with a standard lens.
Persepolis
On entrance to this attraction, you have the chance to watch a video where the ruins of Persepolis are digitally rendered back to life. It was interesting to discover that the city was not built from slavery, but with the ideal of bringing equality, peace and prosperity to the world. Watching the sun setting over the ancient ruins of this once vast and mighty empire, was a truly majestic sight. There is a small mound on the hillside behind the ruins which provides a perfect vantage point for watching the sun set. Incidentally, there is a small Persian cafe in Peckham which goes by the same name. It stocks all the unusual ingredients for making Persian dishes, which can be impossible to find elsewhere!
Tip: for this shot, I used a graduated filter, which allowed me to put some shade on the bright sunset bringing it down a couple stops so the dark foreground details were not lost.
Jameh Mosque, Esfahan
The exterior walls of this UNESCO listed building are covered in intricate Islamic patterns, while inside can be found a myriad of tall pillars, domed chambers, arched windows and shadowy enclaves, providing an air of mystery. Light filters in through grated wooden blinds, like spotlights on an ancient stage, but the interior is generally quite dark, so you can either crank up your ISO or bring along a tripod for a long exposure.
Tip: In the image below, the sun was blazing strong, which means that colours get bleached out. This can be effectively combated using a polarizing filter.
Khaju Bridge in Esfahan
This 350 year old bridge in the historic city of Esfahan, is famed for its reflective sunset view over the river, which had actually dried up when I visited. Nevertheless, as the evening draws in, the long row of 23 arches lights up. As traffic flows over the top layer, locals begin to sing folk songs on the bottom layer, while young couples find hidden coves to steal a kiss. I chatted with these two locals for about 10 mins before taking this shot, slowly building a rapport before deciding to ask if I could snap them.
Tip: always learn a few words in the language of the country you are visiting, even if you get the pronunciation wrong, it's sure to bring about a photo-worthy smile.
Niavaran Palace Complex, Tehran
This set of relatively modern buildings are all housed within a simple, but elegant park, renowned for its cooling summer breeze. There is so much to see here, it would be difficult to fit it all into one day. The two parts I enjoyed the most were the main palace, filled with lavish furnishings, and surrounded by an elaborate paving stone design, which allows grass to grow through octagonal, star-shaped openings. The other part, which I found surprising, was the Queen's collection of art. She was not only beautiful, and well loved by her people, but an avid collector of both modern and classic art. The image below is of the steps leading down to the gallery.
Bazaars
There is a bazaar in every town, and each one has something unique about it. Tehran has a great collection of extortionately expensive carpets which are often purchased as family heirlooms, as well as mini-mountains of spices, the most popular being saffron, which is worth more than its weight in gold.  The markets of Esfahan are best for craftwork, jewellery and gemstones, while Shiraz is best for food and sweet treats. I found that generally nobody had an issue with me taking photos. I was always careful to ask someone's permission if I was directly taking a picture of their face.
Tip: the one place I do not advise taking photos, is at the frenzied street stock exchange right outside the Tehran Grand Bazaar. It's extremely chaotic and it's rumoured that photographers have sometimes had their cameras confiscated.
If all that photography has made you hungry, you will find that Persian food also comes gloriously presented, often sprinkled with rose petals, pomegranate seeds and fragrant herbs, not to mention the generous portions!