Whilst in Barcelona, you may notice three (very important) words written on chalkboards in restaurant doors dotted around the city – menú del día. Take heed – this is not something to ignore but something you should undoubtedly try during a trip to Barcelona and something you will definitely enjoy. Meaning 'menu of the day', a menú del día is a three-course lunchtime meal offered by many restaurants at a fraction of the normal evening à la carte price. Typically costing anywhere between €10 and €16, you get plenty of bang for your buck with a tasty meal and enjoyable midday treat. Here's a list of our favourite menús del día in Barcelona so you can take advantage of some delicious deals in the city!
Cometa Pla
Cometa Pla is a small bistro situated in the heart of the winding streets of the Gothic Quarter, and it's perfect for those who are perhaps more conscious of their health when dining out. This quaint establishment offers a menú del día bursting with organic ingredients, vegetarian options and mostly local produce. Cometa Pla is also a wine bar, providing the opportunity to sample many wines produced in Catalonia, again highlighting the restaurant's active interest in local produce. The intimate yet contemporary décor means you can enjoy incredible food in a relaxed and cosy environment without breaking the bank.
Menu: €13.50
Address: Carrer del Cometa 5, 08002, Barcelona
La Pubilla
Located in the trendy Gràcia area, La Pubilla is loved amongst locals, as they serve up authentic Catalan and Spanish dishes in a contemporary menú del día style, offering plates such as Galician octopus, fresh cod and vegetable ravioli. Adding to the excellence, the customer service at La Pubilla goes hand in hand with the quality of the food, meaning you're guaranteed a pleasant experience when dining here. The creative meals cooked with fresh ingredients are enough to make people come back for more…and more…and more.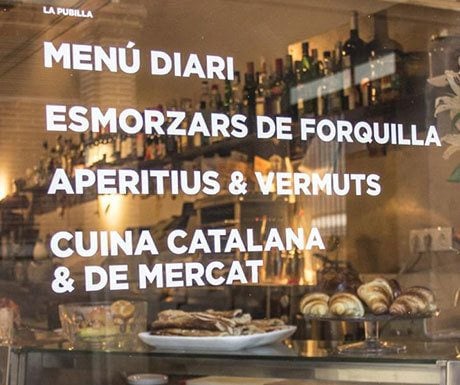 Menu: €16
Address: Plaça de la Llibertat 23, 08012, Barcelona
La Polpa
Located just a short walk from the famous Passeig de Gràcia, La Polpa really is a hidden gem, with its ability to combine rustic charm with contemporary décor and a menú del día costing a measly €11.35, you really can't go wrong when dining at this much loved establishment. Expect dishes such as gazpacho, yellow chicken curry and pear and caramel tart. La Polpa also has an outdoor terrace area where you can relax during the summer months whilst enjoying your delicious menú del día plates. A perfect place to rest your legs and fill your stomach after a long morning around the city's most sophisticated area.
Menu: €11.35
Address: Carrer d'Enric Granados 69, 08008, Barcelona
Ófis
Tucked away in El Raval, a hipster neighbourhood renowned for its delicious local restaurants, Ófis offers a scrumptious and varied menú del día for only €11.90. Here you can try creative and mouth-watering dishes inspired by both Italy and Argentina, such as steamed cod salad with watermelon and squid ink, cuttlefish meatballs and indulgent desserts like chocolate brownie or fruit crumbles. If you're feeling adventurous and fancy deviating away from the menú del día, you can ask the chef for a surprise and we can assure that you won't be disappointed!
Menu: €11.90
Address: Carrer d'Espaltar 4, 08001, Barcelona
Kaiku
With an ever-changing menu to accommodate for the fresh fish and seafood that's delivered daily from the Barceloneta fish market, Kaiku is known amongst locals for having a menú del día to die for! The restaurant even has its very own ecological garden, in which they grow their own courgettes, tomatoes, artichokes, carrots and other fresh produce. Located in the Barceloneta district, Kaiku also has a charming outdoor seating area, making the perfect place to take in the sea views whilst indulging in your favourite seafood dishes. To ensure you get the best deal possible, it's advised to specifically ask for the menú del día, as it may not be advertised or offered on arrival.
Menu: €12.50
Address: Plaça del Mar 1, 08003, Barcelona
NAP
Enjoy the Italian's twist on a menú del día at NAP, a buzzing pizzeria where bruschetta, a margherita pizza and a soft drink comes to an unbeatable €7.50. With owners from Naples (N.A.P literally being an abbreviation of 'Neapolitan Authentic Pizza'), it truly is the real deal – and for a price like that, it's definitely worth a visit. If you have a sweet tooth, you can also enjoy one of their many desserts for an extra €3, including panna cotta, tiramisu and cheesecake. Of course, if you fancy something other than a margherita pizza, their à la carte menu features pizzas with a whole hoard of different toppings!
Menu: €7.50
Addresses: Avinguda de Francesc Cambó 30, 08003, Barcelona; Carrer del Baluard 69, 08003, Barcelona
Sandra Roig is Marketing Director at AB Apartment Barcelona.
If you would like to be a guest blogger onA Luxury Travel Blogin order to raise your profile, pleasecontact us.