By
Selene Nelson
on Oct 06, 2017 in
Accommodation
,
Attractions
,
Europe
,
Food and Drink
,
Going Out
,
Hotels
,
Regions
,
Restaurants
,
Spain
,
Travel Miscellany
,
Western Europe
Ibiza is known across the world for its buzzing nightlife, but there's much more to this Spanish island than partying. Whether you want to catch the last of this year's sun or are already thinking about next summer, Ibiza is an island that caters to every taste, and if you're looking for a restful break it really does tick every box. From magical rock formations to stylish beachside restaurants, here are five reasons why you should visit Ibiza.
Stay at Barceló Portinatx
For a grown-up and glamorous retreat, head to Barceló Portinatx Adults Only hotel. Perched just across from the idyllic Portinatx beach and a short drive from San Juan on the north of the island, this newly refurbished hotel is the perfect place for luxury-seekers who want to kick back in peace. A little way from the main town and without children running around, Barceló Portinatx offers guests a blissful sense of tranquility. The dazzling white buildings offer sensational views across the water, and in the evenings the sunsets are unsurpassed.
With a large sun terrace, two swimming pools, an outdoor wellness space and a Beach Club, there's plenty to do if you don't fancy leaving the hotel grounds, and if you're in the mood for a bit of pampering, just check out the spa. Guests can choose from a selection of indulgent treatments, but if in doubt go for the heavenly full body massage. With a poolside bar and restaurant, a cool cocktail bar by the lobby and a delicious buffet breakfast, every need is catered for here.
Dine at Aiyanna Ibiza
Ibiza isn't short of cool eateries, but Aiyanna Ibiza perfectly encapsulates the laid-back luxe that this island has become famous for. Located in the achingly gorgeous Cala Nova bay, Aiyanna is easily the most beautiful beachside restaurant in Ibiza, and with its wooden decked terraces, modern design, good-looking staff and open dining space, is probably one of the most stylish, too. Don't let its relaxed setting fool you, however: the food here is absolutely exceptional.
The menu is packed with locally sourced, fresh ingredients and there's something for every palate. Seafood lovers will be in their element – dishes include steamed mussels with Spanish spicy sauce, sardine fillets stuffed with mozzarella and spinach pesto, grilled octopus with red pepper dip, and baked seabass with sautéed potatoes and vegetables – but vegetarians are equally looked after. Go for the lentil and falafel "meatballs" with tomato sauce, and save room for dessert!
Visit Es Vedra
Arguably the most magical spot in Ibiza, Es Vedra is a 400 metre uninhabited rock island off the west coast of the island. Shrouded in legend, Es Vedra is said to be the third most magnetic spot on earth. Whether this is true or not, accurate compass readings here are almost impossible, and navigational instruments become faulty in the vicinity of this limestone island.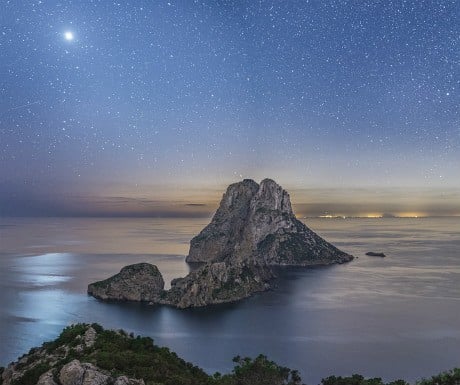 Though legend has it that Es Vedra was once the home of the sirens from Homer's Odyssey, today you're more likely to find it packed with sunset seekers rather than sea nymphs. Es Vedra is at its most magnificent and magical when the sun sinks into the sea and the sky turns red. Find a quiet spot overlooking the rock to watch this spectacle, and don't forget your camera.
Discover 'secret' beaches
Ibiza is known for its pristine beaches as much as its nightlife, and no matter where you go on the island, shimmering turquoise waters and soft white sand isn't very far away. But given Ibiza's popularity, some of the best beaches are crowded and noisy, with tourists lined up like sardines and music blaring over speakers. If you're looking for some solitude as you swim, fear not, because there are still several secluded stretches of sand that dot the coast of the White Isle.
If you're prepared to walk (or swim) to find your perfect Ibiza beach, you're in luck. Cala Blanca can only be reached via a 100 metre tunnel, and when you come out on the other end you'll be rewarded by hours of peace on this wild beach. Along the bay of Cala de Xarraca, the sea is as still as a swimming pool and there are many tiny islands which you can swim to. For something even more remote, head to Ses Balandres, which you can only access via an old ladder and a 20 metre climb up rocks.
Visit the hippy markets
Ever since the early '60s when artists and designers started visiting Ibiza and fell in love with its landscape, attitude and sense of freedom, Ibiza has been considered a "hippy island". One of the best remnants of this are the hippy markets, where you can browse thousands of colourful and creative products while reliving the old days of peace and love. With live music, food stalls and pop-up bars, you don't even need to do any shopping to have fun here.
The main markets are the Punta Arabí Hippy Market on Wednesday in Es Caná and the Las Dalias Hippy Market on Saturday in San Carlos, but there are many smaller markets that pop up around the island, some open only for summer, and others all year round. Every market is unique and showcases a gorgeous selection of handmade jewellery, clothes and handicrafts, some locally made, some hailing from far flung places like South America.