Treks around the epic mountain and lake scenery of England's largest National Park, the Lake District, continue to be the feature as well as inspiration for blockbuster movies, novels and famous artworks. From Star Wars to the soon-to-be-released live action remake of Peter Rabbit by Sony Pictures, the Lake District is a hotbed of cultural activity.
It also has associations with famous explorers and travellers. Indeed, the Lakes' very own Kendal Mint Cake was taken on the first successful ascent of Mount Everest in 1953. Here are 5 of our favourite treks for enjoying the famous wonders of this special and unique landscape.
Scafell Pike, Central Lake District 
Towering at 978 metres high, a trek up England's highest mountain is a craggy and tough climb that rewards walkers after a relatively short (2-hour) ascent with views of one of the most perfectly formed mountain and lake landscapes in the world. The Lake District has undergone millions of years of violent and harsh geographical processes resulting in a beautiful landscape of ice carved valleys and ribbons of glacial lakes. And the best place to view this is from the top of Scafell.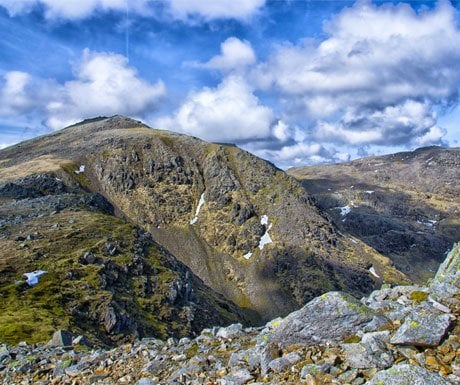 Come prepared with good walking kit, the ability to read a map and not 'attired as though for a lounge in Bond Street', as leading art critic John Ruskin noted in 1859 of the inappropriate clothing of a fellow Victorian walker.
We like to tackle this from the Langdale Valley, though it is a longer route than from Wasdale Head (home to the birth of British Climbing). In Landgale you can recover in the quirky converted cow shed, The Old Dungeon Ghyll Climbers Bar, where you can enjoy a hearty chilli and rice and pint of Lakeland ale to refuel.
For some, there's no time to rest as taking on Scafell is only the middle stretch of the UK's famous 3 Peak Challenge, where intrepid travellers test themselves against the UK's three highest mountains; Ben Nevis in Scotland, Scafell in England and Snowdon in Wales.
The Old Man of Coniston, Coniston 
We recently climbed this as part of our 40th birthday celebrations. It is a very special peak, lying in the heart of the south Lake District fells.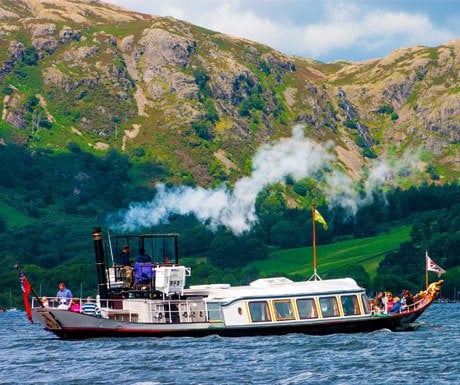 There are two reasons to choose this trek; firstly it is 803 metres but is a relatively easy climb and so good for beginners, families and "old men" alike. And secondly, from whichever direction you travel, getting to Coniston takes you across some of the most picturesque scenery in the UK. Less than 7 miles away lies England's largest water, Lake Windermere. From here you can travel to Coniston via the 500 year old tradition of using the Windermere Ferry to cross from Windermere's busy eastern shore to the quiet western shore. Here, step back in time and travel through Near Sawrey, Tarn Howes and Hawkshead – the magical landscape that inspired Peter Rabbit and Friends as created by Lake District resident, Beatrix Potter.
Travelling from Coniston Old Man's north there's the landscape that captured the heart and mind of famous poet William Wordsworth – Grasmere and Rydal. Here you'll not only find a treasure-trove of unique history, including the famous Dove House and Grasmere Gingerbread but Michelin star dining and a warm Lake District welcome.
Surprise View, Keswick 
This gentle walk takes you to a million-dollar mountain view like no other. Surprise View is one of the Lake District's most famous beauty spots. Just off the way-marked path, through oak trees you'll find yourself on a steep cliff top and looking out at a breathtaking view over Derwentwater – The Queen of the Lakes.
Choose a clear day or sunset trek to take in the stunning viewpoint of Surprise View, where you stand atop of a cliff looking right down and across Derwentwater and one of the best lake and mountain scenes in the world. Derwentwater is one the largest bodies of water in the Lakes, and is surrounded by greenery. To the south of Derwentwater beckons the dramatic Jaws of Borrowdale, a natural narrowing of the Borrowdale Valley. Trees pretty much surround her shoreline, making this a mesmerising verdant scenery that John Ruskin said was the best in Europe.
In fact, the beauty of the other-worldly Derwentwater scenery featured as a backdrop for an epic Millennium Falcon aerial fight scene in Star Wars: The Force Awakens.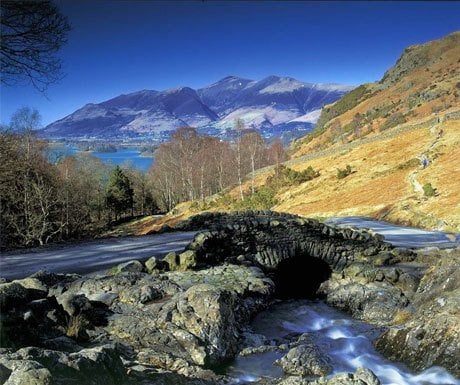 Another highlight of this walk is the view from Ashness Bridge, which has made this the most photographed bridge in the region.
In the background you have the deep glacial pool of Derwentwater and the silhouette of the imposing Skiddaw mountain range and in the foreground, a picture-perfect alpine-like landscape of tumbling clear mountain stream, native trees and an ancient hand-built packhorse bridge, and often with famous Lake District Herdwick sheep tottering over.
Aira Force, Ullswater 
On the subject of 'forces', the Aira Force waterfall, tumbling 20 metres down a very steep rocky ravine into a plunge pool is a natural spectacle not to miss out on. Visit just after heavy rainfall to take in the thundering noise and hopefully be delighted as the forces of nature combine to create a rainbow mirage as sunbeams catch the cascading droplets of water.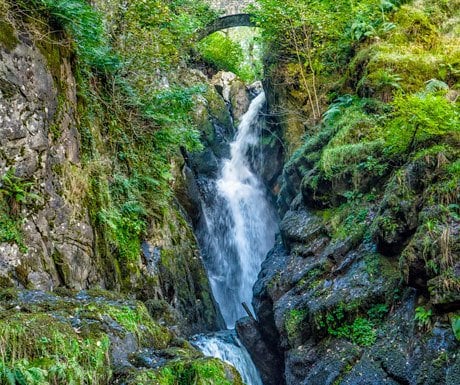 Whilst the forces of nature here are outstanding, the forces needed to enjoy it are minimal. This is in part what makes it such a popular UK attraction.
Aira Force is an easy short walk. It is ½ a mile to reach the waterfall where there are viewing platforms and a beautiful stone bridge to take in the falls from above.
The paths, whilst steep in parts, are extremely well-maintained by the National Trust and both young and old enjoy this short circular walk. The cascading glacial-white waterfall is wrapped in a very special Victorian arboretum, as Aira Force was once a luxurious Victorian pleasure garden, with over 200 conifers species giving a very alpine feel to this trek.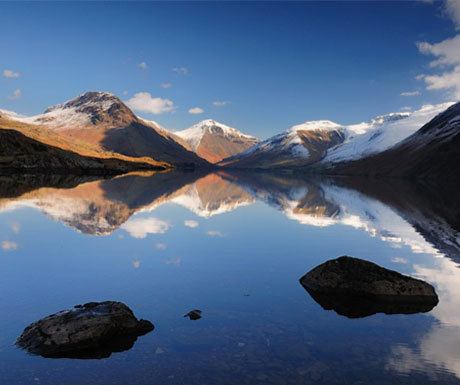 Castle Crag, Borrowdale
'Mountain views without having to climb a mountain', is the reward associated with a trek up Castle Crag, which sits only 5 miles outside of the northern capital of the Lake District, Keswick.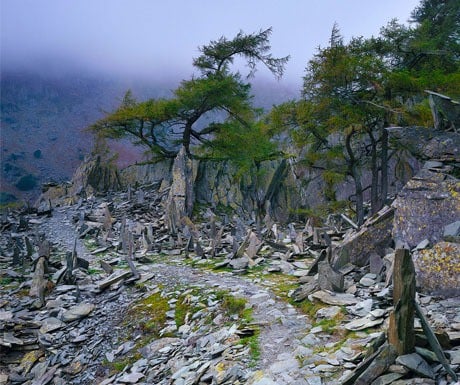 Climbing out of the pastoral bliss that is the Borrowdale Valley, and onto one of the 'teeth' of the Jaws of Borrowdale, Castle Crag, will take less than 2 hours and is an easy walking route over an old quarry road, grassy fell paths and crossing quirky English wooden stiles.
As the name suggests, there's lots of jaggy edges to this walk. Take a detour and visit the massive cube of rock called Bowder Stone. The huge boulder teeters on its corner as though dropped during a giant's game of dice throwing. During the height of Victorian tourism claims that this was the largest fragment of rock in the world had visitors flocking! There was even a paid 'hermit' to add to the entertainment value of the natural attraction. Along the craggy edge of the Castle Crag walk there are the remains of extensive quarrying, where you can also look out for the cave which was the home for the self-acclaimed 'Professor of Adventure', Millican Dalton.
Paul Liddell is the Managing Director at Lakelovers.
If you would like to be a guest blogger on A Luxury Travel Blog in order to raise your profile, please contact us.