There are few experiences more exhilarating than driving through the African bush on an open Landrover, under the gaze of the setting sun – as you observe wild animals in their natural habitat. And there are few experiences more gratifying than watching a child experience this for the first time. Their wide-eyed wonder at seeing majestic creatures that they have only seen in storybooks and movies, will create memories that will last forever. South Africa boasts an abundance of family-friendly safari lodges that welcome children of all ages. Here are some of the best.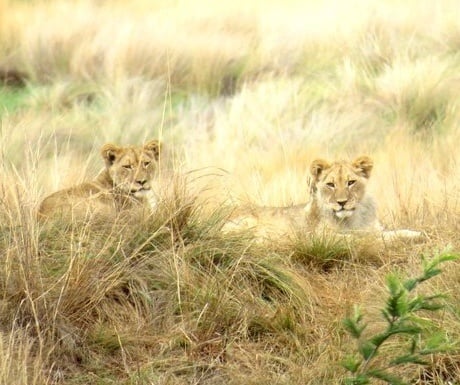 Morukuru Family
The three opulent Morukuru Family lodges in the magnificent malaria-free Madikwe Game Reserve are the ultimate in exclusivity. They are offered on a sole-use basis. Each lodge includes its own butler, personal chef, private game ranger, tracker, nanny (if required) and game drive vehicle.
On arrival, children are handed activity packs designed to keep them interactive on game drives. The friendly staff will keep them entertained with activities like bush walks, and nature-themed arts and crafts, and the personal chef will make whatever they like. For kids who can't live without modern technology and comforts, they have access to satellite television, a DVD player, a library, board games and wi-fi. This is also a great place for multi-generational family get-togethers.
Mhondoro Game Lodge
Mhondoro Game Lodge in the malaria-free Welgevonden Game Reserve, has two two-bedroomed suites and a villa, which is ideal for bigger families. Smaller children will enjoy the open-air play area while older kids will enjoy the recreation room which is stocked with a PlayStation, board games and movies. Kiddies "bumble drives" can be arranged for families with children under six years. For parents wanting to go on the normal game drives, babysitting services are available.
The food here is amazing and there is a special kids' menu at mealtimes. Other highlights of one's stay here are the elephants that come to drink from the lodge's heated saline swimming pool and the underground game-viewing hide, which brings one at eye level with the wildlife drinking from the waterhole in front of the lodge.
Madikwe Safari Lodge
The family suites at Lelapa Lodge in Madikwe Game Reserve are bright and cozy and have separate bedrooms with bunk beds for two kids. The swimming pool here is no ordinary pool. It has a waterhole right in front of it, where animals come to quench their thirst. It also has a slush machine for the kids and pool noodles for them to play with.
Young wildlife enthusiasts will be entertained and educated at the Eco-House, where there are lots of activities (like arts and crafts), live creatures (like tarantulas) and remains of dead creatures (like cool skulls and horns) to keep them occupied. Field guides will take them on bush walks, teach them bush skills like dung-tracking, and nurture their love for the bush.
Sabi Sabi Bush Lodge
Sabi Sabi Bush Lodge is situated in the acclaimed Sabi Sand Private Reserve which borders the world-famous Kruger National Park. It is the only Sabi Sabi lodge that welcomes children and features exquisite villas that can accommodate them. At mealtimes, there is a special kids corner with child-friendly treats. There are special game drives for younger children.
The Elefun centre is a vibrant children's playroom within the lodge grounds which offers interactive, age-appropriate activities. Professional child-minders take care of the kids and inspire them to learn more about nature through arts and crafts, and fun-filled bushveld games.
Jacis Safari Lodge
Jacis Safari Lodge in Madikwe Game Reserve offers special family safaris. There are shorter "jungle drives" for younger kids. Children can be accommodated in the private Nare and Safari Suites at Jaci's Safari Lodge or in the Tented Suites, by special request. Baby-sitting services and earlier evening meals for kids are also available.
Children are made to feel special, taught bush skills and taken on bush activity walks. They also have a playroom and swimming pools at their disposal. The swing bridge that they will walk on as they go to game drives and return from them will make them feel like true adventurers.
With so many family-friendly options available, now's a great time to introduce your children to the magic of the African bush and give them memories that will last a lifetime.