Whether you're going on safari for the first time or you're a seasoned traveller who has been on safari many times before, look no further than Shamwari Game Reserve. We stayed there recently and had a truly amazing time. Here are 20 reasons why this reserve serves as an excellent luxury option.
1. Accessibility
In less than an hour's drive from the airport at Port Elizabeth, you can be at Shamwari Game Reserve. For those who can't wait that long, there's a private airstrip at the reserve but arriving overland allows you to see Port Elizabeth and its outskirts, and slowly get a feel for the lie of the land as you near Shamwari. We spotted a few warthogs on the other side of the perimeter fence the moment we reached the reserve.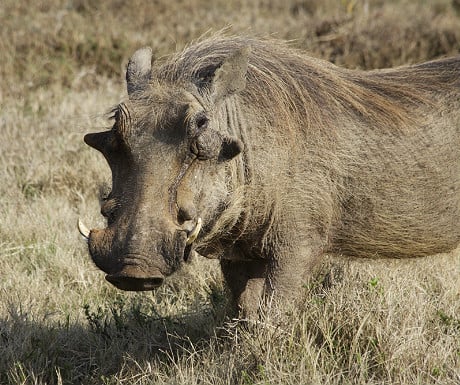 Port Elizabeth is a city that will see considerable change in the coming years with the development of a tourist-friendly waterfront much like Cape Town's, making a city and safari break an even more appealing option. Also Shamwari Game Reserve lies on the Garden Route, making it the perfect stop-over for anyone taking on this trip.
2. It's malaria free
Shamwari lies in a malaria free region in the Eastern Cape meaning that you don't need to worry about contracting malaria when visiting the reserve. For those who don't wish to take anti-malarial medication whether it be for their own personal medical reasons or simply out of choice, this is ideal and a better option than the likes of the Kruger National Park or the Mapungubwe National Park.
3. A choice of excellent accommodation
There are many different accommodation options at Shamwari, catering for a myriad of different preferences. You have the colonial style Long Lee Manor and family friendly Riverdene Lodge, for instance – the two places where we stayed – or you can have exclusive accommodation for a party of up to 10 with your own private chef and ranger. There's even a luxury tented accommodation (Bayethe Lodge) offering the height of luxury and the Shamwari Explorer Camp for those seeking a more adventurous option.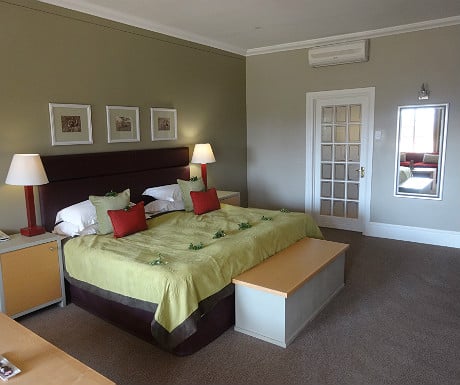 4. Superb food
I really couldn't fault the food.  It was of a consistently high standard and beautifully presented, with plenty of choice for all tastes. Children are equally well catered for with more kid-friendly options, but not your usual chicken nuggets and chips that invariably seem to dominate children's menus.
5. The staff
We found the staff were always charming and polite, whether it be the check-in desk or the chambermaid, the barman or the bag porter. Nothing was too much trouble and, perhaps most important of all, they smiled!!
6. Quality rangers
I can't speak highly enough of our ranger, Geran, and the rangers at Shamwari in general. They are so knowledgeable about everything, it seems, and their depth of knowledge seems to know no bounds. They can distinguish different species of snakes from the tracks that they leave… they can tell you about the inner workings of a giraffe's digestive system (or any other animal for that matter)… identify dung and tell you how fresh it is… tell you individual characteristics of the many different bird species… or about how specific plants adapt to their environment. It goes on and on.
Geran was always willing to answer our many questions and you could tell that he genuinely loved his job, which of course comes through in his enthusiasm on game drives. The rangers don't only need to have a huge depth in knowledge, but they also need to be skilled in getting along with guests, and Geran certainly did that. Over breakfast one morning, on talking to me about my work, he commented "wow, your job sounds nearly as good as mine". I suppose I have to agree… afterall, he does have a rather nice and spacious 'office'!
There's even a 'ranger school' at Shamwari, where would-be rangers are trained in everything they need to know in order to become successful in their chosen career. What this means is that the reserve has 'first pickings' of the very best rangers coming through their programme, thus cleverly ensuring a top class ranger service is maintained.
7. The vehicles
At Shamwari they use open-sided Toyota Land Cruisers adapted to hold up to 7 passengers plus the driver/ranger. No scratched windows or seating positions where you won't get a good view and no need to worry about aircon. Furthermore, you're in reliable transport that's more than capable of getting over some really rough terrain.
8. The game drives
I've already mentioned the abilities of the rangers and the quality of the vehicles but the game drives themselves are what makes a stay at Shamwari. Such is the nature of Shamwari Game Reserve that you'll be unlikely to ever have a drive where you won't see something of note. The reserve is vast (25,000 hectares) with lots of varied terrain – open plains, long grasses, areas of thick bush, elevated areas offering great views… it's all there.
We even got to sample a couple of night drives which were a new experience for us all.
9. Walking safaris
I'm told a walking safari can be a great way to experience the bush. Understandably this isn't something that is available to children at Shamwari so we didn't partake, but it is a service that they offer. The picture happens to be one of Geran when he briefly left the vehicle just to check on some wildlife we'd been tracking, rather than a walking safari per se.
10. All of the Big 5
Not that it should be, but if your goal is to 'tick off' the Big 5 – elephant, buffalo, rhino (both black and white), lion and leopard – then at Shamwari you'll at least be giving yourself a fighting chance since they have them all within the reserve.  We saw four of them, with leopard eluding us… the same happened the last time we went on safari in Tanzania. We don't mind – it gives us a good reason to go again!
So here are three of the Big 5 (our sighting of buffalo was a little too distant and shrouded by bushes for a photograph to do it justice)… the close-up of the elephant is one of my favourite pictures from the trip and has been featured here.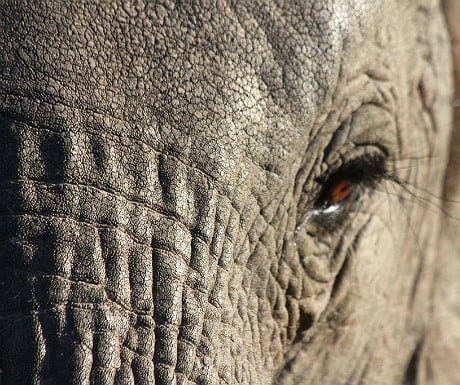 11. Host of other species, large and small
Of course, it's not all about the Big 5. There's lots of other species to observe, large and small.
In addition to some usual favourites such as giraffes, hippos and cheetah (none of which make up the Big 5), there are many different types of antelope. Pictured here is an nyala, but you'll also find hartebeest, sable, kudu, waterbuck, springbok and more. Good luck in telling them apart from one another, though, espcially at distance!
Smaller species still that we spotted included warthogs, vervet monkeys, mongoose, hare and tortoise (and before you ask… no, we didn't see the last two racing each other!).
Shamwari is also home to around 250 species of bird, including raptors like the black harrier and fish eagle; also many water birds such as the darter, three-banded lapwing, malachite kingfisher and African shelduck. Chats could be seen looking for ants around the termite mounds and red-billed oxpeckers living off parasites on other animals.
12. Well-managed
Maintaining a 25,000 hectare reserve with the right balance of predators and prey can be no easy task and does need constant monitoring. The ecosystem is delicately balanced and can be effected by annual variations in climate so occasional, careful intervention is sometimes required.
The reserve has two fenced areas – one main area with predators and another without. In the latter there is a buffalo herd which is being brought up to acceptable levels before some are transferred to the main reserve. Also, at the time of our visit, there was a female cheetah that was being introduced from elsewhere and being temporarily housed at the rehabilitation centre prior to its introduction to the main reserve where there are just two cheetahs (brothers, so no chance of offspring without the introduction of the female).
Sadly management of the reserve has also had to incorporate stringent anti-poaching measures but an effective, highly organised anti-poaching team is in place and works around the clock to ensure the protection of the rhino at Shamwari.
Getting all of these aspects of the management just right must require meticulous attention to detail and constant monitoring.
13. Rehabilitation Centre
For the most part, they let nature run its course at Shamwari but in cases where they think intervention might help, they might adopt a different stance.  This is almost always done with a view to being able to re-introduce the animal back into the wild. This little bushbuck had been orphaned and was being hand reared – our elder son had the amazing experience of feeding him from a bottle.
It's here that you can also learn about the Forever Wild Rhino Protection Initiative. Did you know that the rhino is due to go extinct as early 2021? With no thanks to demand from China and a misguided belief that powdered rhino horn can act as a cure for cancer, rhino horn is now more valuable than gold by weight. Such is the value put on this horn that poaching has become a sophisticated operation, sometimes involving helicopter and invariably brutal means of acquring the horn.
14. Born Free Big Cat Sanctuary
At Shamwari, they look after a number of Big Cats that have been rescued from the most awful conditions, through a charity known as the Born Free Foundation. There are quite a number held here, including lions from bankrupt circuses, two from a Tenerife nightclub, and even one that used to belong to Charles Taylor, the ousted President of Liberia. Whilst some are thought to have been fed on little more than spaghetti of all things, the latter is thought to have devoured the occasional visitor to Taylor's house, never seen to emerge from the building again. These animals are sadly not fit to be returned to the wild – and never will be – but at least they can be given infinitely better conditions for the remainder of their lives.
15. Family friendly
We found Shamwari to be very accommodating for families, particularly at Riverdene Lodge. Children are thoroughly spoilt there -but in a nice way – and it's a great privilege for children as young as 4 years old to have the opportunity to go on game drives. For younger ones still, there is a nanny service available so Mum and Dad can still enjoy the experience, but personally I'd suggest saving the experience for when your children are a little bit older as they will get so much out of the wildlife encounters.  As a result of our trip, our elder son is currently doing a school project on the plight of the rhino.
Another feature that we really liked was the child-oriented 'spotting' books that were provided on arrival – a comprehensive list of species to look out for in the reserve – in addition to a booklet with various puzzles to keep them entertained. These were great for keeping our children engaged, as well as educational at the same time.
16. Sundowners
What's not to like about pulling up on a hillside with a magnificent view and a glass of wine as the sun sets on the horizon?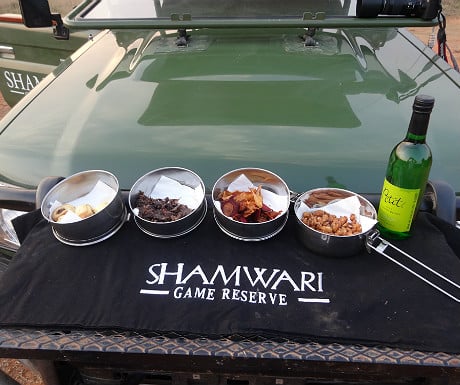 The views didn't disappoint either!
17. Spa treatments
We didn't use the spa facilities on our visit but, if that's something you sought, they can do beauty treatments, manicures, pedicures, massage, etc. Relaxation retreats are available at Eagles Crag Lodge, Villa Lobengula and Long Lee Manor which each have two treatment rooms. Bayethe Lodege also has a twin treatment room or guests can enjoy treatments in the privacy of their own rooms.
18. A favourable exchange rate
With the rand weak against the pound, South Africa is an attractive destination for anyone in the UK right now. A glass of house wine at Shamwari is around 25 rands – that's about £1.40 / $2.25 at the current exchange rate.
19. Lots of other nice little extra touches
Lemonade on arrival at lodges, flannels to freshen up and hot chocolate on your return from game drives. All these lovely little extras really make you feel like your stay is important to them. We even had a surprise private lunch at a lovely spot with a view overlooking Bushmans River…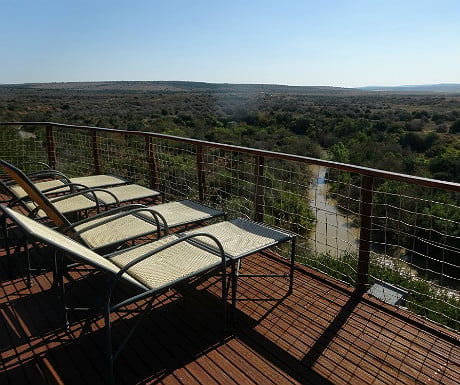 20. Exclusivity
This is a private game reserve so you won't be faced with the traffic and congestion that you can get on some safaris. This can be a problem on some safaris nowadays, so much so that it can impede your viewing chances, not to mention spoil the overall experience. There's no chance of that at Shamwari – most of the time we were out there on our own and only occasionally would we see other (Shamwari) vehicles.
So there you have it… 20 great reasons to visit Shamwari!
Disclosure: The above formed part of a luxury trip to South Africa sponsored by Hayes & Jarvis, specialists in personalised, luxury holiday itineraries for discerning travellers to over 55 destinations worldwide.