London's 5 most interesting eating experiences
London has come a long way when it comes to food over the last 15 years. Not only has it escaped its previously terrible reputation for dreadful food, it is now home to some of the top restaurants in the world. One of the latest trends in London food has been to turn eating into more of an experience. There has been an explosion in pop-ups, markets, areas devoted to food, food events and pretty much anything and everything foodie of which you can think! London is my hometown and food is one my passions so here is my local's guide to some of the most exciting eating experiences you can currently have in London.
1. Mercado Metropolitan
Mercado Metropolitan is a community focussed food "space" that has been set up very close to Elephant and Castle tube station. It is about the size and the set up of a medium sized food market but the majority of stalls are offering food for consumption now rather than for later. There are loads of large tables in the area and wine is also on sale.
The space was designed to allow small local producers to prosper and to build a sense of community in the area. The area does everything from growing food on site to host food events to classes to a special onsite cinema!
It is a perfect area for either lunch or dinner. There are many different stalls where you can choose your meal and then areas to grab drinks. Large shared tables foster the community feel. My favourite was the Sicilian sweet puffs with chocolate and pistachio sauce. The pasta and pizza also looked amazing (I did hear the market was started by Italians – always a good sign!). And finally, they do have a food store/delicatessen as well so you can grab things to take away.
2. Nova Victoria
The area around Victoria station was a desolate wasteland when it came to places to eat for a very long time. It then spent several years as a construction site but it is now on the other side! Nova Victoria is directly across the road from the main Victoria tube station entrance. This area is home to about 25 different food and drinks experiences. For a daytime visit, Sourced Market has a branch at Nova. This is a very foodie mix of a cafe and a delicatessen with lots on offer and wine after 5pm. A couple of doors further down on the opposite side is Hai Cenato. Jason Atherton, of Social Eating fame, is behind Hai Cenato. It is a more relaxed Italian style bistro with a great bar upstairs with the wonderful name The Drunken Oyster.
Riding House Cafe in Soho has long been a favourite London spot which is often packed out. I was delighted to hear that they were opening a sister restaurant and bar at Nova – Rail House Cafe.  The location has a much bigger bar area upstairs as well as a large restaurant downstairs PLUS outdoor eating areas. For wine lovers, Vagabond has a branch at Nova. The Vagabond concept is lots of different wines in a vending machine style set up. This allows you to "taste" many wines – there are several serving size options. Start your visit by grabbing a card and putting some cash on it and then start swiping for delicious wine options. Vagabond also has a good snacking menu.
Timmy Greens is at the end of the Nova complex (away from Victoria tube) and is described as an Australian restaurant. This means fusion cuisine but the menu does include the Australian classic Chicken Parmigiana – a breaded chicken breast topped with a tomato sauce and cheese – a rarity to see outside
Australia
! And if you have a sweet tooth don't miss the Melbourne Mars Bar Cheesecake!
3. Borough Market
Borough Market has been operating for over 1000 years! I did not get my zeros wrong – that is 1000 years! It is a London institution and was made famous by Jamie Oliver some years ago. It is still one of the key areas in London for all wonderful things foodie and frequented by some of the town's best chefs.
It is quite a large market, sprawling over several blocks. Around the edges of the market are quite a few permanent restaurants and bars. There are some fantastic ones such as Temper for Mexican, Brindisi for Spanish and my personal favourite Monmouth Coffee for, well, coffee! (there is almost always a queue).
At the end of the market closest to the Thames are a large number of stalls that sell food for immediate consumption and loads of bakery/sweets stalls for taking home (or immediate!) eating. I highly recommend you try a scotch egg at these stalls. This is a uniquely British invention – a still slightly runny egg surrounded by sausage meat and then deep fried in breadcrumbs – the earliest version of the McMuffin! This is apparently the best scotch egg in London so the one to try!
The middle section of the market is mostly produce – meat, cheeses, fruit and vegetables – that will make you wish you lived in London so you could buy it all and go home and cook! This area is also home to the famous Maria's cafe – provider of tea and bacon butties (sandwiches) for the workers of the market as well as one of my favourite restaurants Roast. Roast also has a stall downstairs where it does a fantastic sausage sandwich in the morning.
The third area around Monmouth street is a mix of restaurants, bars and specialist stalls. There are amazing oysters to be had here and don't miss the fantastic Ginger Pig. The Ginger Pig provides the meat for some of London's best restaurants. You can buy your own and they even do some fantastic cooking classes.
4. Maltby Street Market
Maltby Street was apparently started by some disgruntled tenants of Borough Market and is located halfway between London Bridge and Bermondsey stations. This market has a mix of permanent and market stall holders. The market stalls are only open on the weekend and this is definitely the best time to go.
It is quite a small street but they manage to pack in loads! There are waffles, giant pans of paella, toasted cheese sandwich stalls, coffee stalls, craft brewing stalls – you name it they have it in this bustling space. There is some seating at the end of the street as well as a couple of tiny chairs and tables throughout.
Permanent residents include the great St Johns Wine Wine Bar and Lassco – a one of a kind mix of a cafe, bar and antique shop.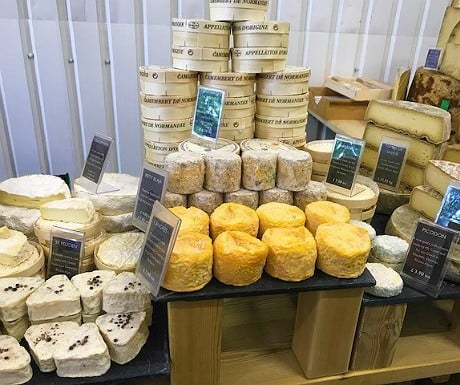 Not far from Maltby Street I can also highly recommend the smaller Spa Terminus and Druid Street markets. They are only open on weekends and have no permanent residents but they do a great mix of different foods and are usually quite generous with samples!
5. Old Truman Brewery
Many people know that Britain is famous for its curry and that the home of great curry is Brick Lane in London's east. However not as many people are aware of the fantastic Old Truman Brewery which is just off Brick Lane. The Old Truman Brewery was once the home of one of London's largest breweries. It is now home to a mix of businesses, art spaces, shops, galleries and best of all Ely's Yard Street Food. Ely's Yard is open every day but some traders only participate on weekends.
This large area houses about 30 different food stalls. The area includes everything from Korean bbq chicken with multiple sauces to Mexican to Italian to Chinese to pretty much every cuisine you can imagine. One of my favourites was the Peruvian stand that was serving La Causa using purple bread! Not something you see every day!
Once you have your food there is a seating area at the back of the hall.
I possibly could have made this London's 50 most interesting eating experiences there is so much happening food-wise in London these days. If you are heading to London and a foody I highly recommend doing some google search work before you go in order to add to this base list!
Amanda OBrien is Owner of The Boutique Adventurer.
If you would like to be a guest blogger on A Luxury Travel Blog in order to raise your profile, please contact us.
Did you enjoy this article?
Receive similar content direct to your inbox.